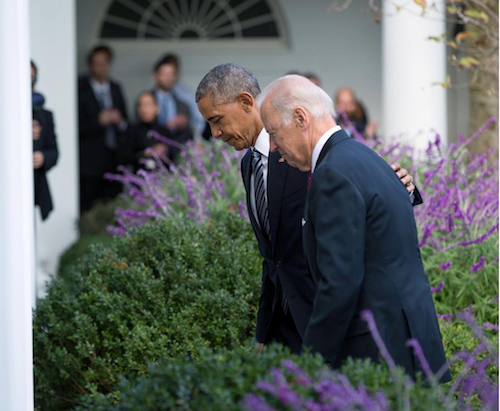 President Obama attemted to heal the hearts and minds of America today during his first address to the nation since Trump's Presidential win.  Get it all inside, plus Hillary's concession speech and the telling words from Bernie Sanders.
After historic election night ratings to the tune of 71.4 million viewers, President Obama took it to the Rose Garden today to congratulate President Elect-Trump and to confirm he has invited him to the White House this Thursday to have their first meeting about transfer of power.
While Obama spoke, White House staffers were seen sobbing behind the cameras.  The White House Pool Report states:
At least 150 WH staffers came out to hear Obama speak. They lined up in the garden behind the press, listening intently. When he was done, they applauded for a solid minute, at least. Your pooler saw three staffers crying, and many others with closed eyes or staring up at the sky.

The mood here is somber and quiet. Your pooler asked one aide in tears what was going through her mind; she said "I'm just sad," before walking away. When it was suggested to another aide that today was bittersweet, the aide replied, "I don't know about sweet."
Obama said during his speech:
Now, it is no secret that the President-elect and I have some pretty significant differences. But remember, eight years ago, President Bush and I had some pretty significant differences. But President Bush's team could not have been more professional or more gracious in making sure we had a smooth transition so that we could hit the ground running. And one thing you realize quickly in this job is that the presidency, and the vice presidency, is bigger than any of us.
He spoke about his won team being emotional about the election outcome, and the words he told them:
So I have instructed my team to follow the example that President Bush's team set eight years ago, and work as hard as we can to make sure that this is a successful transition for the President-elect -- because we are now all rooting for his success in uniting and leading the country. The peaceful transition of power is one of the hallmarks of our democracy. And over the next few months, we are going to show that to the world.
About Hillary:
I also had a chance last night to speak with Secretary Clinton, and I just had a chance to hear her remarks. I could not be prouder of her. She has lived an extraordinary life of public service. She was a great First Lady. She was an outstanding senator for the state of New York. And she could not have been a better Secretary of State. I'm proud of her. A lot of Americans look up to her. Her candidacy and nomination was historic and sends a message to our daughters all across the country that they can achieve at the highest levels of politics. And I am absolutely confident that she and President Clinton will continue to do great work for people here in the United States and all around the world.
You can listen in full below, starting at the 35 minute mark:
Hillary Clinton, who seemed to be pushing through behind much expected sad eyes, spoke about healing.  She also spoke about winning in another way -- with instilling the confidence in little girls to even try to shatter ceilings.  She did not give the speech at her Jacob Javitz Center party location last night in NY, but she did address the nation this morning:
Hillary's Democratic primary opponent Bernie Sanders also chimed in, threatening to oppose Donald if he does not uphold his end of the bargain:
"Donald Trump tapped into the anger of a declining middle class that is sick and tired of establishment economics, establishment politics and the establishment media. People are tired of working longer hours for lower wages, of seeing decent paying jobs go to China and other low-wage countries, of billionaires not paying any federal income taxes and of not being able to afford a college education for their kids - all while the very rich become much richer.

To the degree that Mr. Trump is serious about pursuing policies that improve the lives of working families in this country, I and other progressives are prepared to work with him. To the degree that he pursues racist, sexist, xenophobic and anti-environment policies, we will vigorously oppose him."

 
Photo: Pete Souza