Azealia Banks loves stirring up ish. And she's back at it. Find out her thoughts about Donald Trump winning the presidential election and how she dissed Beyonce and Jay Z for endorsing Hillary Clinton. Plus, Colin Kaepernick says he didn't vote. More inside….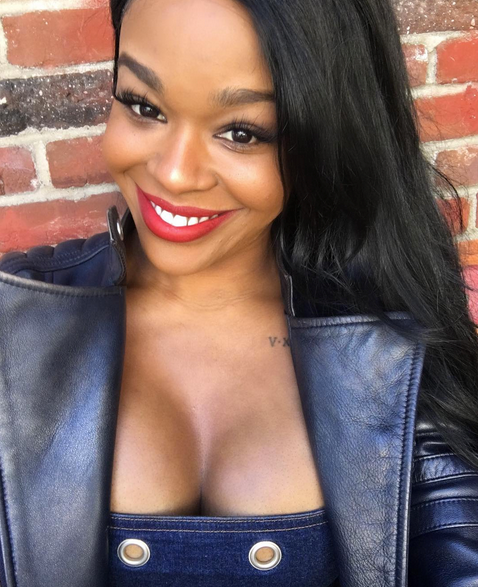 Different day, same Azealia Banks.
The Harlem native is over the moon that Donald Trump won the 2016 presidential election. And she wasted NO time to let everyone know how excited she is about her new Commander-in-Chief.
As the election wrapped up, the 25-year-old immediately hopped on social media to celebrate Trump's shocking victory. In so many words, she's "proud as f**k":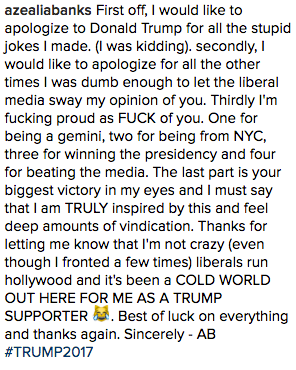 She sounds bitter.
She wasn't done.
Since they took her Twitter account away from her, Banks had to share her thoughts on her Facebook page. And she just had to come for Beyonce, Jay Z and Pharrell over their endorsement of Hillary Clinton. Check it below: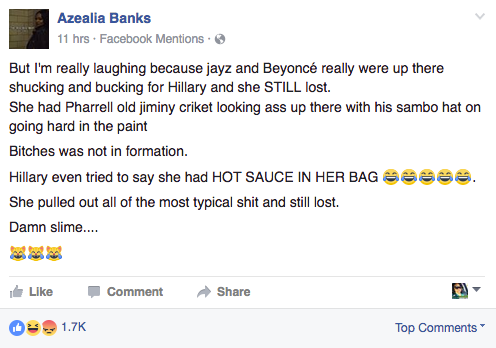 Guess she's still mad about Bey scrapping that collabo they had in the works.  Girl....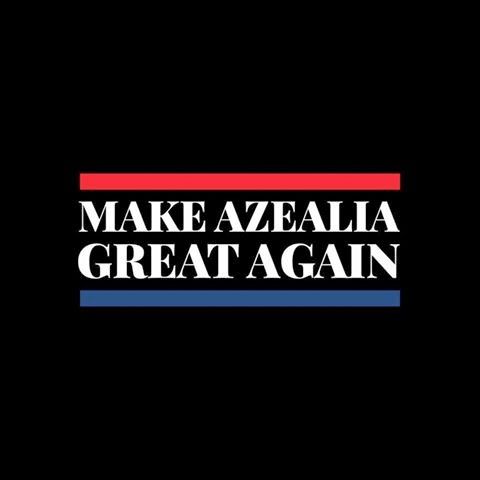 More than anything, Banks seems psyched at how Trump "beat the media":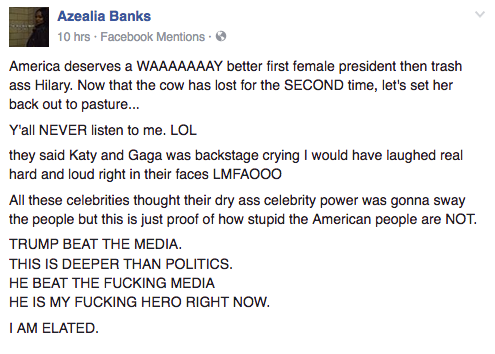 Oh, and she wants you to know she's NOT mentally ill...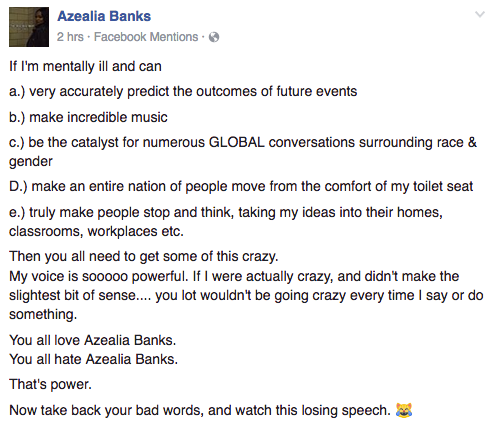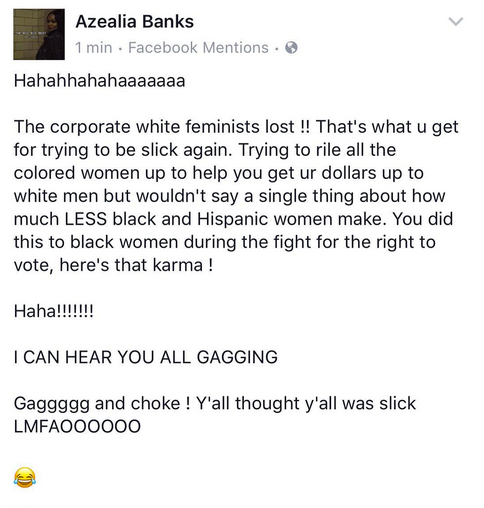 Well, the white feminism thing is a point of contention amongst many today.  But still....
In other YBF election news...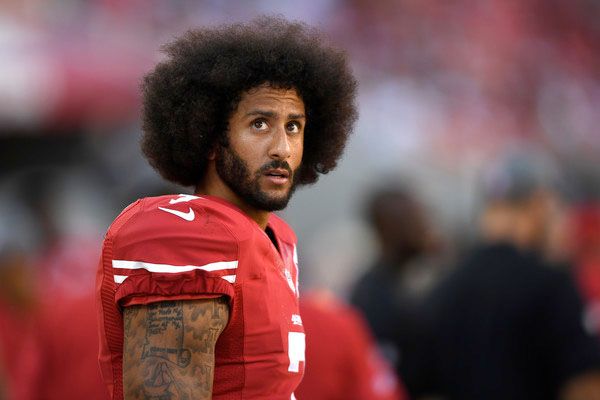 Of all people, one would think Colin Kapernick would have voted. But apparently, that's not the case.
A reporter asked the San Francisco 49ers quarterback if he already voted or if he planned to vote later on Tuesday and he answered NO to both questions.
Reporter: Have you voted?
Colin Kaepernick: "No."
Reporter: Are you going to vote?
Kaepernick: "No."#49ers

— Eric Branch (@Eric_Branch) November 8, 2016
Yes, the same Colin who has launched a nationwide silent protest during the National Anthem to raise awareness to social injustices.
While we get he wasn't a fan of either Trump or Clinton (like many were), we're surprised he didn't head to the polls to exercise his American right. A right people like him didn't have. A right his ancestors fought for HIM to have. Similar to the same rights he's fighting for today.
It's just a bit mind boggling…especially when the solution to the issue he's fighting lies in the laws of the land that citizens VOTE for people to establish and uphold.
Photos: Azealia's IG/Getty