To call the presidential election of 2016 a shocker would be an understatement! Now that it is over, here's how Americans cast their vote by race gender and more inside.  It may shock you, or you may have expected exactly this scenario.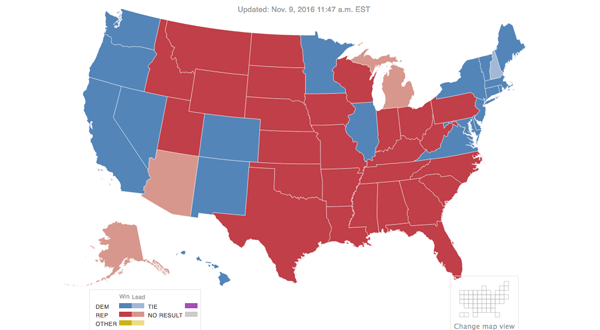 In arguably one of the biggest Presidential upsets in American history, Republican candidate Donald Trump has won the election and is now our president-elect. Yeah, it hurt to even type that, but it's a fact. Not to mention, Congress will be run by the Republican party as they will keep control of the House and the Senate.
So how did we get here?

Well, for starters Trump nabbed a surprising 276 electoral votes. Throughout the night, it was a very tight race that kept us on the edge of our seats.  Many of the swing states were anywhere from .01% difference of a vote to 1% difference.
According to the breakdown of votes, Trump had A LOT of silent support.
Not surprisingly, 58% of white voters voted for Trump and 37% voted for Clinton. White voters make up 69% of the electorate, according to exit polls.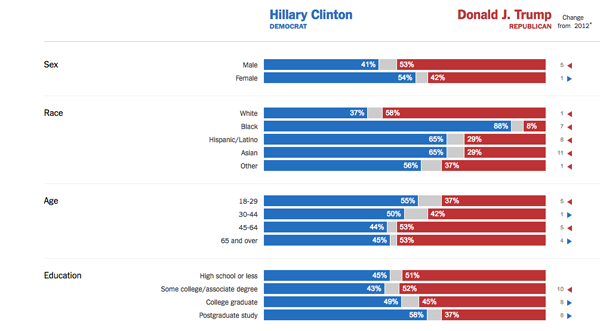 WHITE WOMEN voted 53% (some earlier reports originally said over 60%) for Trump and 43% for Clinton.
Hillary received 88% of the black vote.  And she also received about half of the millennial vote.
This statistic proves black people shouldn't be solely blamed for the lost in the election, even though media has been trying to place some of the blame on African Americans. What's shocking (or maybe not so shocking) is that so many white women still voted for Trump despite the ugly, sexist things he has said about women.  We have our thoughts on why this occurred, but that's neither here nor there now.
According to MSNBC, 49% of White voters with college degrees gave Trump  their vote, Clinton copped 45% of that group. Hmph.  As previously predicted, white voters with no college degree voted in droves for Trump -- to the tune of 67%.
29% of Latinos voted for Trump. Shocker.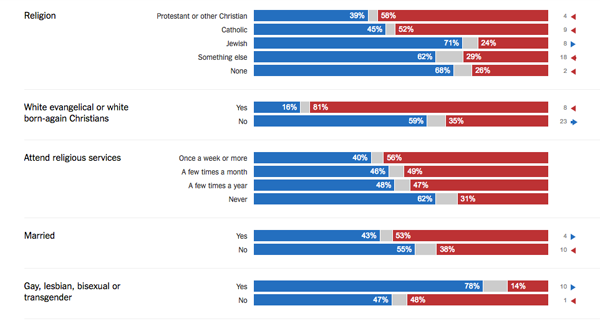 Voters earning less than $50,000 a year gave Clinton 52% of their vote, while 41% of that group voted for Trump. Meanwhile, 49% of voters who earn more than $50,0000 year voted for Trump and 47% voted for Clinton.
So you see, Trump had several supporters who made their voice heard loud and clear at the polls.
Oh, but get this.
There are new reports that Hillary holds the popular vote over Trump with several "left-leaning" counties votes yet to be counted. As of Wednesday morning, according to the Washington Post, Clinton has 59,383,245 votes and Trump has 59,209,854.
Clinton: 47.7% Trump: 47.5%. It's very close, but she's winning.   And thanks to the electoral college, Trump was awarded the Presidency.
We've seen this happen before...
Which statistics shock you the most? Are you surprised at how many votes were cast for Trump?
Photos: AP/NY Times/Getty