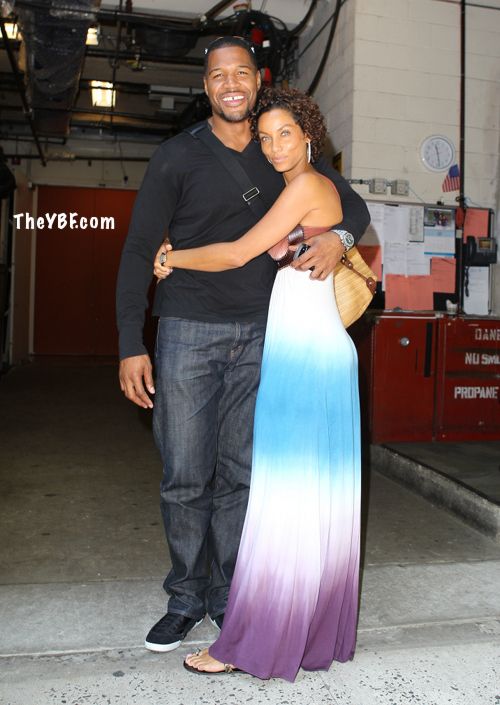 Nicole Murphy may be busy making her own promo rounds for her new VH1 show "Hollywood Exes," but she was all about her man Michael Strahan this morning as he co-hosted "Live With Kelly."  Pics of the gorgeous reality star, her co-star Andrea Kelly and the drama with her ex R. Kelly, plus Zoe Saldana looking fresh & summery out in NYC...
Nicole Murphy was spotted looking fab outside of ABC studios in midtown Manhattan this morning as her boyfriend, NFL sportscaster Michael Strahan, hit the "Live With Kelly!' stage as this morning's co-host.
Loving this colorful ombre maxi dress: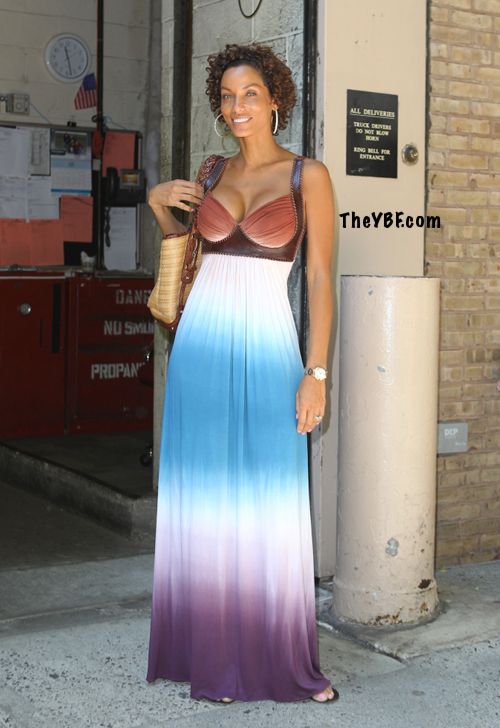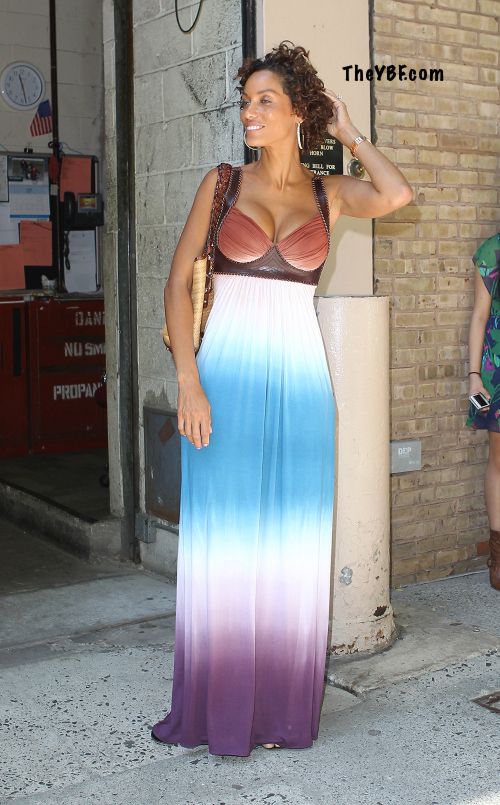 The mom of 5 seems to be the sensitive yet fun & drama free cast member so far.  And, surprisingly, we were feeling the premiere episode of "Hollywood Exes" that aired Monday night.
Nicole's animated and quite comical co-star Andrea Kelly was spotted hopping out Wendy Williams' studio after appearing on the show Monday.  The professional choreographer injured her foot while dancing the tango...but she kept it moving with the promo.  Her ex-husband on the other hand, is doing anything BUT.
Today, word broke that R. Kelly canceled all of his appearances scheduled for today in NYC.  The Chicago native apparently is suffering an "emergency illness" that is keeping him home.  His people tell TMZ:
"Initial indications are that he is suffering from complications from surgery he had last year to treat an abscess on his vocal cords.  We sincerely apologize for any inconvenience this has caused."
He was scheduled to do a book launch at Barnes & Nobles in Tribeca for his new memoir, Soula Coaster: The Diary of Me.  He was also scheduled to appear on "The Today Show" and "Jimmy Fallon."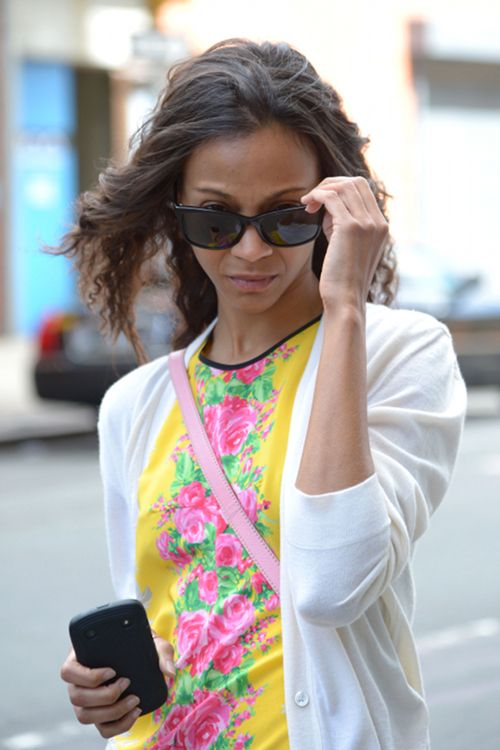 Also out in NYC this morning, actress Zoe Saldana was spotted running errands looking extra summery rocking the new DKNY Eyewear Wayfarer shades: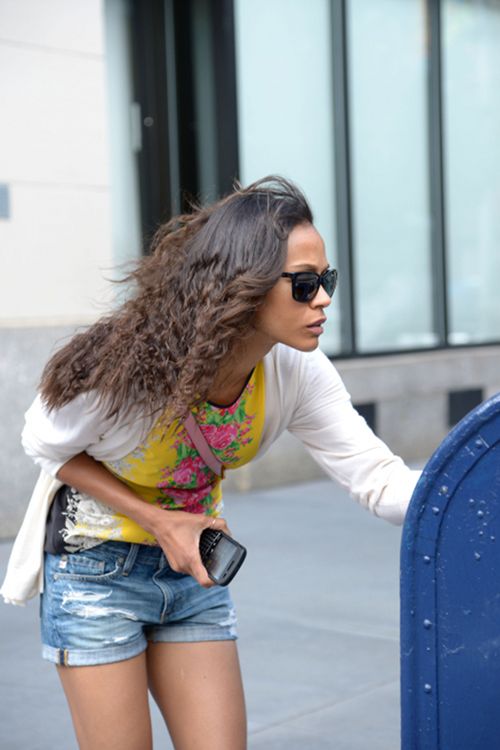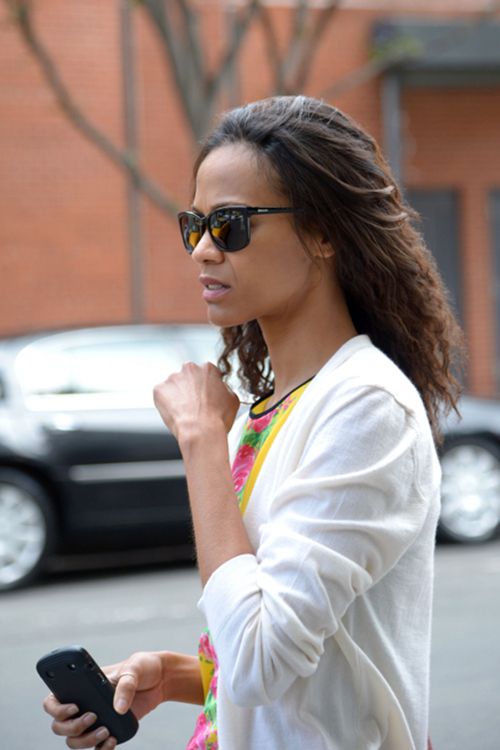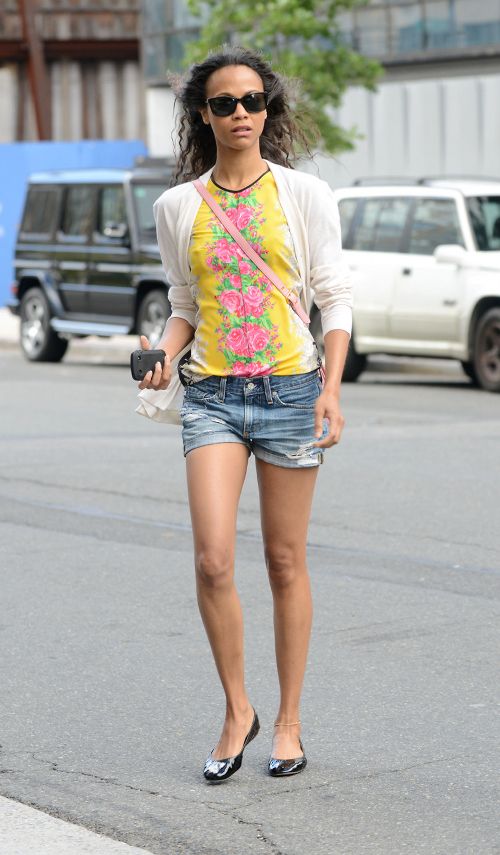 The 34-year-old recently wrapped the Star Trek sequel (yet to be titled), and it's set to hit theaters May 13, 2013.  About how she will be reprising her controversial role of "Nyota Uhura," who has a relationship with the "Spock" character, she said in an interview:
All I'm going to say is, if you put all the time and energy and wit into setting these two characters together in the first movie and didn't follow through, it would be a shame.
Zoe's currently filming the 70's thriller Blood Ties in the City. 
Pics: Pacific Coast News