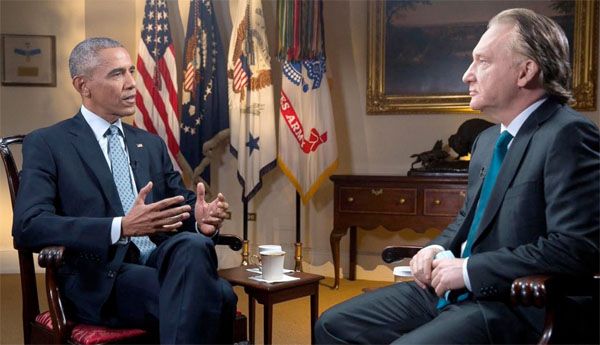 "Real Time" host Bill Maher finally scores a sit down interview with President Barack Obama where they discuss how important the upcoming presidential election is, marijuana legalization and the media. Get the highlights inside…
After years of on-air campaigning and a White House petition, "The Real Time" host Bill Maher finally got his wish: a sit down with President Barack Obama.
Sitting down in the Roosevelt Room inside the White House, POTUS and Bill engaged in a 37-minute conversation about an array of topics, including the importance of this upcoming presidential election, the legalization of marijuana and how the media shapes narratives.
"Persistence" President Obama said as they sat down. "That's how I got Michelle to marry me." Cute.
When it comes to who Americans should enter their vote for this election, POTUS said it "should be really clear." He's #WithHer (Hillary Clinton).
"Anyone who sits on the sidelines or makes a protest vote is a vote for [Donald] Trump," POTUS said,"and that would be badly damaging to this country, and damaging for the world."
He continued, "The stakes are high. The choice in this election should be really clear. Every single issue we've made progress on in the last eight years is going to be on the ballot."
The Commander-in-Chief addressed his concerns about the media detailing how hard it is for Americans to sift through everything that's being presented to find out the cold, hard facts.
"I think the question I'd have when it comes to the media is, 'How do we create a space where the truth gets eyeballs and is entertaining?,' and we can build a common conversation… You've got 800 stations, you have all these websites, and people have difficulty sorting out what's true."
Obama then blasted FOX News for their warped way of presenting the "news":
"Look, if I watched Fox News, I probably wouldn't vote for me either. Because you've got this screen, this funhouse mirror, through which people are receiving their information. How to break through that is a real challenge."
The discussion moved to the legalization of marijuana, something Bill strongly advocates.
Is that something you care about?" Obama jokingly asked Bill. POTUS then got serious and shared he was reluctant to move on the issue due to the "public health problem" of smoking in general.
"There is this enormous public health effort to get kids to not start smoking. And make sure the parents felt guilty if they were passing on that habit with their kids," POTUS said. "So that's where I think we need to go with pot, alcohol. So I don't think legalization is a panacea but I think that we're going to need to have a more serious conversation about how we're treating marijuana and our drug laws generally."
During the marijuan discussion, POTUS dubbed himself an ex-smoker and threw in a wink at the camera after saying it (at the 8:30 mark). "I'm chewing the heck out of Nicorette," POTUS said. Ha!
POTUS and Bill also talked about health care, food purity in America, climate change, immigration and more.
In case you missed, peep the full interview below:
Photo: Associated Press