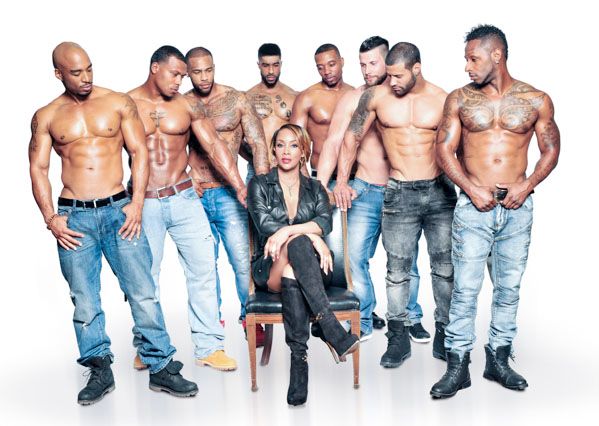 In today's TV round up, Vivica A. Fox will be heating up 2017 with the premiere of her new male exotic dancer series "Black Magic." Eve, LaLa Anthony and more have join Star Jones' "Daytime Divas." And Cardi B thanks Gabrielle Union for her role in "Being Mary Jane." Get the details inside….
2017 will be kicking off with some hot guys and loads of drama.
Ladies (and some gents) get ready! Vivica A. Fox will debut her new male exotic dancer reality series "Black Magic"in January 2017. And it promises to bring some nice YBF eyecandy and plenty of drama to keep you entertained.
The YBF actress is putting her name, her money and her reputation on the line to give women (and a few men) a night they will never forget. With a little help from her girl squad, Eurika and Kiana, Vivica auditions hundreds of hot men, narrowing it down to a group of elite eight with six-packs and moves worthy of a coveted spot in her show. Sounds like a dream job doesn't it?
The elite eight include Michael "Bolo" Bolwaire (Atlanta), Alvester Martin (L.A.), Jonathan "Heat" Martinez (NYC), Greg "White Chocolate" Jackson (Baltimore), Mike "Profit the Problem" Strong (L.A.), Steven "Charm" Beck (Atlanta), Andrew "Penetration" Williams (L.A.), and Christian "Slo-Motion" Dennis (L.A.).
The guys must put aside their egos and personal life dramas, and give it all they have to make the magic happen. Will Vivica be able to pull it off and get Black Magic to her ultimate goal - a spot on the famous Las Vegas Strip? You'll have to watch to find out.
Vivica's "Black Magic" will debut on Wednesday, January 4th at 10pm ET/PT on LIFETIME. Will you be tuning in?
On another new series...
Several YBF celebs have signed on to appear in Star Jones' upcoming scripted series "Daytime Divas," formally titled "Satan Sisters."
Rapper Eve, "Power" actress LaLa Anthony, singing legend Patti LaBelle, "Empire" star Tasha Smith, "Scandal" star Norm Lewis are joining the cast in recurring roles alongside previously announced cast "Survivor's Remorse" star Tichina Arnold, "Ugly Betty" star Vanessa Williams, and "Hit The Floor" star McKinley Freeman.
Inspired by Star Jones' book "Satan's Sisters… A Novel of Fiction" about a fictitious long running talk show entitled "The Lunch Hour," the series will chronicle the daily fireworks that erupt between the five female co-hosts. On screen, they are best friends with five very different points of view, but behind the scenes, they inhabit a world of power struggles, cat fights and cocktails.
While guest co-hosting on "The Real," Eve said her role in the new series helped her prepare for hosting with "The Real" ladies this week.
Eve will play Cecile James, author of a book about alpha women who comes on "The Lunch Hour" as a guest host hoping to make her stint permanent.
LaLa Anthony will play Isabel Carlisle, a crisis management expert brought in by Maxine to help handle a situation that has gone public with one of the hosts.
Patti LaBelle will play Gloria, William's (Norm Lewis) sharp-tongued, fabulous, prying mother who loves visiting her son in New York City to catch the latest sales at Barneys. Lead by her maternal instinct, she knows her son better than anyone.
Tasha Smith will play Portia Camden, a popular lifestyle guru who joins the ladies as a guest co-host on the show.
Norm Lewis will play William, a handsome doorman who may hold one of the ladies' darkest secrets.
"Daytime Divas" is set to premiere in 2017. Be on the look out for that.
In other TV news...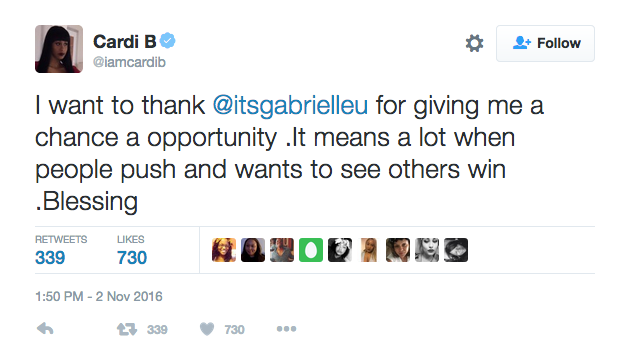 If you haven't heard, "Love & Hip Hop: New York" star Cardi B will be joining Gabrielle Union and the cast for the upcoming new season of "Being Mary Jane." And since "BMJ" is moving to NYC for the new season, it makes sense.
Yes, Cardi is working on making a name for herself…forevaaaaa.
According to TV Line, Cardi will appear in one episode as a character named Mercedes. She's described as a "round-the-way beauty with a big weave, big boobs and a big booty to match her oversized, ratchet personality."
The reality star took to Twitter to thank Gabby for the opportunity tweeting, "I want to thank @itsgabrielleu for giving me a chance a opportunity .It means a lot when people push and wants to see others win .Blessing"
New Jersey Senator Cory Cooker will also guest star this season. The new season of "Being Mary Jane" returns in January 2017.
In the meantime, you can check out Cardi B in a new season of "Love & Hip Hop: New York" when it premieres November 21st at 8/7c on VH1.
Photos: LIFETIME/ Trae Patton/Warner Bros. Television