After Beyoncé performed at last night's CMA's, the organization made the foolish decision to scrub her and the Dixie Chicks from their website to remove any proof of their existence on the show.  The shade didn't go unnoticed by the Beyhive, and they are SWARMING.  Deets inside...
The Country Music Association wasn't ready for the Bey-backlash from their conservative Christian country base.  The base who loves to convince folks they're about "family values" and the constitution and class showed their asses today on social media.
It wasn't hard to predict some folks would be pissed to see Beyoncé performing in "their" country space after the huge backlash she got from conservatives for her Superbowl performance and "Formation" song. 
Were the CMAs thinking they could offset any lower ratings due to World Series competition by having Beyoncé on the show?  Maybe.  While the ratings were slightly lower than last year's (12.6 million compared to 2015's 13.68 million), last year there was no World Series competition.  So it's possible the ratings would have been even lower had Beyoncé not been a surprise performer who was announced hours before the show.  And we also don't know the exact number of folks who streamed the show via the ABC app and mobile site.
Still, the hate for Beyoncé revved up again today as the CMAs website and social media were covered in Beyonce & Dixie Chicks recaps and promos and imagery from last night.  By the afternoon, everything was gone.
Comments on the videos and promo materials on Instagram ranged from calling Beyonce a "Black Panther b*tch" to "n***er b*tch" to telling her she needs to get back in her place.
And we all saw Kenny Chesney's PRESSEDT a** face during her performance.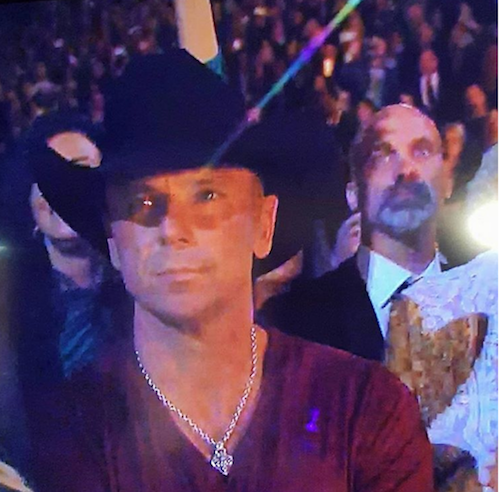 Chile...
By the way, Beyonce invited the Dixie Chicks to perform with her for the CROSSOVER PERFORMANCE, not the other way around.
@schristine90@dixiechicks Oh, Bee brought us.

— Natalie Maines (@1NatalieMaines) November 3, 2016
Once CMAs succumbed to the pressures of the racists, the Beyhive went in, esp. after the CMAs backtracked again by reposting one of Bey's "Daddy Lessons" posts.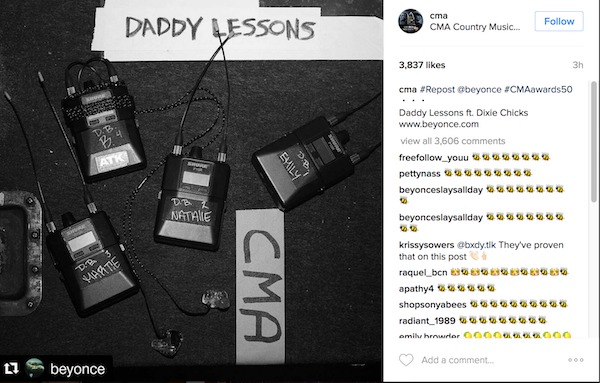 TMZ says they talked to insiders at CMAs who said the organization for sure thinks they may have made a mistake by inviting Beyonce and the Dixie Chicks. That's finny since EVERY headline today was about Beyoncé stealing the show, which she did.
We bet they're not calling their ratings a mistake though.  GTFOH....
At least Dixie Chicks lead singer Natalie -- who has been at odds with the CMAs for well over a decade -- has found some humor in this:
Hey everybody!The CMA's just called and asked us to co-host next year's show with Beyoncé.Unfortunately I've got a thing that night so, no.

— Natalie Maines (@1NatalieMaines) November 3, 2016
"You know you dat Bitch when you cause all this conversation. Always stay gracious best revenge is your paper." #Bey#Slay

— Natalie Maines (@1NatalieMaines) November 3, 2016
@mhjellm629 We were in Bey's world not the CMA world;)

— Natalie Maines (@1NatalieMaines) November 3, 2016
Ha!
Photos: Instagram/Beyonce.com