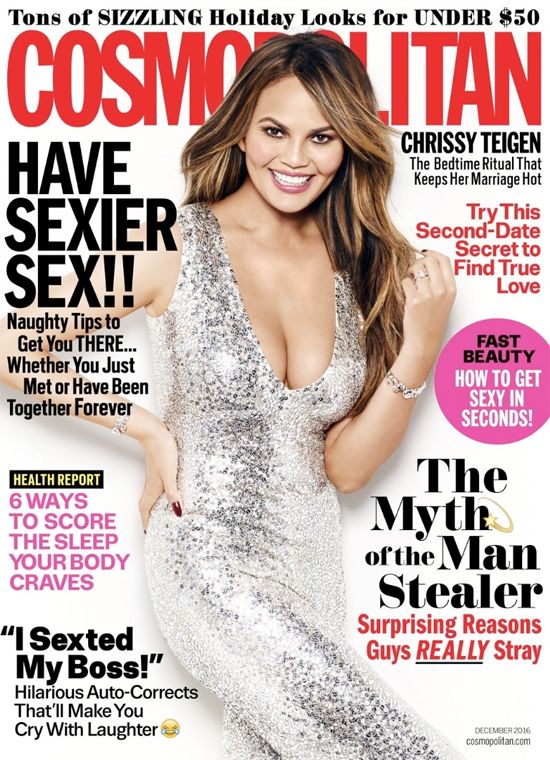 Chrissy Teigen dishes on a rough patch in her relationship with her now husband John Legend inside the newest issue of Cosmopolitan magazine. Deets inside…
All relationships go through their ups and downs, especially celebrity relationships.
Chrissy Teigen is dishing on that one time her now husband John Legend tried to call it quits. The model/cook covers Cosmopolitan's December 2016 issue and she's sharing personal stories about her relationship with her Oscar winning R&B crooner.
The mom-of-one says earlier on in their relationship John tried to end it with her after he became ill while on tour. It only lasted a day and John now calls it a big mistake.
"Early on in the relationship, I was on tour with him and he'd gotten sick," she shared."He was feeling really bummed and stressed out. He was like, 'I can't be in a relationship right now.' That lasted for one day. Literally, a day. I knew it came from a place other than us not working ... I always joke, 'Remember when you tried to break up with me?' He's like, 'Yes, sorry. Big mistake.'"
Since then, the couple has seemingly been happily in love. When it comes to the ex-factor, Chrissy says it doesn't bother her much because that was before she came along.  She's actually friends with them.  Since John seems to have a thing for models, she sometimes will run into his ex-girlfriends.
"I didn't know it, but John used to be a notorious modelizer," she spilled. "To me, he was the sweetest teddy bear. What's funny is that I get along with everyone he's ever been with. I end up really liking them. After I see them, I'll tell him, 'Oh, I was on-set with your ex today — it was fun!' ... It was before me, so it's fine."
We can dig it.
Chrissy's cover hits newsstands November 8th.
Photos: James White via Cosmopolitan