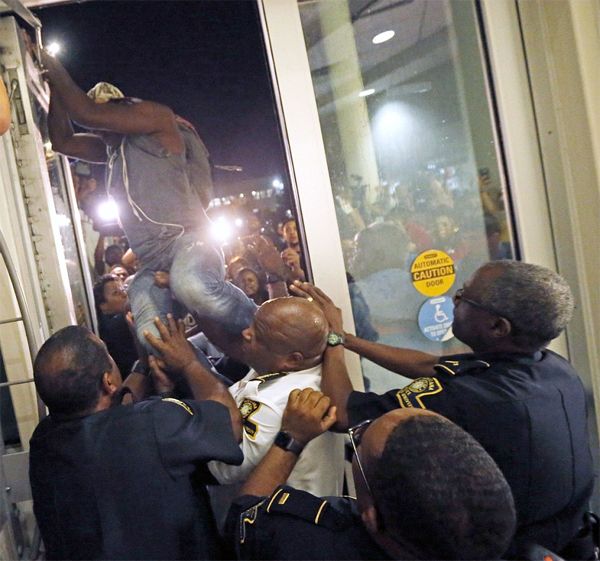 Former (and proud) KKK grand wizard David Duke was tapped to speak at the historically black Dillard University in New Orleans. And all hell broke loose outside and inside the debate. Details inside…
Former Ku Klux Klan grand wizard David Duke showed up to Dillard University yesterday to participate in a US Senate candidate debate. And all hell broke loose!
According to several reports, protestors (some students, some not) lined up outside to protest the former KKK grand wizard stepping foot on the HBCU campus. WHY on earth did anyone think this was a good idea?! A known (and proud) racist to speak at a historically BLACK college? What are we missing?
The debate was actually hosted by and sponsored by Raycom Media who is comprised of several local news stations in New Orleans.  According to their website:
All six leading candidates for Louisiana's open U.S. Senate seat have agreed to participate in Raycom Media's debate on November 2, 2016, at Dillard University in New Orleans, La. The debate will be produced and carried LIVE from 7-8 pm central time on-air and streamed online.

John Kennedy (R), Foster Campbell (D), Caroline Fayard (D), Charles Boustany (R), John Fleming (R) and David Duke (R) have confirmed their participation in the Raycom debate.

Journalists from Raycom Media's Louisiana stations will ask questions and field answers from the candidates. John Snell, anchor and political reporter at WVUE-TV (FOX) in New Orleans, will be the debate moderator. Panelists will be Greg Meriwether of WAFB-TV (CBS) in Baton Rouge, Doug Warner of KSLA-TV (CBS) in Shreveport, and Cynthia Arceneaux of KPLC-TV (NBC) in Lake Charles.
Clearly, this wasn't thought through.  And we're not sure why Dillard couldn't exercise their right to no longer agree to host the debate based on who the qualifying candidates were.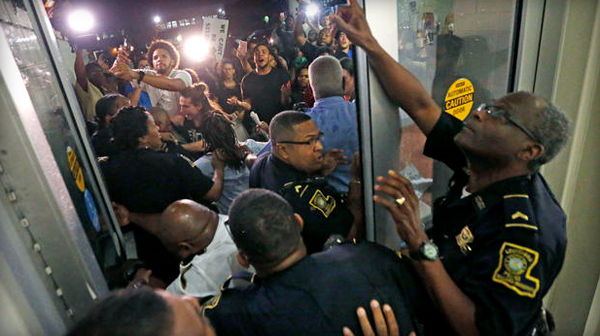 Police used pepper spray on protestors as they tried to make their way inside the debate hall. It's being reported students and media were denied access, a rule set by sponsor Raycom Media before the debate.
I can taste the pepper spray. Protestors and police clash at #Dillard#senatedebatepic.twitter.com/KLRtiacWGq

— Nick Reimann (@nicksreimann) November 3, 2016
Protests at Dillard University over former KKK Grand Wizard David Duke coming to campus for Senate debate #NOLA#Dillard#HBCU@WVLALocal33pic.twitter.com/vRoBpLxXEO

— Justin Campbell (@jcampbellnews) November 3, 2016
Student group Socially Engaged Dillard University Students (SEDUS) vowed to protest the debate after Dillard denied their requests to NOT have David Duke on their campus. "His presence on our campus is not welcome, and overtly subjects the entire student body to safety risks and social ridicule," SEDUS wrote in an open letter.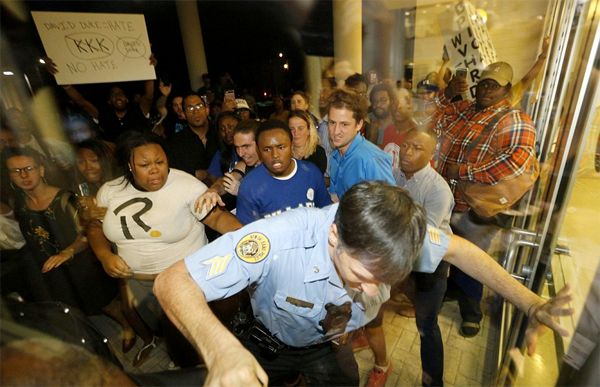 There are conflicting reports on exactly how many people were detained. Some reports said at least six people (one of them reportedly being a student) were arrested for obstructing justice. It was also reported that at least one police officer got pepper sprayed.
However, Dillard University said no one was arrested:
There have been no arrests on the campus due to protests. 1 student and 1 individual were briefly detained after trying to breach the door.

— Dillard University (@du1869) November 2, 2016
We respect the rights of students and the community to protest. Our primary focus is the safety of our student body.

— Dillard University (@du1869) November 2, 2016
Inside, David Duke reportedly dubbed Black Lives Matter demonstrators "radicals" and said they support people murdering the police during the debate.
"The Black Lives Matter movement calls for the murder of police officers and calls for the death of police," said David Duke. He argued that he would "defend the police" and fight "for white people, who also deserve human rights."
Chile...
He also took jabs at Jewish people saying, "There is a problem in America with a very strong powerful tribal group that dominates our media and dominates our international banking. I'm not opposed to all Jews. I Think there's a lot of great Jews."
Sighs…
If you're wondering how he even was eligible for the debate, he got there by the skin of his teeth scoring 5.1% in the polls. The cut off was 5%.
Dillard University president Walter M. Kimbrough issued a statement this morning via Twitter tweeting:
Had a SPR86 "Invictus" experience last night. The healing, processing & learning begins today. I love all of you, detractors & supporters.

— Walter M. Kimbrough (@HipHopPrez) November 3, 2016
Before the debate, Mr. Kimbrough accused the US Senate debate of rigging the polls:
#myDU pretty clear polling rigged as Trump would say for ratings. Any protests become part of reality show masquerading as news. #WakeUp

— Walter M. Kimbrough (@HipHopPrez) November 2, 2016
Thoughts?
Photos: AP