Tyra Banks opens up about motherhood and reveals her career got in the way of becoming a mother. Get those deets and find out what Eve says about how her husband Maximillion Cooper feels about her wearing weave inside…
Tyra Banks' drive to build her fashion/beauty empire is undeniable. She's one of fashion and beauty's biggest icons. But, her career got in the way of her nabbing a title she always wanted: Mommy.
The 42-year-old fashion mogul dropped in on the "Steve Harvey Show" for his "Jump" week in celebration of his upcoming book (set to drop December 5th).
The TYRA Beauty honcho, who recently released a new skincare line, dished on the biggest "jump" of her life when she began her motherhood journey. It was an easy road since she decided to have kids later in life, but everything worked out and she is now the fab mother to her son, York.
She opened up to Steve:
"Motherhood was always a part of my plan. Since I was 23 years old, I told myself I would have a baby in 3-years. Every year, I would say 'in 3-years, in 3-years, in 3-years' and waited too damn long because I was so focused on work and really just wanting to find that partner to make sure that they would be around."
Finding a good partner is an important factor for sure. Once she did, she had issues getting pregnant, but that didn't stop her from becoming a mother. She continued:
"However, when I was ready to get pregnant, it wasn't so easy, based on fertility and being able to hold a baby in my womb. So, I had a surrogate. So York is my egg and his daddy Eric's sperm. He is my genetic child, I just needed another oven to carry."
Nice!
Peep the clip below:
On another daytime talk show...
Rapper Eve returned to guest co-host on "The Real" today where got REAL about how her husband, Maximillion Cooper, feels about her wearing weave. Y'all know how we are about our hair.
The former Ruff Ryderz first lady revealed her billionaire husband is the very first guy she's been with who has seen her natural hair and she's the first black woman he as been with. She said he walked into the salon one day while she was getting her hair done and couldn't go anywhere to hide. Ha!
The Barbershop actress said once he saw her getting her wig smoked, she figured "guess we're staying together." Eve said she has schooled him through "Weave 101" and he knows the deal now.
All jokes aside, she said Maximillion loves her either way. "He loves me without and he could care less," she dished.
Peep the clip below: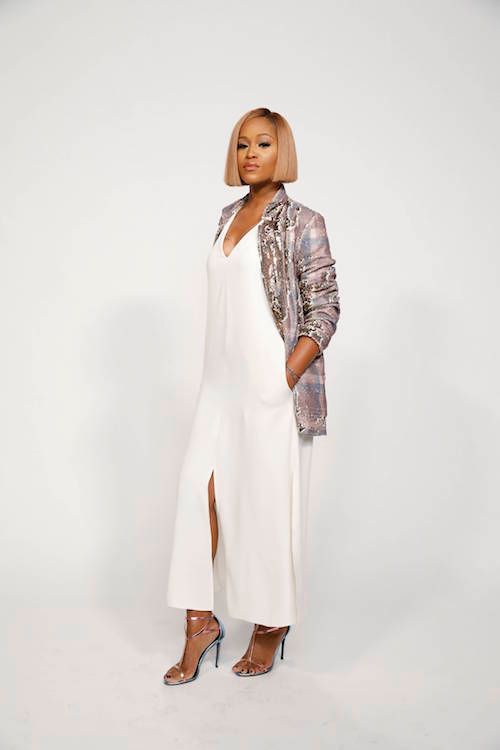 Looking great Eve!
BONUS:
In case you missed, hottie Idris Elba dispelled those rumors that he's dating Pop diva Madonna, despite that seemingly cozy SnapChat pic she posted recently. He set the record straight, straight up, no chaser tweeting:
Am I sleeping with Madonna? No motherfuckers... "Don't believe the Hype".

— Idris Elba (@idriselba) October 31, 2016
Well there you have it!
Photos: Cristina Aguirre/NBC/ Trae Patton/Warner Bros. Television