Soulja Boy has been causing all types of drama this weekend, and now it's landed him in a boiling lawsuit over a death threat he sent.  Plus, this mess with KeKe Palmer, India Love andthis video shoot with Bow Wow is all pure foolery...
Ever since Soulja Boy announced he "quit" LAHH, he's been on one. 
Recently he went on Instagram and recorded a video where he whipped out a gun -- that he now claims was a fake -- and said, "I'll kill yo bitch ass."  Skrill Dilly, an artist/writer who has previously worked with Soulja, says the "Superman" rapper was talking to him, and that death threat is now ruining his life.
TMZ reports:
In his lawsuit, Skrill says Soulja actually put a $10,000 bounty on his head. Worst of all, he says his baby mama is refusing to let him near their daughter ... fearing the little girl will get caught in the crossfire.

Skrill says the stress and fear of Soulja gunning for him triggered some medical issues. He was not specific. He's suing for damages and cash to cover his medical expenses.
Folks started going in on Skrilla for filing a lawsuit, and he responded:
Y'all reaching

— Skrill-Dilly (@Skrill_Dilly) October 30, 2016
Soulja said he's releasing a diss track and called him a b*tch for the lawsuit:
Chile...
In other news, after telling the world he's dating former "BBW: LA" star Brittish Williams, Soulja Boy suddenly switched it up and started posting plenty of pics of Instagram model and "The Westbrooks" star India Love.  He started throwing disses at up and coming rapper to the scene Lil Yachty, claiming that Yachty is lying about being with Inida, because he's smashed India Love himself.
Soulja was going off about everything he's allegedly done with her and then started beefing with Yachty over her: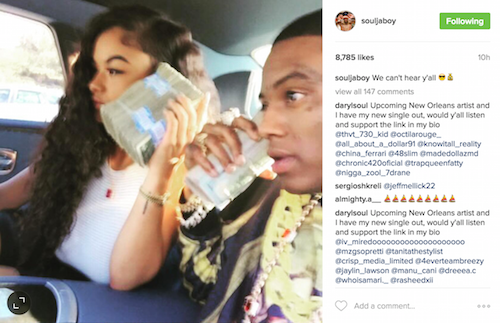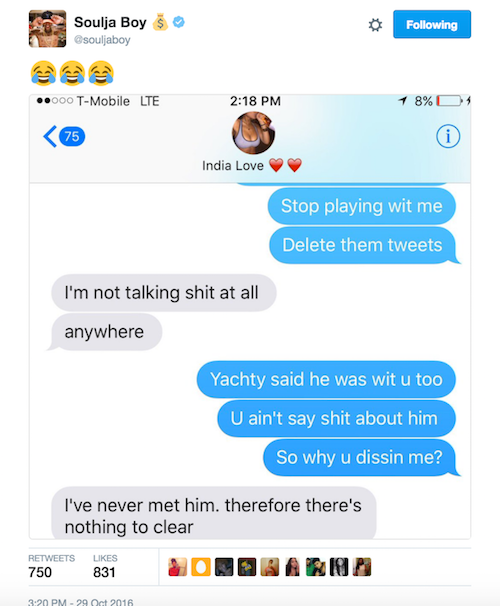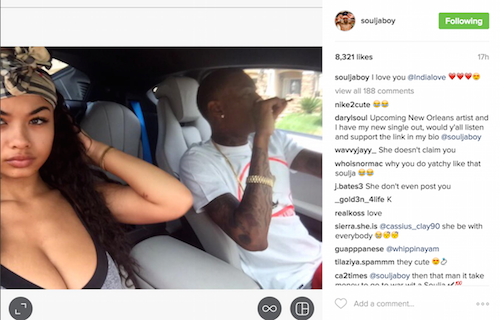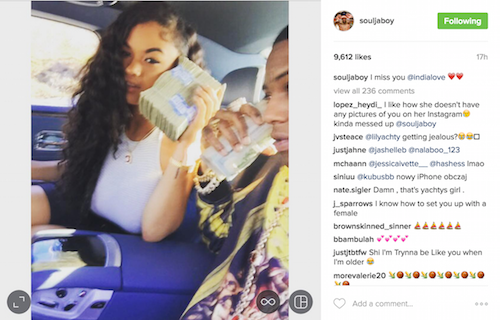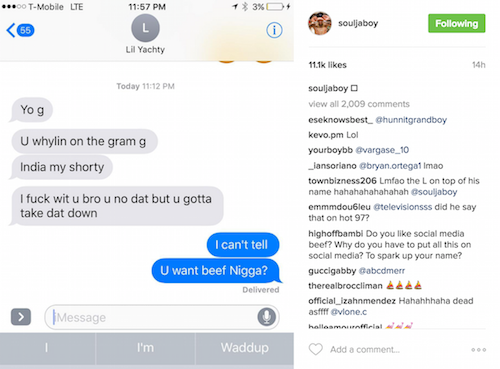 After Yachty threatened Soulja Boy to tell him he doesn't have time for no beef everybody seemed to fall back. Then Soulja claimed...you guessed it...that he was HACKED. And he blamed it on an ex. Nia Riley was definitely popping into the Twitter convos throughout the drama.
That may be why KeKe Palmer, Nia's friend, popped into the convo as well to defend her friend who was just played out by Soulja last week.  Soulja attempted to drag KeKe too, posting their DM convo and threatening her about posting the boat emoji: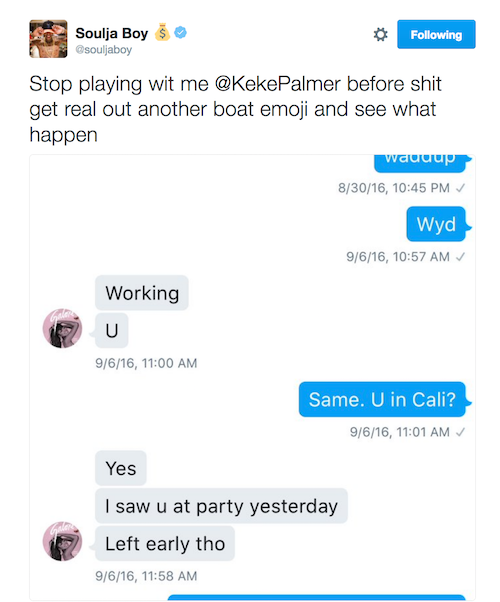 Meanwhile, Soulja is also working on a new project with Bow Wow.  And yes, it's as "Really dude?" worthy as you would think.  As for what the two have been up to, it's an "album" called Ignorant Sh*t.  Never seen a more perfect description: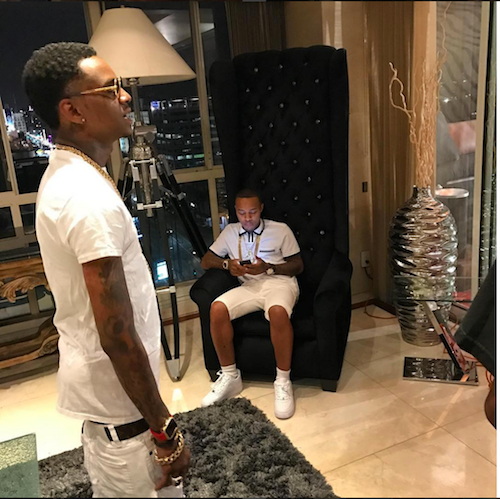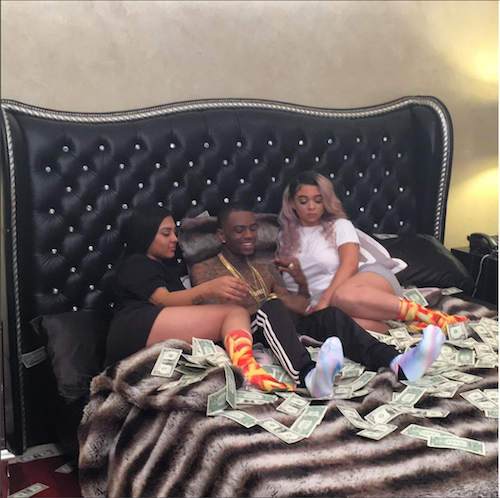 Sigh.
Photos/Videos: Instagram