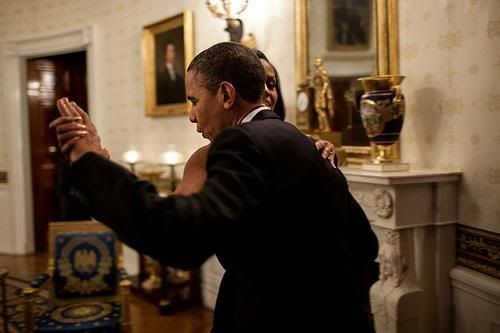 President Obama and First Lady Michelle recently did a cutesy interview where they recounted their first meal and official date together. Watch the couple inside....
If you've ever wondered how President Barack Obama romanced the First Lady on their first date during their legal internship years, the couple recently talked about it in a clip from their dinner with two supporters.
First, the couple had a nice lunch in the courtyard of The Art Institute of Chicago followed by a romantic stroll down Michigan Avenue.  They ended up at the movies to see Spike Lee's Do The Right Thing, which had just opened.
Throughout the clip, President Obama charmingly interrupts First Lady Michelle and makes sure she gets the story right.
Watch the video here:
BONUS:
They haven't talked about any of their dates with the public yet, but Tracee Ellis Ross recently posted to Instagram a photo of her and her boo Bu Thiam. Cute!