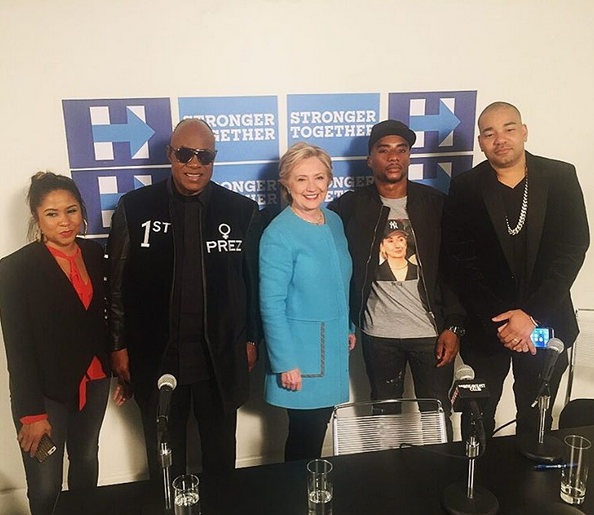 Presidential hopeful Hillary Clinton loves to dance, especially to Beyonce. She also digs President Barack Obama's dance moves. And since it's her birthday, special guest Stevie Wonder drops in during her "Breakfast Club" interview to sing her Happy Birthday. Get the highlights and more inside…
When it comes to dancing, who doesn't like to bust a few moves to Beyonce? Presidential hopeful Hillary Clinton does just like the rest of us.
The Democratic presidential nominee, who turns 69 today, stopped by Power 105's "The Breakfast Club" this morning just weeks before the presidential election goes down (November 8th).
While she spoke on several topics, she shared a few fun tidbits about herself that we didn't know before. Let's set the scene. It's First Lady Michelle Obama's 50th birthday and Beyonce serves up a few musical selections. Can you picture Mrs. Clinton hitting the dance floor? Well, she was!
"I went to Michelle's 50th birthday party and Beyonce performed and that was great dancing," she said. "I love to dance. Period. Any chance I get, I will dance. I'm not sure it would be anything you would say is good dancing, but I love to dance."
Get it Mrs. Clinton!
Speaking of dancing, Hillary also weighed in on President Barack Obama dancing it up with Usher and Janelle Monae to Drake's "Hotline Bling" during the final White House State Dinner last week.
"He can do it, don't you think?," she said.
In case you missed, check it below:
Loves it!
Back to business...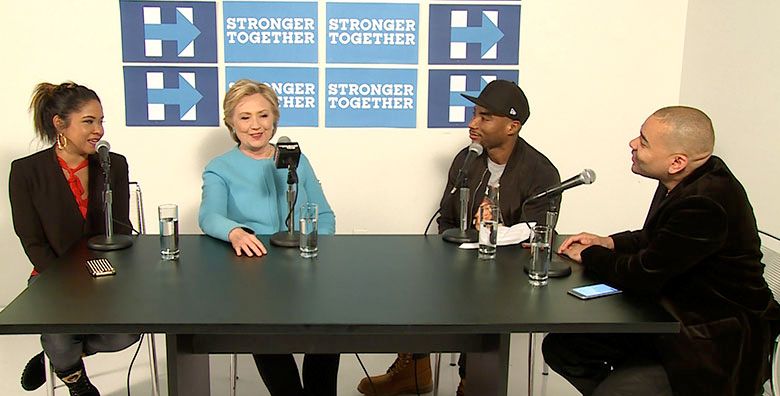 Hip hop mogul Jay Z will be performing in Ohio (a swing state) to show his support and to excite young voters to get out and vote. The former Secretary of State is super excited about it.
"Jay Z's dong a concert. I'm thrilled to have the support because I think one of the biggest's job I will face -- assuming everything goes well -- is how are we going to heal all these divides?"
Mrs. Clinton also talked about how she was inspired by Shirley Chisholm, the first woman who ran for office, to run for president:
"Think about Shirley Chisholm who I was privileged to meet and watch as she fought to become really the first woman that even had a chance in a major party. She really set the stage."
Nice!
Mrs. Clinton dubbed her husband/former president Bill Clinton as the possible "future first husband" and said she would like for him to work on economy development when/if they make it back to the White House.
She also touched on topics like police brutality and institutional racism:
"That's one of the highest priorities that I've had throughout this campaign because it's something we have to be honest about," she said. "We have to face up to systemic racism. We see it in jobs. We see it in education. We see it in housing. Let's be really clear, it's a big part of what we're facing in the criminal justice system."
When radio host Charlamagne showed her the memes that poked fun at her Death Row Records-like attire, she got a huge kick out of that.
Later, musical icon Stevie Wonder joined in the conversation where he revealed he has 5 children who are eligible to vote and will be voting the "right" way. He also noted he has a one-year-old as well. Sheesh!
To celebrate Mrs. Clinton's birthday, Stevie serenaded her with his rendition of "Happy Birthday."
Peep the full interview and Stevie's performance below:
Photo: The Breakfast Club/DJ Envy's IG