It's a celebration! The Cleveland Cavaliers kicked off the new NBA season collecting their NBA championship rings. And they have some really BIG rings! Peep all of the pics and videos from the ceremony and more inside….
Work hard, play harder!
The Cleveland Cavaliers, who won the 2015-2016 NBA Championship (that went down in the history books), received their championship rings from NBA commissioner Adam Silver before hitting the court against the New York Knicks at Quicken Loans Arena last night. And it was a total celebration.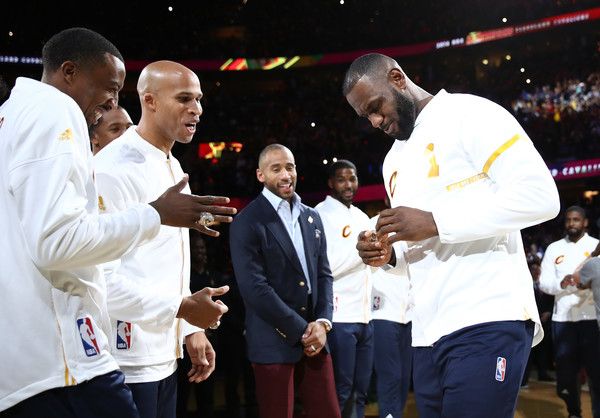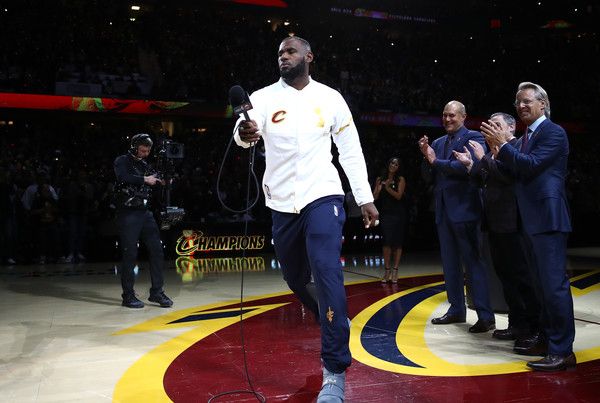 NBA Finals MVP LeBron James was front and center to cop his THIRD NBA championship ring before serving up one hell of game against the Knicks. The 31-year-old baller, who celebrates a birthday in December, scored 19 points, 14 assists, and 11 rebounds, proving why he's dubbed KING James. The man is a beast on the court and doesn't seem to show any signs of retiring his crown anytime soon.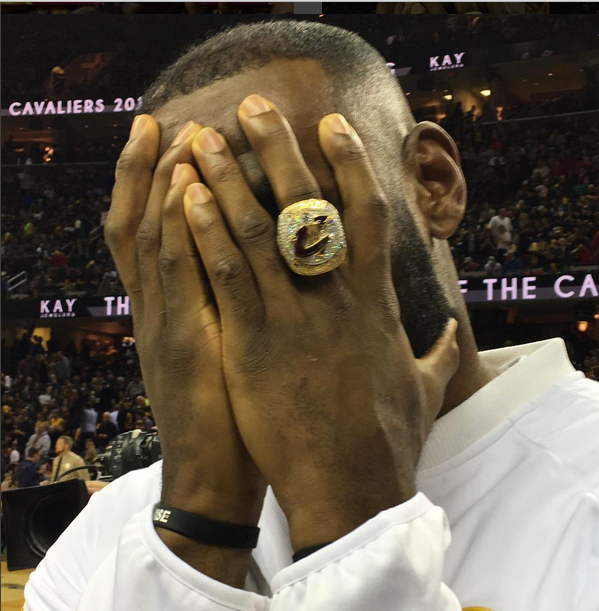 The Cavs baller took to his Instagram today to floss his new ring and to revel in the special night he shared with his teammates: 
"There's just not enough words I can put together to express the feelings I had when I received this last night! Emotions was running heavy and I'm just so proud of my teammates, their joy and happiness receiving theirs as well! It was a SPECIAL night to say the lease and I'll never forget that moment for the rest of my life. Final thing THANK YOU and you're extremely welcome to our UNBELIEVABLE fans for sharing that moment with us because honestly we did it for yall! #StriveForGreatness #RWTW #TheKidFromAkron #TheLand"
Ballers Channing Frye, Iman Shumpert, Tristan Thompson, and Richard Jefferson were more than ready to collect their championship rings.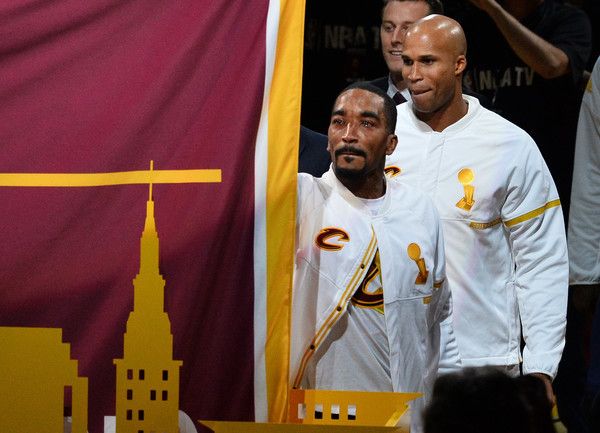 Emotions were running high and J.R. Smith couldn't hold back the water works.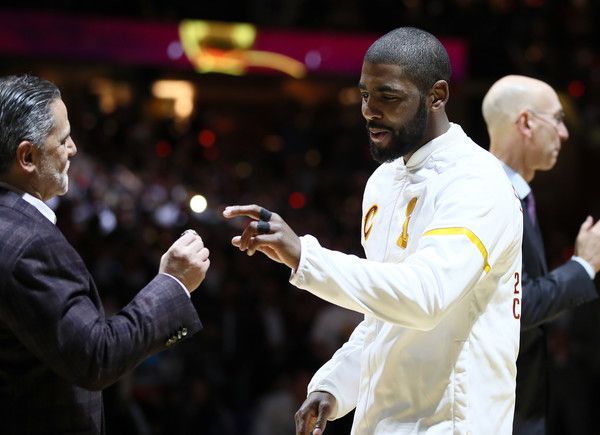 Kyrie Irving couldn't wait to get his hands on his new bling!
On her "wifey" duties, singer/actress Teyana Taylor was courtside to cheer her man on.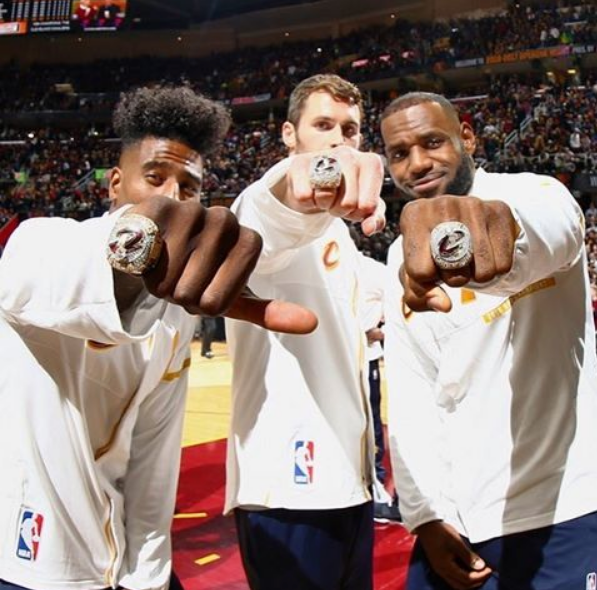 No one told Iman his ring was upside down. Doubt he cared either way.
Teyana wasn't the only one stanning for her man....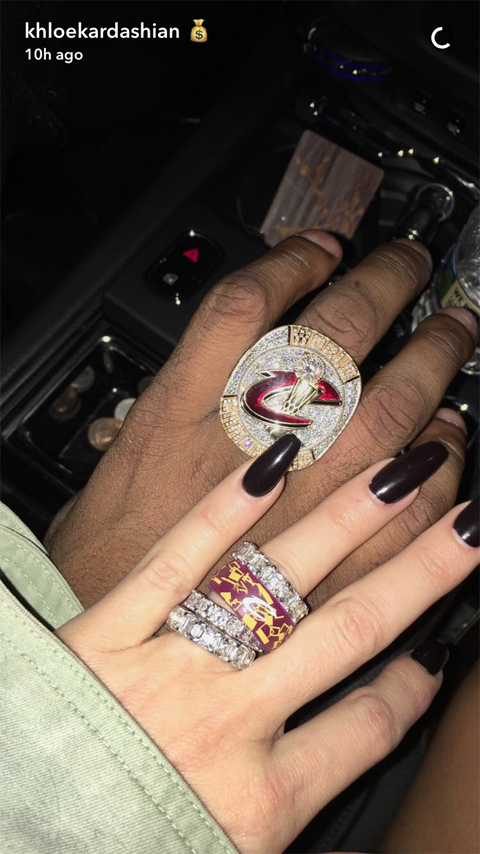 Tristan's girlfriend Khloe Kardashian made sure she was in the mix for the festivities. Hmph.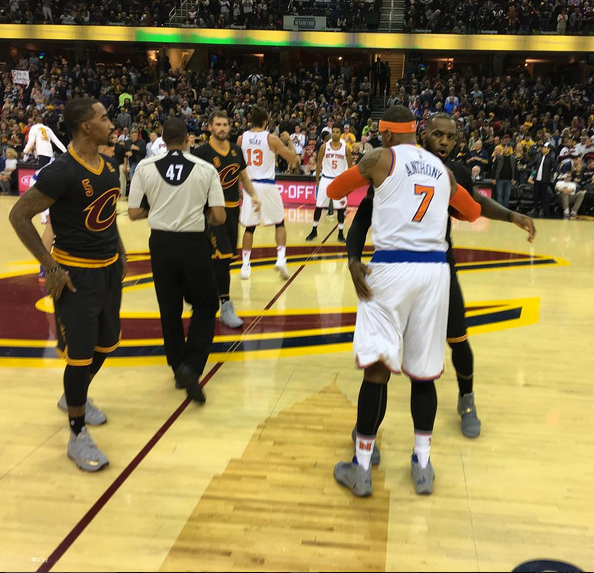 Knicks baller Carmelo Anthony dapped up LeBron on the court and made sure to stop and greet Cleveland legend Jim Brown: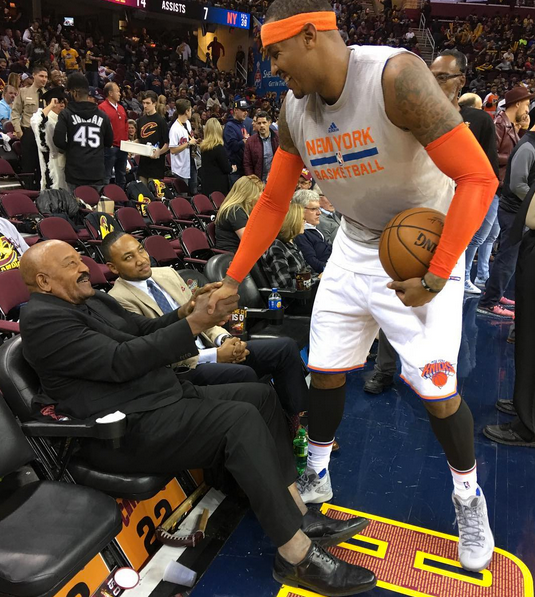 Oh, and this happened:
Bow Wow returned to his hometown to support the Cavs. He made sure to make his way in the locker room to flex with Kyrie's ring. Ok Bow...
Check out a few videos from last night's epic night: 
Congrats again to the Cavs!
Photos: Getty/ESPN/Teyana's Snap/Khloe's Snap