The Obama family was spotted exiting Air Force One in Chicago yesterday and one can't help but notice how fast Sasha and Malia are growing up!  Get the deets on their Chicago trip inside.....
First Lady Michelle, President Obama & the First Daughters touched down in Chicago on Friday for a rare trip home to their place in the Kenwood area.  But beforehand, they were spotted boarding the helicopter on the White House lawn back in D.C.
The family is in town for the wedding of Laura Jarrett, daughter of White House senior adviser and close family friend Valerie Jarrett.  Both Laura and her hubby-to-be, Tony Balikissoon, are both Harvard Law alums. 
The First Fam will remain in Chicago until tomorrow (Sunday), before the President travels solo to a G-20 summit in Los Cabos, Mexico that evening.
And can we just discuss for a minute how chic Ms. Malia (13) is growing up to be and how both she and Sasha (11) seem to have sprouted OVERNIGHT!  When both of your parents are athletic and pretty tall themselves, guess you don't have a choice.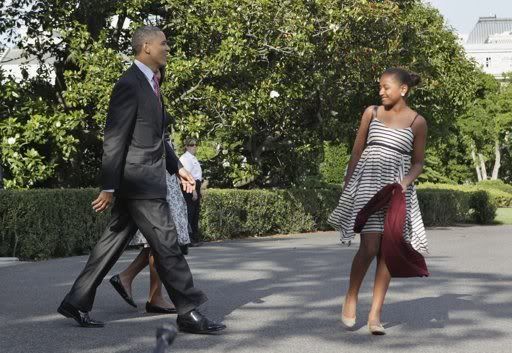 No wonder the First Dad put out a warning recently to all the fellas who are even thinking about pursuing his fab daughters.  When a reporter asked the President a few days ago how he felt about Malia approaching the time for boys & dating, he responded, "That's why we have the Secret Service."
Happy Father's Day Weekend all!