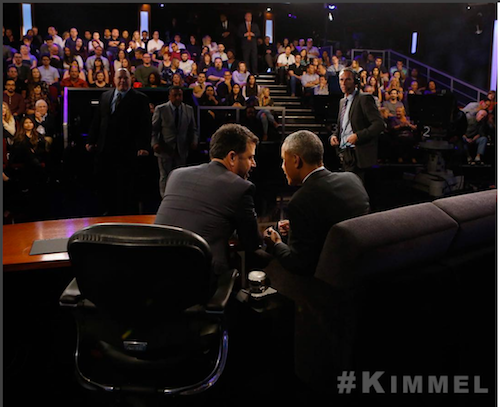 President Obama is making his media rounds stomping for Hillary and shading TF out of Donald Trump.  Get his latest hilarity inside...
President Barack Obama pulled up at Jimmy Kimmel last night to chat about all the important things: Voting, Hillary, and Snapchat.
He even read mean tweets again.  This time, though, he was thrown one from Presidential nominee Donald Trump who said Obama will go down as the worst President in American history.  Prez O's response: Phone drop worthy.  Check it:
Teeheee.
More Trump shade, how First Daughter Sasha taught him about Snapchat and why FLOTUS will divorce him if he runs again:
Meanwhile backstage...
Ha.  We know the President is freakin' estatic Chicago is finally going back to the World Series.
Photos: JimmyKimmelLive's Instagram