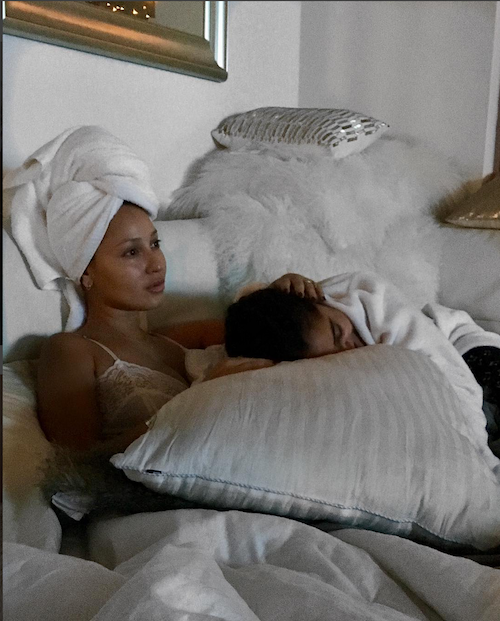 Adrienne Bailon is already ace'ing her stepmom duties.  Check out how the talk show host is bonding with her future stepdaughter, her fiancé Israel Houghton's daughter, over their birthdays inside...
A day before Adrienne turned 33 yesterday, Lillie Houghton, Israel Houghton's daughter, turned 13.  "The Real" co-host was front and center to help the new teen celebrate.  Adrienne posted a sweet pic of them cuddled up in bed together and said:
THIRTEEN Spent this weekend celebrating my spirit animal, my favorite harmonizer (yassss vocals!). My favorite person to cuddle with & have movie marathons with... My sarcasm soul mate, my eyebrow envy, my thoughtful handwritten note giver... My airplane buddy who keeps me calm, holds my hand & always makes me laugh... @lillie_houghton. I love you. I love you so much. You are the most genuine, honest, consistent, lovable, hilarious, witty, kind & lovable young lady. I wish everyone was as brave as you to be authentically who they are! And you're only 13! Never change! You're a ROCKSTAR! Thank you for loving me & letting me love on you... Always & Forever! This pic captures us perfectly. Love you Lillie Face. #HappyBirthdayLillie #LillieIsATeenager! Ahhhhh!
She even did a birthday brunch with Lillie too:
A day later, Lillie wished Adrienne a sweet Happy Birthday:
Looks like they've already bonded, which is definitely important when forming a blended family.  Israel has two kids with his ex-wife, and has recently been in the rumor mill for fathering two other kids outside his marriage (with one other woman), thanks to a new child support suit.
The Christian Gospel singer has admitted to being the father of one of the two rumored children, whose name Kingston, but the paternity of the youngest is still being determined.
By the way, Adrienne and Israel say they're remaining celbiate until their wedding day. 
Adrienne posted about her new outlook on life on her birthday yesterday:
Sweet. Happy birthday Adrienne!
Photos: Instagram