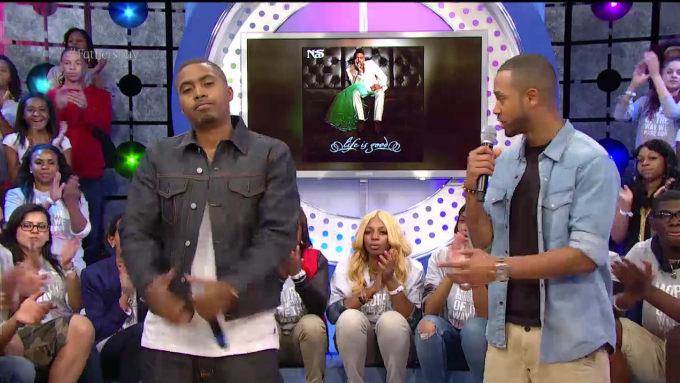 Nas dropped by "106 & Park" yesterday to promote the Life Is Good (July 17) disc and perform his single "Daughters." Watch the video inside and also see Melanie Fiona's "This Time" vid and Tristan Wild's "Cold" video.
Right in time for Father's Day, Nas dropped by "106 & Park" to perform his "Daughters" single which tackles his relationship with his daughter Destiny.  He also revealed why he participated in Ice T's documentary Something from Nothing: The Art of Rap.
And when discussing his Life Is Good album cover and why he posed with Kelis' green wedding dress, he said, "This right here shows the ending of one chapter, but what's the next chapter gonna be?  Life is good regardless. You gotta keep your head up and keep it moving."
Watch Nas' performance of "Daughters" here:
Watch his interview here:
In new music videos...........
Melanie Fiona has dropped the visual for her "This Time" single featuring J. Cole. The track appears on her MF Life album. She explained how J. Cole ended up in the Colin Tilley-directed video saying,
"I wanted some male energy on this record. I reached out to Cole and we had already done a song with Wale ['Beautiful Bliss'] and we all just really had great chemistry on the record. I was a fan of J. Cole. We met at the very, very beginning of his career, so we've kind of come up together."
Also..............
"90210" and Red Tails actor turned singer (but he hasn't completely abandoned acting) Tristan Wilds has released a visual for his "Cold" single.  The video treatment was written and directed by Erik Reinert and Tristan himself.  You feelin' it?
EXTRAS:
1. Today would have been the 41st birthday of rap legend Tupac Shakur.