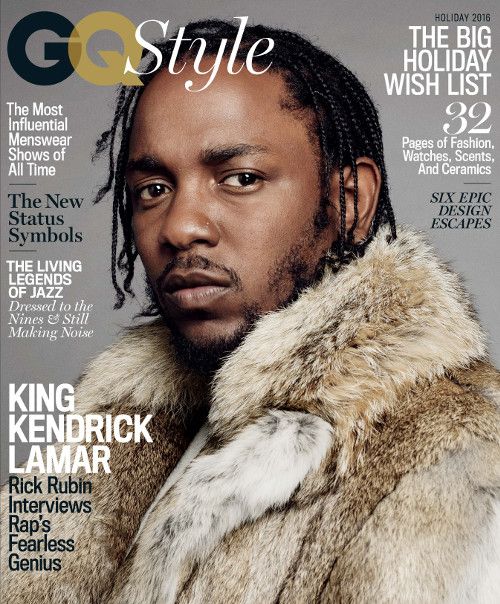 Kendrick Lamar graces the cover of GQ Style's Holiday issue where he dishes on how his track "Alright" became this generation's protest anthem. Find out what he told superproducer Rick Rubin inside….
Kendrick Lamar is arguably the best rapper in the game right now. He focuses his musical talents on shedding light on social issues, which grabs the attention of the younger generation.  That just solidifies why he's so needed in the rap game.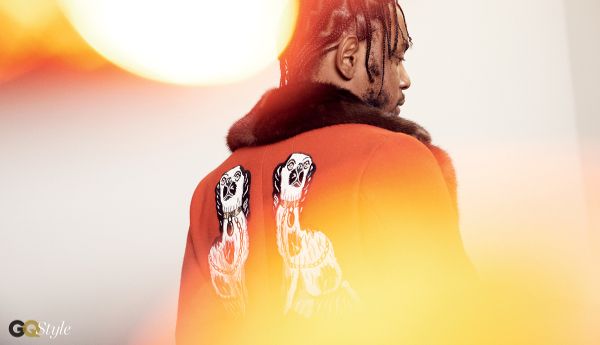 The Compton native covers GQ Style for the first-ever Holiday issue and he opens up about how his "Alright" track morphed into this generation's protest anthem against police brutality.
Meeting for the first time, the 29-year-old rapper sits down with super-producer Rick Rubin at the producer's Shangri La Studios in Malibu for a candid conversation about how "Alright" was created, how mediation has become an important factor in his life and how he studied Eminem's raps as a teen to help mold his flow.
Below are the highlights:
On how "Alright" became a protest song:

"You know what? I was sitting on that record for about six months. The beat's Pharrell. And between my guy Sam Taylor and Pharrell, they would always be like, Did you do it? When you gonna do it? I knew it was a great record—I just was trying to find the space to approach it. I mean, the beat sounds fun, but there's something else inside of them chords that Pharrell put down that feels like—it can be more of a statement rather than a tune. So with Pharrell and Sam asking me—Am I gonna rock on it? When I'm gonna rock on it?—it put the pressure on me to challenge myself. To actually think and focus on something that could be a staple in hip-hop. And eventually, I came across it. Eventually, I found the right words. You know, it was a lot going on, and still, to this day, it's a lot going on. And I wanted to approach it as more uplifting—but aggressive. Not playing the victim, but still having that We strong, you know?"

On why it took him over six months to come up with the lyrics:

"I didn't have any words. P knew that that record was special. Sam knew that the record was special. They probably knew it before I even had a clue. So I'm glad that they put that pressure on me to challenge myself. 'Cause sometimes, as a writer, you can have that writer's block. And when you like a sound or an instrumental, you want to approach it the right way. So you sit on it."

He added, "I remember hitting P on a text like, Man, I got the lyrics. And typing the lyrics to him. He's like, That's it."

On why meditation has become a way of life for him:

"I have to have at least 30 minutes to myself. If it's not on the daily, every other day, to just sit back, close my eyes, and absorb what's going on. You know, the space that I'm in. When you in music—and everybody knows this—the years are always cut in half, because you always have something to do. We in the studio for four months, that go by. Now you gotta go on the road for five months, that go by. Next thing you know, five years going by and you 29 years old. You know? So I have to find a way to understand the space that I'm in and how I'm feeling at the moment. 'Cause if I don't, it's gonna zoom. I know. I feel it. And I'm sure you know what I'm talking about. It just goes and then you miss out on your moment because you're so in the moment you didn't know the moment was going on, if that makes sense."

On studying Eminem's style as a teen:

"The clarity, I got my clarity just studying Eminem when I was a kid. How I got in the studio was all just curiosity. I had a love for the music, but it was curiosity. The day I heard The Marshall Mathers LP, I was just like, How does that work? What is he doing? How is he putting his words together like that? What's the track under that? An ad-lib? What is that? And then, Why don't you go in the studio and see? So I do that. Then it became, How's his words cutting through the beat like that? What is he doing that I'm not doing, now that I'm into it? His time is impeccable. When he wants to fall off the beat, it's impeccable. These are things that, through experience and time, I had to learn."

On the direction of his next album, the follow up for To Pimp A Butterfly:

"It's soon. I have ideas, though. I have ideas and I have a certain approach. But I wanna see what it manifests. I wanna put all the paint on the wall and see where that goes. Maybe you can help me with that."
You can read his full interview here.
Below is a clip from Kendrick's conversation with Rubin:
Photos: Alan Gwizdowski via GQ Style