Russell Westbrook is showing off his fashion vibes on the cover of GQ magazine. Say what you want about his sometimes WTF-worthy style, but dude just landed the cover of a major fashion magazine.
Meanwhile, Nicki Minaj opens up in a new interview about why her boyfriend Meek Mill's beefs are played out. Get it all inside…
Oklahoma City Thunder baller Russell Westbrook is no stranger to fashion. And its very clear after basketball, Russell will continue making a name for himself in the fashion world.
In his new GQ magazine cover story, he talks about his relationship with his former teammate Kevin Durant, he gets real about his game and why stylists are a waste of money.
The NBA point guard shows off his eclectic style for the masses. He always wears whatever he wants, doesn't care to follow trends, and he aims to never wear the same combination of clothes more than once. He rocks to the beat of his own drum, meaning when you see him all dressed up, that's all him. No stylists involved.
"And that's why a stylist, for me, is just a waste of money," Westbrook tells the publication. "It would take away from my creative side. And the most important thing about fashion is being creative and being able to have your own ideas."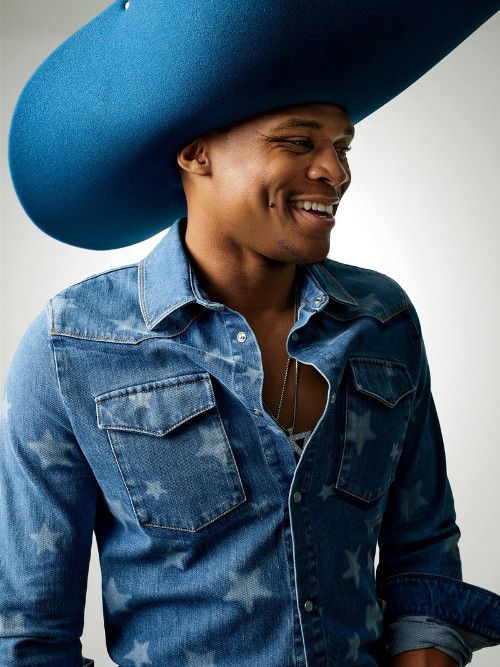 As for basketball, everyone was shocked when his teammate Kevin Durant decided to leave the Thunder for the Golden State Warriors after playing with Russell for eight seasons.
It was reported Russell was hurt and angry over Kevin's decision, but Russell hasn't said much to the media about his true feelings. So have Russell and Kevin talked much since Kevin's departure?
"Uhh, not much, no," he says.
He offered up a very careful response to Kevin leaving the Thunder.
"I mean, obviously in the NBA there's a lot of different decisions that people make," he says. "The whole thing in the NBA is that people sometimes have an opportunity to go where they want. And Kevin chose a place where he wanted to go."
Gotta to respect that.
Russell has a mantra that has governed his disposition as long as he's been in the spotlight: Why not? It's a saying that goes back well before he was famous.
"My friends and I started that motto early in high school," Westbrook says."That attitude, that mentality, from way back then: Want to go to Stanford? Why not? Want to play in the NBA? Why not? I was never the best player. Not ever in my life. Though even when I was younger, I felt that on any given day I could be. And that mentality's what's helped me get over the hump each and every day to where I was meant to go."
That's a good mantra to have.  You can read Russell's full interview over at GQ.
Check out Russell getting his male model on in the fashionable spread below: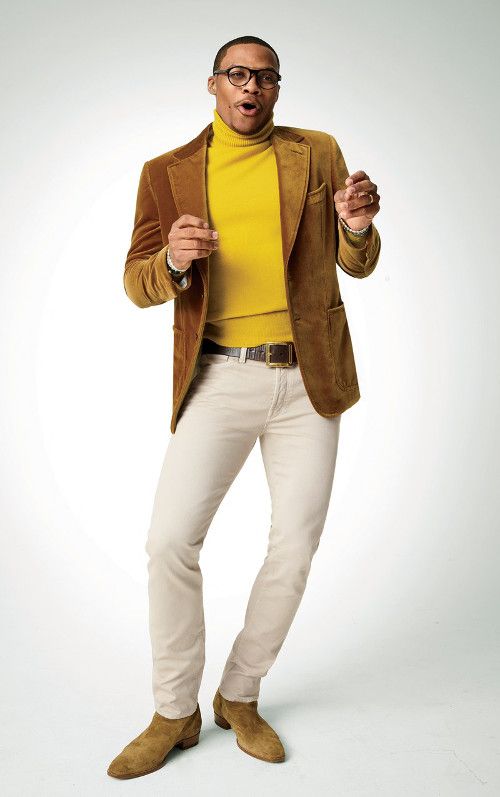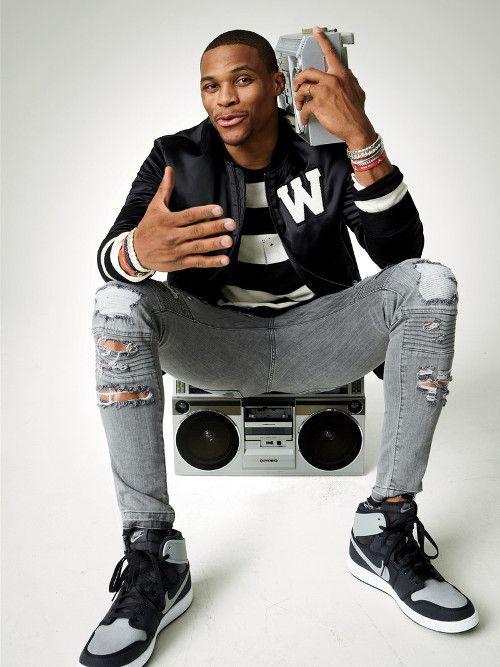 In another new interview...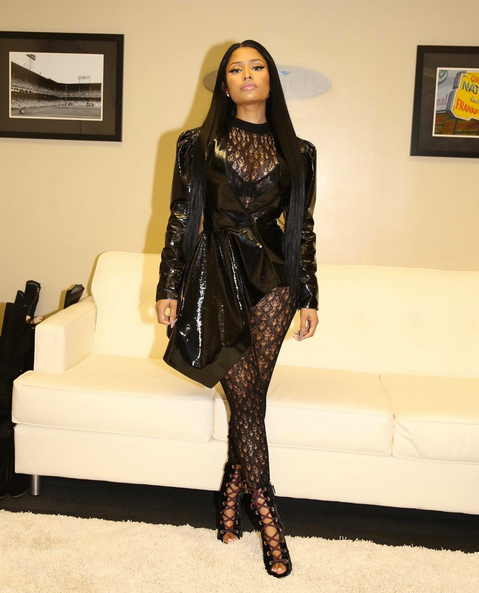 Nicki Minaj is busy making media rounds, calling into HOT 97 for an in-depth interview about what she has going on at the moment. The Head Barb hasn't been in the limelight that much in the last few months, but now that she has a new album in the works, she's stepping back into the spotlight.
While the Young Money rapper has been rather quiet lately, her name remains in headlines due to her boyfriend Meek Mill's multiple rap beefs. Meek has exchanged words/diss tracks with Drake, Wale, The Game, Beanie Sigel and Nicki's ex Safaree Samuels, to name a few. And Nicki is pretty much over it all.
While she calls his "beefs" played out, she believes all publicity is good publicity.
She spills:
"I think everybody's over it. Come on. It's pretty played out. It's over. Sometimes you're put in a position and you react…But let me tell you something, I do not believe there's any such thing as negative publicity. That's what I tell him: 'You must have something people see in you.' There's a lot of things I know about other rappers that I just be quiet because as a man, rapper, and artist, he runs his shit the way I run my shit. He's the boss of his stuff. I don't want to step in too much because it's not my place. Behind the scenes, I'm such a rapper that I'm always critiquing everything, even with him…But he gotta live his own life at a certain point in terms of his career choices. I strongly believe that great music changes everything. If ni**as got your name in they mouth for a year or two, thank them. If you come out with great music after all of that, nothing matters."
As the Barbz patiently wait for the follow up to the Pinkprint, Nicki reveals she has something special she wants to release to the world. And it may come in the form of a Remy Ma/Foxy Brown collaboration.
"When I was working on The Pinkprint, I wanted to do a song with Remy and Foxy," she says. "I still have the song to this day. It was on a Diplo beat, but was super hood and hard. I love them both so I think that's only a matter of time before she and I do something."
Get ready!
Take a listen to the rest of Nicki's interview where she talks about meeting (and fanning out) Lauryn Hill for the first time, having dinner with Jay Z, Beyonce and T.I., empowering women, her "epic" upcoming album, the power of social media and more below:
Photos: Peggy Sirota via GQ/Nicki's IG