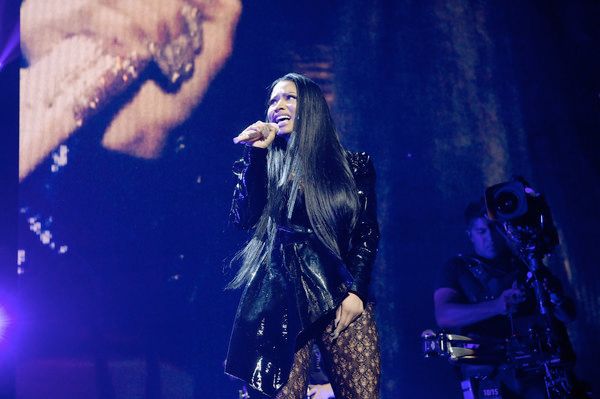 Nicki Minaj went ALL THE WAY OFF during her performance at the TIDAL concert last night. She's over these basic men who want an uneducated chick and she even threw a shot at Donald Trump's wife Melania Trump. Peep her rant, plus the latest on Nicki's ex Safaree Samuels and her current boyfriend Meek Mill trading disses on social media inside...
Lately, Nicki Minaj has been spitting truth serum about society's double standards and how women shouldn't depend on a man for ish. And she isn't finished.
Last night, the "Only" raptress hit the stage during Jay Z's Tidal X:1015 concert in Brooklyn to run through her hits. But, chick took a moment to address some things she had on her chest. Mainly, insecure men who are scared of women with brains!
She began her expletive ridden rant,
"Cause you n*ggas are so f**king weak, y'all got the audacity to be intimidated by the bad motherf**king queen and get your motherf**king feelings hurt."
The NYC rapper went on to give examples of successful men, such as President Barack Obama, who have strong, intelligent women by their side. Then, she took a jab at presidential hopeful Donald Trump's wife Melania Trump. And she WENT there.
"But it's O-motherf**king-K, because Barack needed a Michelle, b*tch, and Bill needed a motherf**king Hillary, b*tch. You better pray to God you don't get stuck with a motherf**king Melania. You n*ggas want brainless b*tches? To stroke your motherf**king egos? Well, f**k you, n*ggas!"
Filthy mouth and all, sometimes you gotta let 'em know! And it's certainly coming from one of the most unlikeliest places.
After she "dragged" Melania, Nicki took to her Twitter to clarify her statements about Donald's third wife. She responded to a fan in a tweet saying:
Wasn't "dragging". She seems nice. But a smart man knows he needs a certain "kind" of woman when running for President/attempting greatness https://t.co/S2PTIcOXuo

— NICKI MINAJ (@NICKIMINAJ) October 16, 2016
Facts.
While Nicki was schooling the kids, her boyfriend and ex-boyfriend were busy firing shots at each other on social media: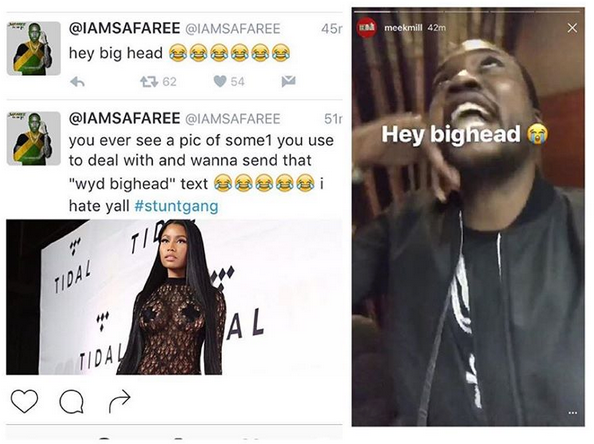 Another day, another "LAHH" storyline.
Seems like Nicki Minaj's ex-boyfriend Safaree Samuels is looking for a new storyline to stay on the VH1 reality show.
Yesterday, Safaree hopped on Twitter and posted up a picture of the "Anaconda" rapper basically saying he wanted to hit her up with the "Hey bighead" text. Maybe it was Nicki's see-through Margiela catsuit that she wore at the TIDAL concert that had him wishing he had that old thang back. Y'all know how dudes do when they see you looking good and then try to creep back into your life.
i was jus kidding, but its funny to see how much control i have over ppl i dont kmow.. i do this for yall! thx 4 the love #stuntgang

— @IAMSAFAREE (@IAMSAFAREE) October 16, 2016
Well, Nicki's current boyfriend Meek Mill certainly saw his tweets and decided to poke fun at him on his SnapChat account. Ha!
These two....
Photo: Getty