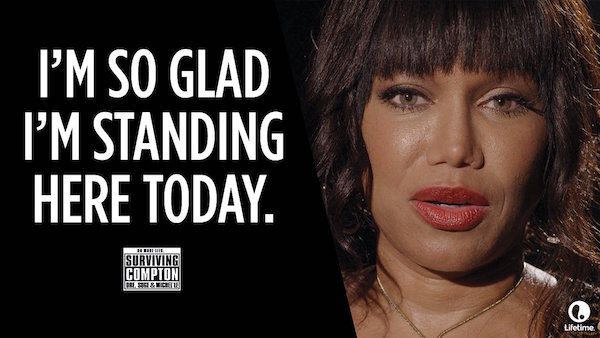 She's still standing.  But based on her biopic, she went through hell to do so.  Let's discuss the Michel'le movie inside...
Now we see why Dr. Dre and co. conveniently left out any and every piece of evidence to show the other side of him in the Straight Outta Compton movie.  The super talented Michel'le put her decades-long claims into movie form and her Surviving Compton biopic aired last night on Lifetime.  It had everyone in a stupor.  The only thing that would have topped that movie is if Dre started livestreaming with his side right then...on a split screen.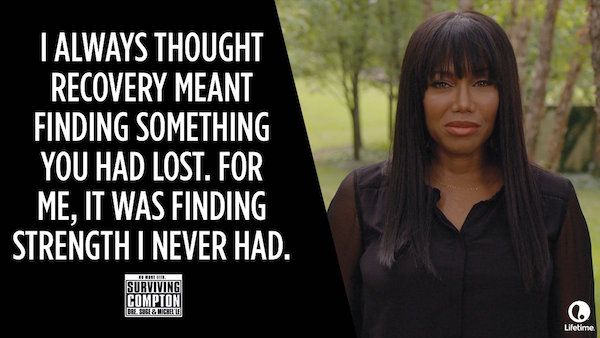 We'll avoid the spoilers for those who haven't watched yet, but there's much to discuss.  From the seemingly nonstop mental, emotional and physical abuse from Dre and Suge Knight, to her grandmother's "advice," to making it to where she is today by mainly relying only on herself.  Music definitely gave Michel'le the will to live,  but it was also the window to her abuse.  Deep.
On another note, we are still trying to understand this "we were the Beyoncé and Jay Z of our time" statement that was made more than once.  Because girl....
Anywho, the movie was informative if nothing else.  But Dre still maintains he wants to sue. The movie's executive producer Leslie Greif told IndieWire:
"I heard Sony said they vetted the film and stand by it, and will not allow Michel'le's voice to be silenced," Greif told the site. "They're supporting this picture … These are not new stories. Dr. Dre and Suge Knight have not seen the film to my knowledge, and are presupposing what they did and how it might make them appear on screen."
Michel'le chimed in as well saying:
"This is no joke," she said. "I would never want anyone to live this life. I'm watching myself, when I watched them portray me and Dr. Dre and it touched me in a different way … it was a very eye-opening experience. I didn't see it that way [at the time]. I thought it was just normal for me."
The first lady of Ruthless Records is now ready to share her story with the world in book form.  She revealed on Twitter last night that she's working on her story now.
it's coming... https://t.co/QKEz0jSrZv

— Michel'le (@Michellemuzic) October 16, 2016
Also:
I bet y'all won't throw away your 300 dollar Beats By Dre headphones tho........

— Charlamagne Tha God (@cthagod) October 16, 2016
That damn Charlamagne...
 
Photos: Telepictures/Lifetime