Kevin Hart is addressing those pregnancy rumors.  Find out what he had to say about Eniko's pregnancy earlier...
Recently, folks have been saying Eniko Hart has been dropping pregnancy hints.  But it seems the newlyweds are only focusing on their new marriage, for now.
Kev hit up The Breakfast Club this morning where he set the record straight saying:
"I don't know where they get this from.  I think sometimes she just be bloated or something."

 
This guy.
He joked:
"I be like, baby you bloated in these pictures or something?  Even when we look at pictures I'm like baby what's going on on this day.  My baby a gym rat too.  Some days you in them tights and they catch you on a different side and I'm like, they think it's pouch baby.  They think you pregnant. Nah I'm joking."

But he wasn't joking about if another baby Hart was on the way:

"She's not pregnant.  We're not expecting.  And when we are, you'll know.  You'll probably hear from me several months after.  You'll probably be able to tell because she'll be showing.  When it does happen I'm not going to be public about it off the bat.  I'm superstitious. They say you need to wait until three months or something like that."
Speaking of their wedding, he dished:
"I cried at the reception.  I didn't cry on the altar.  The reception was more emotional for us.  The wedding was dope as hell.  We went untraditional and put our own spin on it.  She buckled a little bit because I'm just amazing with the words.  Put the romantic woo woo woo woo on it."
And about his vows, he winged it!
"I aint write nothing!  I went off the heart.  I got up there and freestyled it.  You gon' feel this!  Stumbled a couple times tho."
Kevin also talked about his Laugh Out Loud Network, why he doesn't know his alter ego Chocolate Droppa because he's his own man (ha!), getting a star on the Hollywood Walk of Fame, his latest film What Now and more.  What he doesn't say, is anything about Donald Trump.  He said he refuses to speak about that man and refuses to bring any attention to "that man."
He did, however, go off about why Don King became the surrogate for Trump to use to round up the blacks. "Why did he think black folks listen to Don?" 
By the way: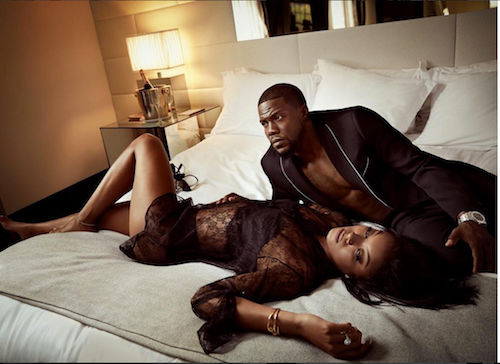 We doubt Eniko is giving up this body for a baby anytime soon.  
EXTRAS:
1. "Showtime At The Apollo" is returning to television with a two-hour Fox special on Dec.5, hosted by Steve Harvey.   STORY
2.  Future just won a battle in that $15 million lawsuit Ciara filed.  The judge says those tweets Future posted bashing Ciara don't qualify as ruining her career. Now Ciara's side has to go figure out another way to prove he damaged her brand.  STORY
Extras: Instagram