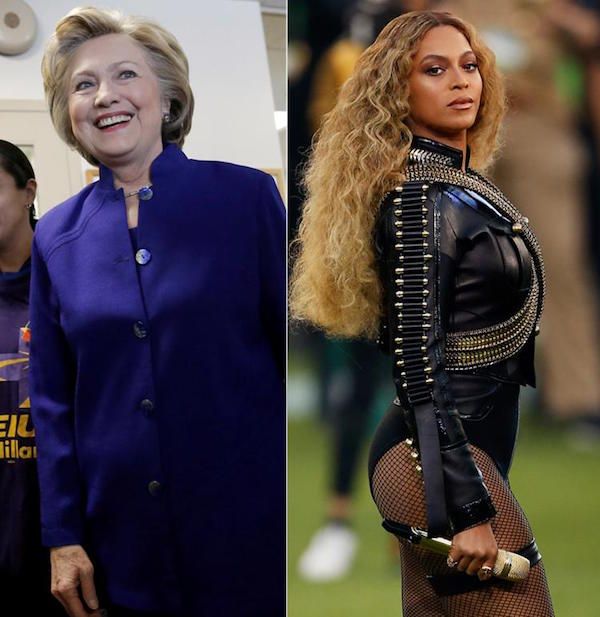 We've just about heard it all from Trump surrogates, but the delusion reached epic levels this week when they dragged Beyoncé into this "locker room" talk mess.  Now, Miss Tina is responding and also joining the campaign trail.  Deets inside...
Betsy TRIED IT.
Don Lemon and a few talking heads on CNN Tonight discussed Donald Trump's latest foolywang material -- that "locker room" talk involving "grabbing women's p*ssies" he was caught on video saying a few days ago.
Trump surrogate Betsy McCaughey just couldn't bring herself to condemn the foolery and hold her fave accountable.  Instead, she blamed Hillary.  Because, Beyoncé.  Confused?  Us too.
McCaughey told Don Lemon, in regard to the recent Trump audio, "I abhor lewd and bawdy language. I don't listen to rap music, I don't like that kind of thing, but Hillary Clinton…"
When Don asked her what exactly she's talking about, McCaughey explained: "Hillary Clinton expresses that she finds the language on that bus horrific, but, in fact, she likes language like this: 'I came to slay, bitch. When he f—ed me good, I'd take his ass to Red Lobster.'"
Not sure if she's mad Bey didn't say BETSY with the good hair, or if she's mad she's never gotten sex so good she felt compelled to wine and dine that man (or woman, we don't know her life) at a Red Lobster establishment.  Who the hell knows.  But we do know she's reaching.  And her arms are too short. (Thanks Demetria from "Blood Sweat & Heels".)
Beyonce's lyrics say nothing about promoting sexual assault.  We can't say the same about Donald's latest words. Not to mention, if you want to be President, you can't just do what everyone else does and deflect to them when you -- the leader -- are called out.
Here's the full video in case you missed it:
Needless to say, Betsy with the blonde hair's social media comments are in shambles.
We're guessing she's unfamiliar with the Beyhive and all of its savagery.
Meanwhile, Bey's mama is focused on politics too, but in another way.  She's putting her support behind Kamala Harris, a bad a** YBF woman who is taking the leap from current Attorney General of California to U.S. Senator from California.
Miss Tina Lawson and hsband Richard Lawson joined celebs last night at a big fundraiser in L.A.
While leaving, she was asked about by paparazzi about the foolish comments about her daughter.  She responded,"I don't know what you're talking about but I do know music is artistry."
Bloop.
Photos: Instagram/Reuters/Beyonce.com