Total NYC takeover! Alicia Keys rocked out Times Square with her NYC buddies Jay Z, Nas and more. She also flipped the bird at Donald Trump over his sexist comments. Peep pics and videos from her epic set inside…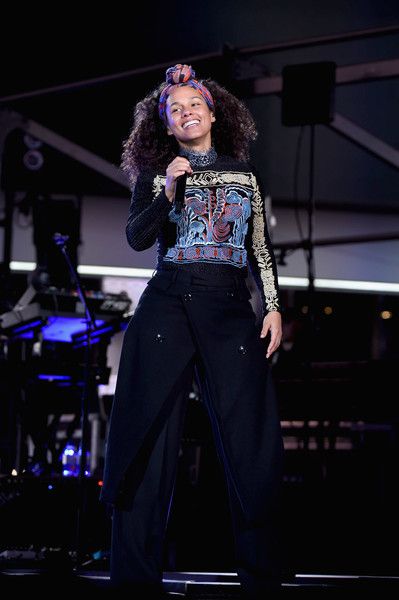 Alicia Keys said she was going to take over Times Square. And that's exactly what she did last night.
Still makeup-less and full of positive vibes, the multi-Grammy Award winning singer took center stage in the middle of the Big Apple to perform her catalog of hits (along with a few new tracks) in celebration of her upcoming studio album Here, set to drop on Nov. 4th.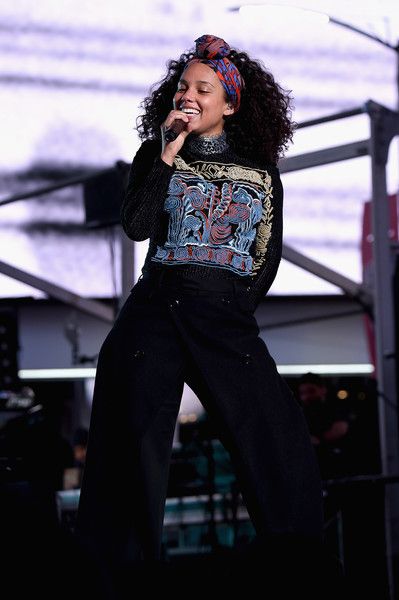 The R&B sonsgtress performed "If I Ain't Got You'", "No One," "Fallin'," "You Don't Know My Name," "In Common," and new songs from her upcoming album including "Holy War," "She Don't Really Care," and her new single "Blended Family" (What You Do For Love)" featuring A$AP Rocky.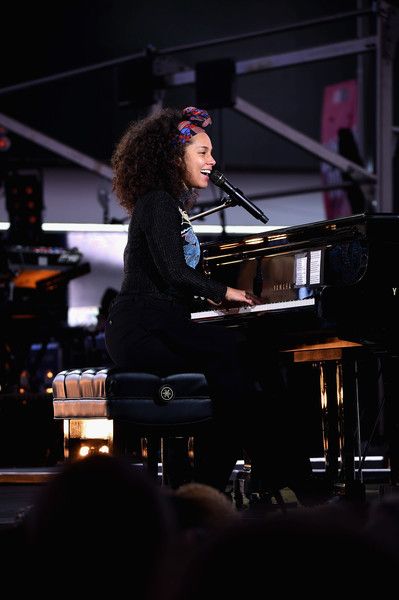 As you all know, Alicia has been on the women empowerment wave for years. She recently dropped a new track from her LP titled "Blended Family (What We Do For Love)" where she salutes her blended family with her husband Swizz Beatz. Alicia and Swizz's ex-wife/son's mother Mashonda even joined forces for the video treatment.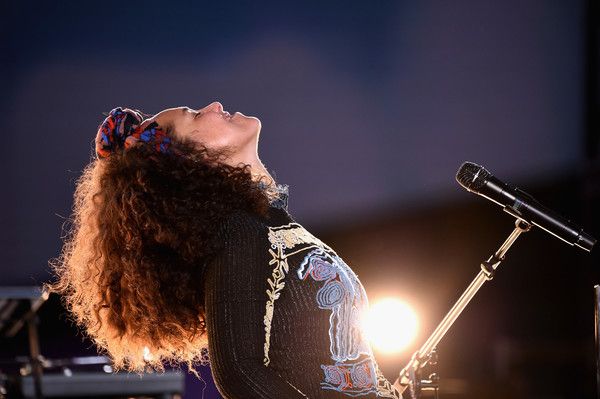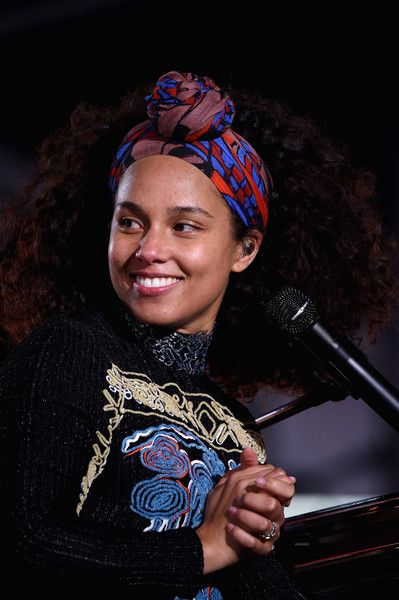 During her performance, Alicia took a moment to address Republican presidential hopeful Donald Trump's sexist comments he said about grabbing a woman by her "p****" in a leaked video from 2005. Alicia didn't have many words…just one gesture!
Check it below:
Joining the "28 Thousand" singer on stage...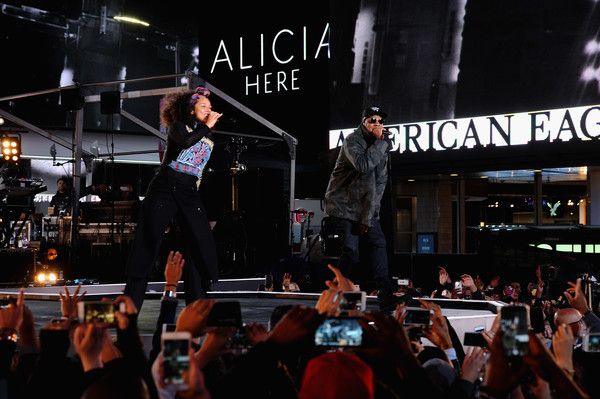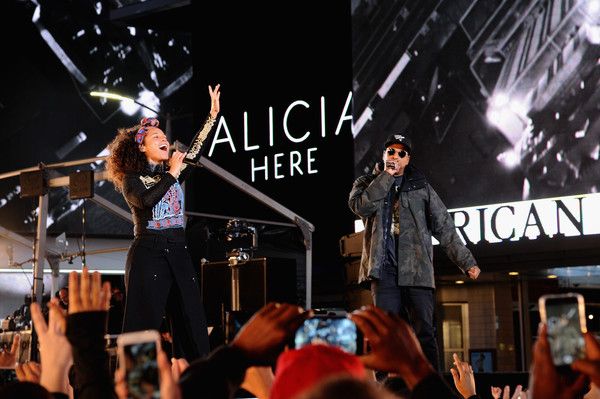 Hip Hop mogul Jay Z graced the stage with his presence to perform "Empire State of Mind." And y'all know the crowd lost it.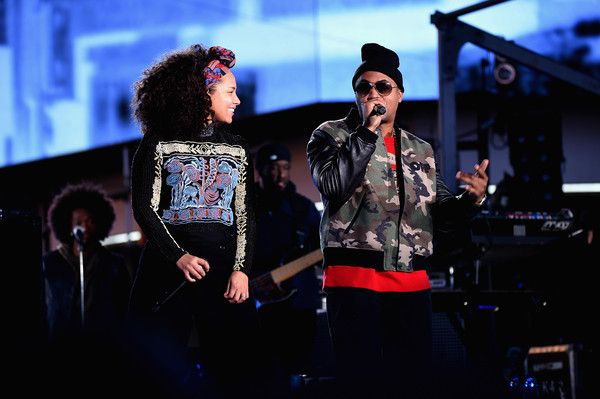 Sexy Nas popped up on stage for a duet of "One Love" and "She Don't Really Care."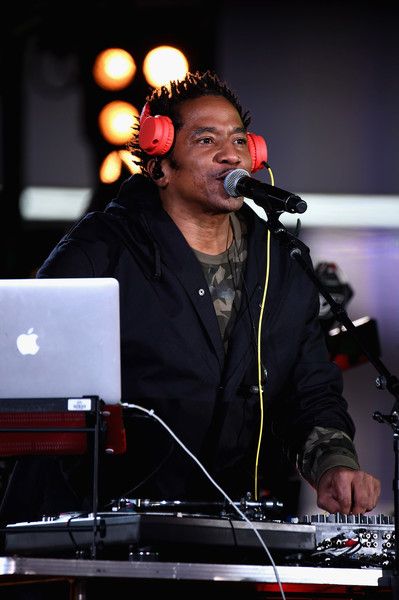 Q-Tip duetted with Alicia on "You Don't Know My Name."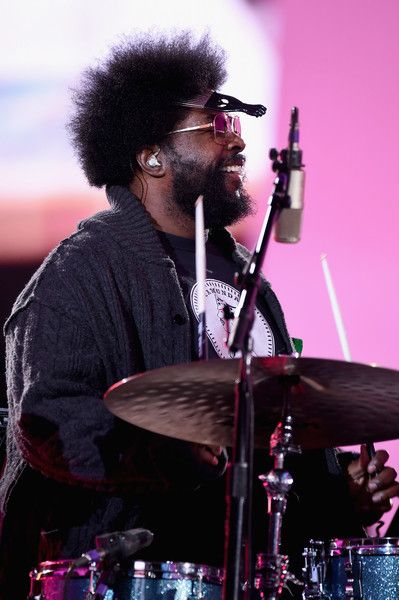 Alicia brought out singer John Mayer for a mash up of "If I Ain't Got You" and his song "Gravity" with Questlove playing the drums.
For the encore, Alicia celebrated the music and activism of John Lennon in honor of his birthday. Times Square was illuminated with social justice messages in the style of Lennon's iconic "War Is Over!" visual across the giant digital billboards.
And of course..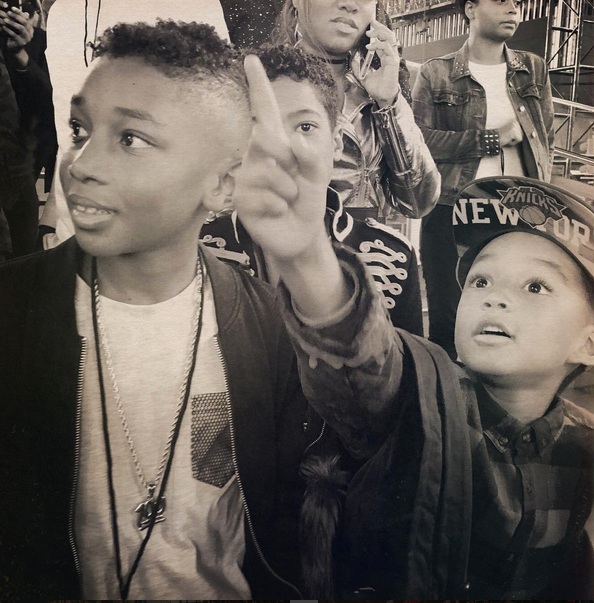 Her hubby Swizz Beatz and their kids were in the audience.
Peep clips from the concert below:
It was only a matter of time before they performed this live in #TimesSquare. @aliciakeys& @S_C_ come together for 'Empire State of Mind'. pic.twitter.com/5GKDQ67TM2

— Times Square (@TimesSquareNYC) October 10, 2016
.@aliciakeys, @johnmayer and @questlove came together for a rare performance in #TimesSquare. #HEREinTimesSquarepic.twitter.com/rkoCYitykV

— Times Square (@TimesSquareNYC) October 10, 2016
And here's A. Keys geeked out before hitting the stage: 
Photos: Getty/Splash/Swizz's IG