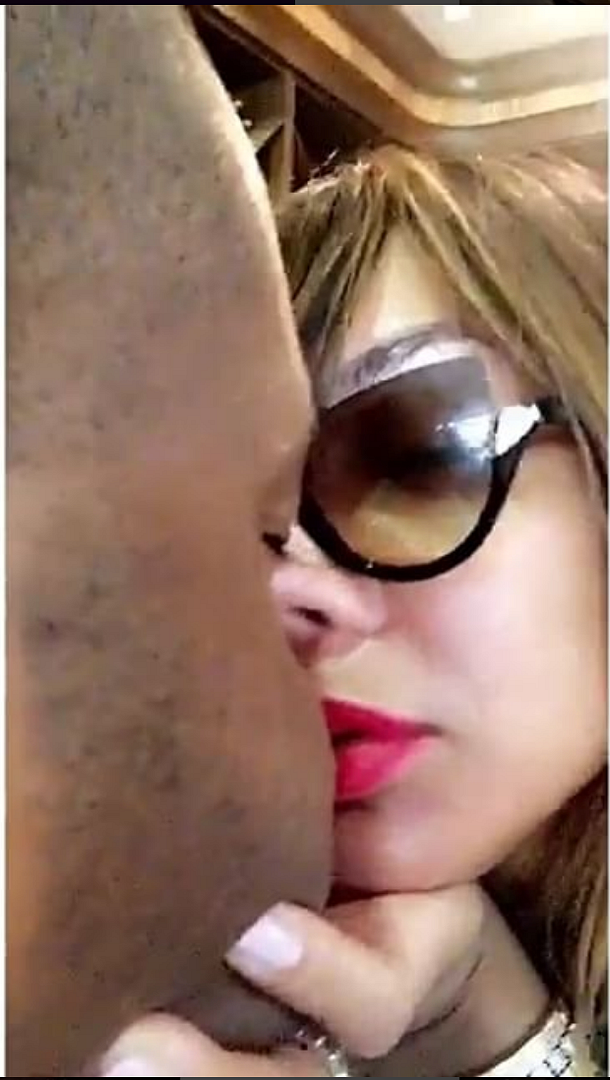 The drama is still stirring in the Braxton-Herbert household...allegedly.  Deets inside about the cops supposedly getting called AGAIN and how Tamar is showing fans she and Vince are all good.
Here we go again.  Back in August, 9-1-1 audio leaked of Tamar Braxton's friend calling the police on husbandger Vincent Herbert after he was accused of biting Tamar's finger during a fight and running away from the hotel they were staying at.
Interestingly, the couple was spotted the next day at the Atlanta airport holding hands like everything was perfectly fine.
But is it all a front?
Tamar has been Snapchatting all week all the kisses and hugs and cuddled up moments she and a visibly slimmer Vince have been having.  They even went to the Bad Boy Tour finale together this week. But reports allege that August situation wasn't the only one.
Apparently, there was another physical fight between the couple at their Calabasas home in front of Tamar's sisters.  Daily Mail reports:
DailyMail.com has leaned that several of the sisters were on hand when an altercation between the couple took place at their Calabasas, California, home a few months ago and Tamar's older sister, Grammy winner Toni Braxton called the police. When authorities arrived, they took statements from several of the other family members on hand.

'Again, since there were no physical signs of battery, Vince was not arrested,' the source revealed. 'But these fights are happening more and more.'

 
The site says their source feels Tamar will end up hurt very badly, and they're glad it's all coming out now:
'But her family fears that 13 may be their sister's unlucky number and that if things don't change with Tamar and Vince, she could end up like Rihanna after the Chris Brown altercation or worse,' a source close to the family tells DailyMail.com.
Tamar recently set her Instagram to private and folks assumed it had something to do with her alleged rocky marriage. So Tamar popped back with this post and delete: 
Usually I wouldn't address this STUPIDITY but .... and all the other NON factual blog and radio sites reporting that my Instagram page being private has ANYTHING to do with my marriage…. Can SUCK it!!! Why don't you report on FACTUAL stories such as what is actually happening in North Carolina, the Debate on Monday, my new album coming out SOON and it's Its HOT like a perm on your head sitting too long!!?…I mean DAMN!! my a** was in the damn hospital? (if you must know) along with my let you tell it soon to be 'estranged husband'?? all I was saying …(the OTHER DAY)..is I'm tired of waiting and not felling WELL!!! Like why does it have to be?'Houston she has ANOTHER problem'…she's throwing shade cause WHILE I don't feel well I don't want to see certain s*** on my page? but that means I'm petty cause according to you ALL ..unfollowing folks means DRAMA! Well some people post too damn much!! And I will and do unfollow they a** cause I don't feel like seeing your 147,997,886 zillion posts!!! So that means to keep my blood pressure and pulse up cause 'Tamar you betta keep looking at peoples pages and some food Pages and Instagram store clothes pages all damn day (didn't report that tho) Or I'm petty???..Chile? #gtfoh #takeoff or..oh…She's having one hell of a year'… But if I tell you what is none of anyone's business.(I'm a little under the weather)..its 'She always gotta be the victim'..' She is too dramatic for me' or.. ' she always wants to make people feel sorry for her'..(which is STUPID)!! So I make my page private cause i simply feel like it AND cause y'all think y'all know EVERYTHING!?hell Jesus even needed a break from his friends ( for you unsaved ones.. the disciples) by going to the rock to pray to be BY HIM SELF WITH GOD!! #teamwornthin?? how about some of Y'all need to get u a rock or a stomp and??? and build a tint, a tiny house,or a sleepingbag, or some?#teamimonpainmedsandANYonecangetitrigtnow?? #butanyOLEapologywilldo? here is the thing:…when there is something to repot.. I WILL LET YOU KNOW!! GodBless you and Goodnight Oop.
In other news, "The Real" has reportedly slipped in ratings this season.  Tamar's fans are making it known it's very likely because the singer is no longer a co-host.  The Wrap reports:
The premiere of "The Real" drew a disheartening 0.9 rating/3 share in primary run metered market averages. The premiere numbers put "The Real" 40 percent below its lead-in. The "Real" premiere also slid 10 percent compared to the shows it replaced in its timeslots this year.
Looks like there's now even more room for Tamar's new solo talk show coming out soon...
Photos/Videos: instagram