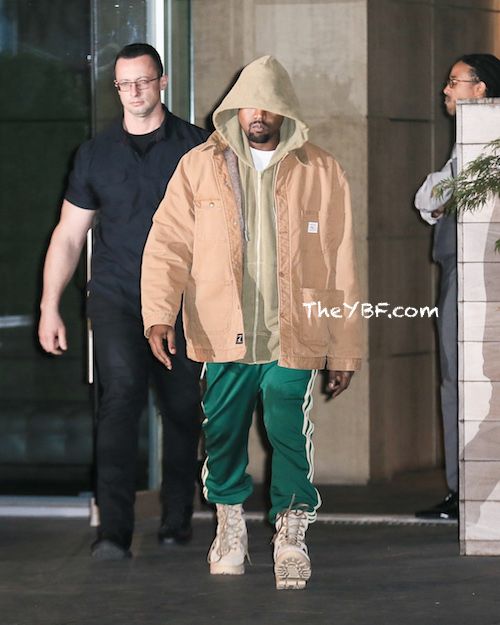 Kanye West stepped out of his New York apartment for the first time last night since the jewelry heist debacle. We've learned he's on a firing spree.  Find out what he's up to now inside...
Wearing his usual baggy green Adidas athletic trousers tucked into combat boots look, 'Ye made his way out of his Soho apartment last night with tons of paparazzi waiting (and likely just as much security).
After arriving back to New York this week after his wife was held at gunpoint in Paris and robbed of $10 million worth of jewelry (much of which Kanye gifted her), Yeezy slid out of his apartment last night.
There are nonstop reports surfacing painting the picture of what all went down, but the aftermath seems to be an absolute circus.  From conflicting reports about whether there is video footage showing the robbers, to a suspicious "friend" and concierge being inside the apartment during the robbery, it's all getting quite cray.
A bodyguard that Kanye recently fired "for flirting" did an interview with an Australian radio show hosts Rove & Sam today.
'I don't know if I could have taken down five assailants with guns, [or] it could be karma coming around,' he responded to radio hosts Sam Frost and Rove McManus with a slight chuckle.
Steve, a former NYPD officer of Staten Island, went in on Kanye saying he "wasn't one of the best guys to work for" and that he was "a little high maintenance" as a client. How high maintenance?
Steve also went on Good Morning Britain on Tuesday and said Kim and Kayne have a lack of respect for security staff, and he said it would eventually come back to haunt them:
"Look, they had this coming to them. They do not respect the importance of security when you have a profile as strong as theirs. When I worked for them Kanye would take off on his own in a cab and leave me behind to take another cab. It used to infuriate me as I wasn't doing my job as well as I could have."
Wow.  He also said Kanye wouldn't even offer him a glass of water when they went to dinner and Steve was forced to sit at another table.
He also said what we're all thinking: He claimed it was '100% an inside job' saying:
"They went to an exclusive place, with exclusive entrances, they knew exactly where to go, where to find the jewellery. Security was out with the sisters and Kim had been showing all the jewellery on Snapchat. It's a perfect storm to get robbed."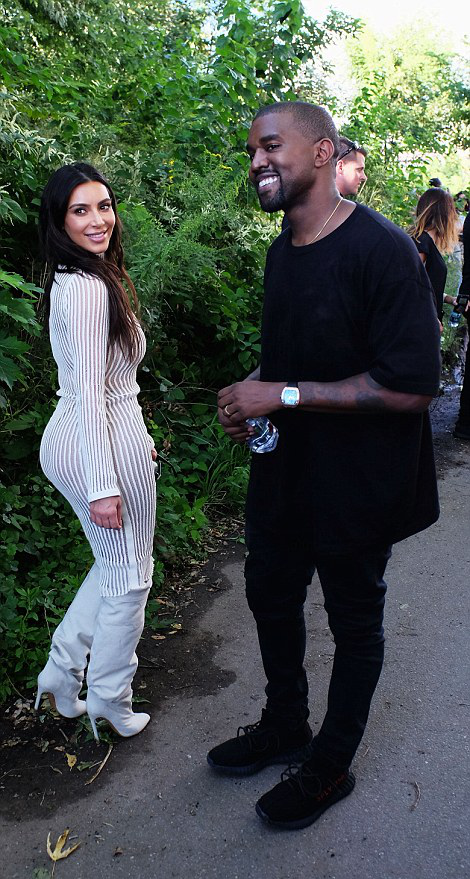 It's been a cruel summer and early fall for Yeezy.
Before this huge $10 million jewelry heist and armed robbery, he reportedly had a meltdown and fired his entire Yeezy clothing staff after his fashion show got dragged for filth in the media. Models were fainting in the September New York temps that were topping off near 90 degrees. The several hour delay way out on Roosevelt Island didn't make attendees and editors happy neither did the charter bus ride from Manhattan. As for the clothes, when the models were actually wearing them, folks criticized the oversexualized cheapness of it all.
The NY Post reports Kanye took swift action, and heads ROLLED:
"He had his agent fire all 30 of his staff after the fashion show and got rid of his phone so people can only contact him via email," an insider said. "He had a nervous breakdown after the show, and that's what triggered it all."
Another source, though, explained to the Post:
"He didn't have a 'nervous breakdown.' Some people got let go, and there was a reorganization of others who he moved back to the music side of things. He's a grownup. He was reflective and disappointed in how things went . . . He took stock in what people were saying and he was disappointed. But he's more determined than ever to get that stuff right. And as far as throwing away his cellphone? If he did, then it's not the first time. He always does that."
But it's not all bad news. He's breaking attendance records with his Saint Pablo tour, reportedly. After this week's drama in Paris with his wife Kim, he pushed back his shows. LiveNation sent out a statement saying shows in Detroit and Philly are postponed until December. He will resume the tour on Friday in Chicago.
Photo: INF