This may be one of our favorite spreads from singer turned model Ciara. Go inside to peep her fierce #LEGEND magazine cover and spread and get the highlights from her cover story inside…
Now THIS is how you slay a magazine…
As you may know, Ciara is transitioning from a R&B singer to a certified model after inking a deal with IMG Models back in May. And let's not forget her partnerships with several fashion giants. She has been the face of Roberto Cavalli's fall/winter 2015 campaign, the became the first American ambassador to Topshop and was in the latest campaign for Keds.
Now, she's ready to take the throne.
Heating up the magazine circuit, Ciara was tapped to over #LEGEND magazine's October 2016 issue. And she serves up a spread like none other! The pictorials are simply stunning and she nails every look created for the shoot.
In the cover story, the fab wife and mother dishes on how she's transitioning from being an entertainer to becoming a model in the fashion industry.  She even talks about how Baby Future changed her outlook on life, and, of course, she gushes over her Seattle Seahawks quarterback husband Russell Wilson.
Below are the highlights:
You've recently signed with IMG Models. Is fashion and modelling something you'd like to pursue?

I've been fortunate over the years; I've had really cool collaborations and been part of cool campaigns. I've been blessed to have friends that I've met in the fashion world. It's been an inspiring adventure. The exciting thing about the partnership with IMG is that I can. The ultimate goal is to do more. As an entertainer, fashion and music go hand in hand. There's no one better than IMG to do that. I want to pose more in fashion shoots and do more cool fashion partnerships.

Who are the models you look up to?

I have great respect for models I believe really pave the way: Naomi Campbell, Cindy Crawford and Kate Moss. Those women and others in that era were such superstars and they defined what being a model is, what being a superstar model is. I have great respect for those girls because not only are they beautiful but also they are very bold. They're true businesswomen who found a way to not just walk the runway but to build a brand.

Will we see you go down the runway any time soon?

Yes, I think that would be cool. I think walking or doing something unique, like performing, would be really cool too. I'm still an entertainer first. But I would love to walk down a runway. Maybe on one of my collaborations, that would be really fun and different.

And your son, Future Zahir, is growing up so fast. What's the best thing about motherhood?

Motherhood, oh my gosh, it's one of the best jobs in life. My family, my son and my husband, those are the things that keep me grounded and centred and there's no better feeling than coming back and seeing him smile after a long day. You put him in a bath, you put him in bed, read a book, those moments are great to end the day and keeps life in perspective because all your child wants from you is love. They don't care about a lot of the things we care about anyway. Being a mom is part of what motivates me in my every day life.

So do you think your perspective on life has changed since becoming a mother?

Absolutely. It makes you really understand the definition of being responsible. Because now it's like, every decision I make affects not only my life, but it affects his life. And having my child has really propelled me to focus even more on not only what I want personally, and then also as a businesswoman. It really helps you lock things down.

Again, it's not just only my life I had to think about, but I have to think about his life too. Like I said, it keeps you grounded. That pure love, that instant love makes you realize a lot of things don't matter. You don't sweat the small stuff as much. Back in the day, before my child, I was such a perfectionist, you can put so much attention on some things but then you realize it really doesn't matter tomorrow. I can see that now, and focus on things that really matter. You also understand love much better. It's the greatest force, the greatest thing. Before this, I don't think I understood love honestly, but now I'm better at love, better at loving, better at patience.

So what's your most exciting project right now?

Well, I'm making an album. That's really exciting, it's something I'm taking my time on. I want to make sure that I put myself in every part of it, all my creative thoughts, feelings, everything on this album. But I can't say where I am in the process right now. I don't want to mark a specific point but what's important is that it will be something for the fans, whom I'm very grateful for. I'm not at a place where I'm ready to share the creative details because I want it to be special for my fans when I do share it. I want it to be exciting when it's time for me to share it. I can't wait for that day to come.

Your wedding in England in July was beautiful. What was your favourite memory?

I definitely can say it was two of the most perfect days in my life. The day before and the day of the actual wedding was a special time. When we get married, we only get it once, you can't repeat it. So, it was like, man, it's over already?

It was honestly so beautiful and I really felt like I was in a fairy tale. It was everything I hoped for. Everything I could have hoped for, dreamed of, happened on that day. It was memorable. We spent two days with all the people that we love, your family and your close friends. I'm definitely still floating, it's only three months ago and it's crazy how time goes by.
Aww! You can read her full interview here.
Scroll down to see exactly why this is one of our favorite spreads from CiCi below: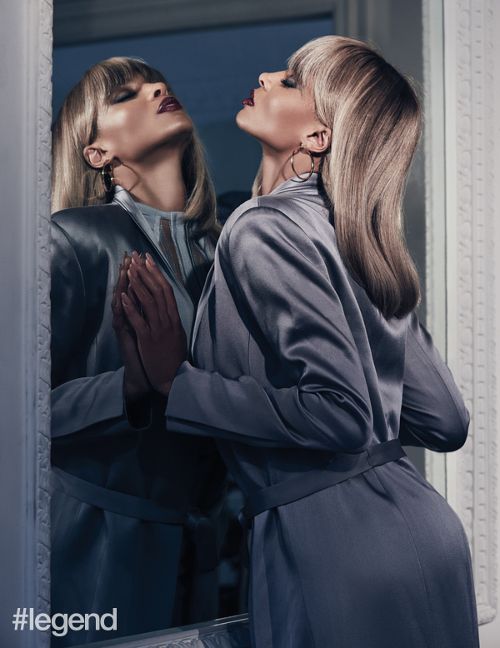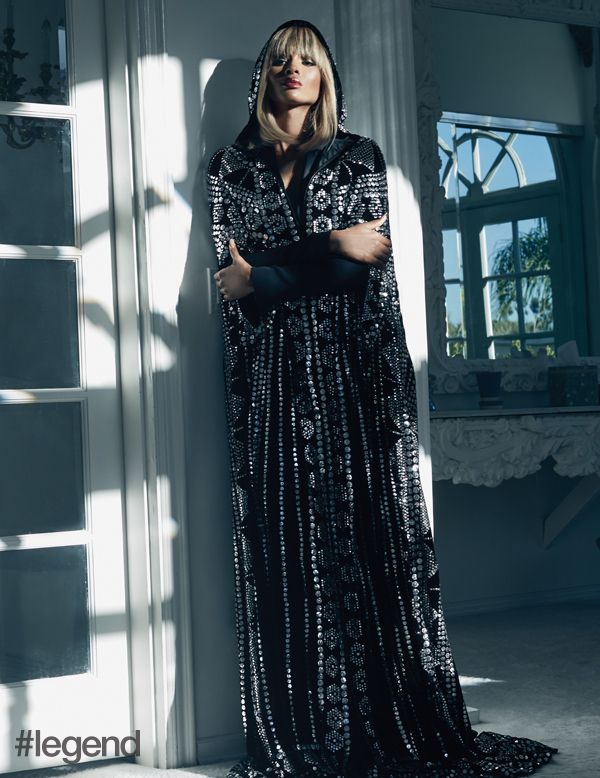 FIYAH!
Photos: Dennis Leupold via LEGEND