Beyonce and Jay Z invited everyone that helped with the FORMATION World Tour for a huge bash in NYC. Also, "Family Guy" spoofed the elevator fight between Hov and Solange that stopped the world two years ago. Get it all inside…
Work hard, play harder!
The FORMATION Tour has come to an end (with one more concert left at MetLife Stadium in New Jersey on October 7th) and now it's time to party it up!
Mr. and Mrs. Carter hosted an "end of tour" bash at the Bagatelle restaurant in the Meatpacking district last night to celebrate everyone who helped roll the FORMATION tour to its several destinations that kicked off in April.
Everyone from assistants, costume designers, to dancers, stage managers and tour bus drivers were in the building to celebrate a successful world tour.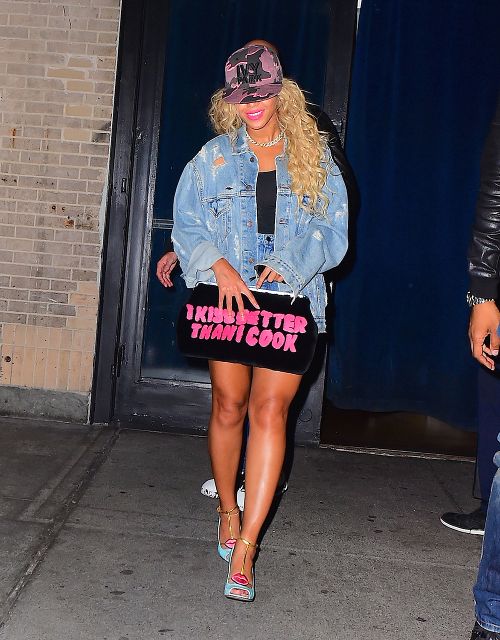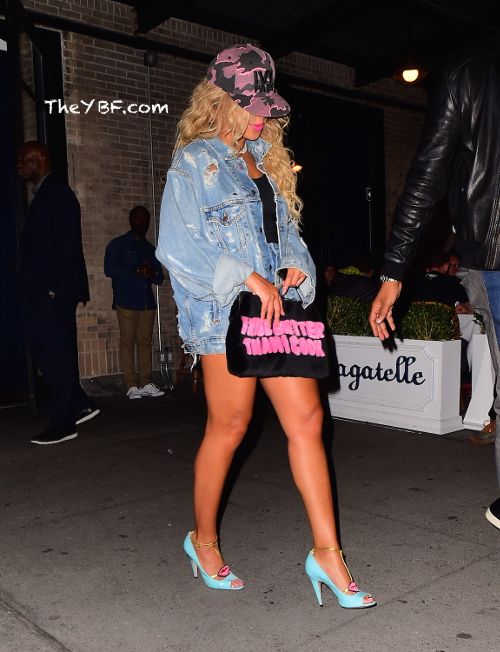 After the party, the "Formation" singer hit the sidewalk catwalk pulling off a stylish look. The fashion lover rocked an oversized denim jacket, high-waisted jean shorts, and super turquoise Gucci t-strap sandals. She finished her look with a pink camo printed hat from her Ivy park collection and a limited edition black and pink mink statement clutch from Ukrainian brand Blood & Honey that reads, "I KISS BETTER THAN I COOK."  She has admitted to not knowing how to cook.  Ha!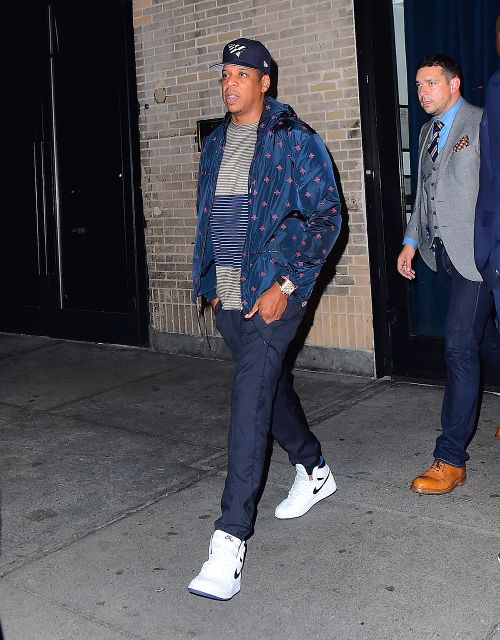 Rocking a laid back look, Hov opted for a patterned jacket over a stripped shirt, tracksuit pants and blue and white Nike sneakers.
Queen Bey invited the Elders from the "Elders React to LEMONADE" episode and Fine Brothers Entertainment to attend her FORMATION stop in L.A. on September 14th. Beyonce met with the elders backstage, greeting them with hugs and expressing how much she enjoyed their thoughts on her visual album.
Below is a video compilation of "the elders" losing their minds once they found out they were meeting the Queen:
Cute!
On television...
Twisted comedy series "Family Guy" poked fun at the elevator incident that went down between Jay Z and Solange after the Met Ball two years ago.
In a recent episode of the show, family patriarch Peter recalls a time he was in the elevator with The Carters and Solange when Solo went HAM on Hov. Peep the funny clip above.
Photos: Splash