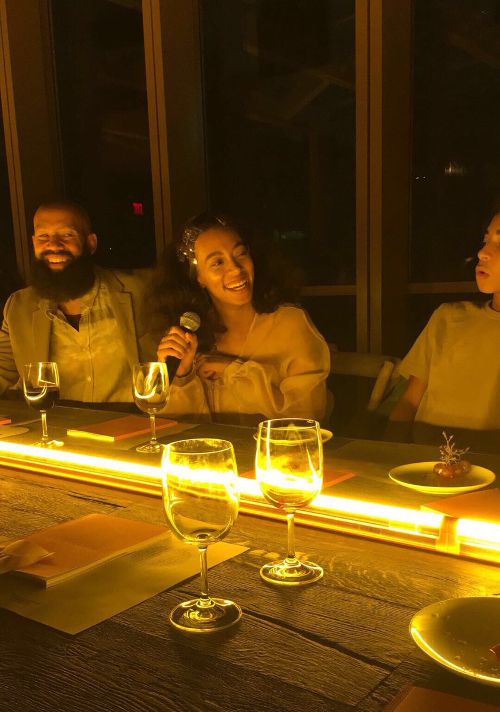 We've been vibing to Solange's new album all weekend.  Now, she's giving us visuals for her A Seat At The Table album, or as we call it, an unapologetically black, zen and funky soliloquy for us, by us.  Get her two new videos for "Don't Touch My Hair" and "Cranes In The Sky" inside, plus how folks are stanning out for Solo Star...
Just like her cut "F.U.B.U." says, this A Seat At The Table album is for us and by us.  Solange brought us zen and sexy vibes against a socially conscious backdrop with a theme of New Orleans richness running throughout it. We've been soaking up every minute of the poetry she spit that explains why blackness is so beautiful, so powerful, and why we're tired of trying to change that fact to appease others.
By the way, the fab mom and wife wrote, arranged, and co-produced each of the 21 tracks herself.   There's features from Lil Wayne, Master P, her parents Mathew Knowles & Tina Lawson, Q-Tip, Kelly Rowland, Dev Hynes, and production from Raphael Saadiq. She previously revealed she finished up the album just before her 30th birthday. It was three years in the making.
According to the press release, Solange describes A Seat At The Table as "a project on identity, empowerment, independence, grief and healing."
Her response to people loving it all so far:
I am completely overwhelmed with gratitude and humbled by your love and support for #ASeatAtTheTable. Completely overwhelmed with gratitude.

— solange knowles (@solangeknowles) October 3, 2016
You guys are literally making my arm pits/ palms sweat so much, lol.
I'm so damn excited !!! Thank youuuuuuuuu!!!!

— solange knowles (@solangeknowles) October 3, 2016
Check out the visuals she just dropped (and that she created and co-directed with her husband Alan Ferguson) for two of the tracks that happen to be our faves, "Cranes In The Sky" and "Don't Touch My Hair."  Y'all know Solange kills the visuals game every time:
The 30-year-old YBF chick also had a party last night in Brooklyn where she invited friends, family, and fans to literally have a seat at her table and listen to her new album:
We're not the only ones loving her new music.  Here's what folks have been saying:
Paying homage to my spirit sister @SolangeKnowles! U da best #hairfun#BlackGirlMagic#ASeatAtTheTablepic.twitter.com/VdYXu31go9

— Tracee Ellis Ross (@TraceeEllisRoss) October 1, 2016
The latest visuals by @solangeknowles are esthetically breathtaking! Pure art in motion. https://t.co/84vpfXm06p xo

— Melanie Fiona ✌ (@MelanieFiona) October 3, 2016
Best Sunday mood/best all week mood music #Solange"A Seat at the Table" @solangeknowles bravo.

— Tamron Hall (@tamronhall) October 2, 2016
Go Awwwwf @solangeknowles I'm souped up & Supa proud of u sis! #ASEATATTHETABLE OKAY!!! pic.twitter.com/qahJqcsg9T

— Missy Elliott (@MissyElliott) September 30, 2016
@solangeknowles#ASeatAtTheTable
Thank you.#permanentrepeat

— Rashida Jones (@iamrashidajones) September 30, 2016
Photos: Deray McKesson's IG/Twitter