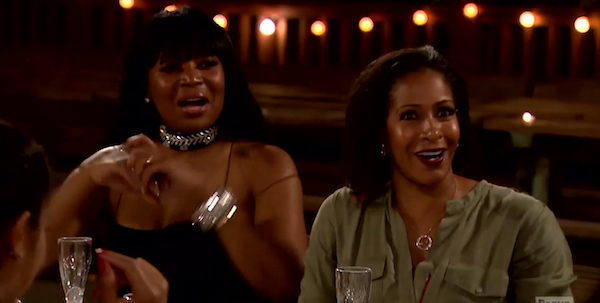 The new "RHOA" trailer for season 9 is MANY things, as always.  Get it inside...
From domestic disputes to divorces to Housewives approaching other Housewives to have sex with them and their husbands, "RHOA" is doing the absolute MOST.
In the newly released season 9 trailer, we see Sheree and Kenya still arguing over their manors and chateaus, Sheree and ex-husband Bob getting closer and closer, Kenya accusing now ex-boyfriend Matt of busting the windows out her garage and being "unstable," Marlo asking folks if they're a lesbian, and plenty more.
Remember that fight that went down between Kandi and Porsha while all the ladies were out to eat?  Now we know it stemmed from Porsha's claims that Kandi & Todd invited her and Shamea to their sex dungeon at their house.  Chiiiiiile.....
Porsha also revealed, during a sit down with the Daily Dish, that she does have some run-ins with folks.  We're sure she was talking about Kandi.  She did confirm her and Phaeda's "frick and frack" relationship is still going strong:
"I definitely have some run-ins with a couple people who I didn't expect to have run-ins with this season," Porsha told The Daily Dish exclusively. "So, there may be some brief bump of the heads, but I brush it off a lot quicker. So frenemies today, and friends tomorrow."

 "The update on Frick and Frack is, first of all I want to clear up who's Frick and who's Frack," she said. "I am Frick. My lovely friend Phaedra is Frack, and, yeah, we're still going strong. We're doing a lot of different things. A lot of exciting things and, of course, we're still shady and I'm Petty P, so that's going to remain the same."
Hmph.
"RHOA" returns Sunday, November 6 at 8/7c.