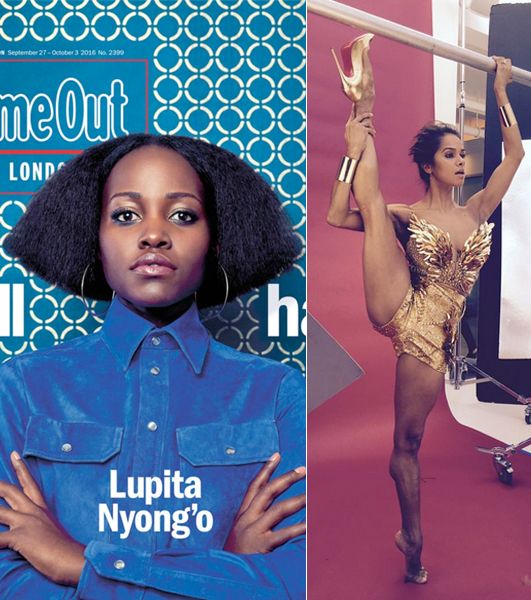 Lupita Nyong'o takes over Time Out London magazine and it's everything. Get into the gorgeous pictorial, plus check out Misty Copeland's fierce Variety magazine outtake inside….
Another one!
Lupita Nyong'o has been slaying all over the Queen of Katwe press tour, serving up several glamorous looks. And her magazine takeover is no different.
The Oscar winner covers the newest issue of Time Out London magazine serving up angled bob realness, styled by Larry Sims. The 33-year-old actress is ready for business in a blue button-up shirt with her arms crossed across her chest.
For the cover story, the Kenyan beauty talks about returning to the motherland to shoot Disney's new film Queen of Katwe (directed by Mira Nair), a real life story about a chess prodigy. She plays the fiercely protective mother of a Ugandan girl named Phiona Mutesi (played by Madina Nalwanga). Lupita opens up about feeling nervous about playing a mother in the film since she's not a mother yet, how she feels about the film not starring any white people, and more.
Below are a few highlights:
'Queen of Katwe' is the first film you've shot in Africa. Did it make you reflect on your roots?

"I was so thrilled to be able to go back to East Africa and shoot a film with Mira Nair. I can't imagine anyone who could've made this film as authentically and lovingly as Mira did. I was an intern at her film company back in 2006, and their slogan is, "If we don't tell our stories, no one else will." And I really and truly believe that."

The film's the story of an African chess prodigy and has no white characters. Were you surprised that Disney didn't want to, say, stick Leonardo DiCaprio in there to make it more 'palatable'?

"It's very refreshing. It's all thanks to Tendo Nagenda, who is of Ugandan descent and he's an executive at Disney. He saw the magic in this story, and you know Disney loves magic. It takes people like that – people in positions of power – who are unafraid of the global. Because the world is made up of all sorts of people. We share more than we differ. And this is an African film that demonstrates that."

Is it true that to get into the role you spent hours cooking and cleaning for your on-screen kids?

"I was very nervous about playing a mother, because I'm not a mother. I kind of live for myself at the moment! But it was important for us to bond, to have chemistry and trust. Madina [Nalwanga], who plays Phiona, she's had a very similar life to the character: she sold maize on the streets as a little girl. So I asked her to take all of us, my entire on-screen family, down to the market. She bought ingredients and did all the haggling, then she taught me how to cook a typical Ugandan meal. That was a real icebreaker, we found our natural dynamics. And Madina was teaching me how to be a mother in the process."

You talked about having 'acute imposter syndrome' on the set of '12 Years a Slave'. Winning an Oscar must have helped.

"What's it called when you have a disease and it keeps recurring? I go through it with every role. I think winning an Oscar may in fact have made it worse. Now I've achieved this, what am I going to do next? What do I strive for? Then I remember that I didn't get into acting for the accolades, I got into it for the joy of telling stories."

How much do you enjoy the fame, the red carpets and all the dressing up?

"I love getting ready for the red carpet. But if I didn't have a stylist and a make-up artist and a hair stylist and all that, I would not get out of the house. It's like performance art, that's how I look at it. And I think: Well, if I'm going to have a Cinderella moment, why not enjoy the hell out of it? It's not as much fun once you're on the carpet and all the cameras are flashing. That's scary."
You can read the rest of her interview here.
Queen of Katwe hits theaters this Friday.
Another YBF chick heating up the magazine circuit....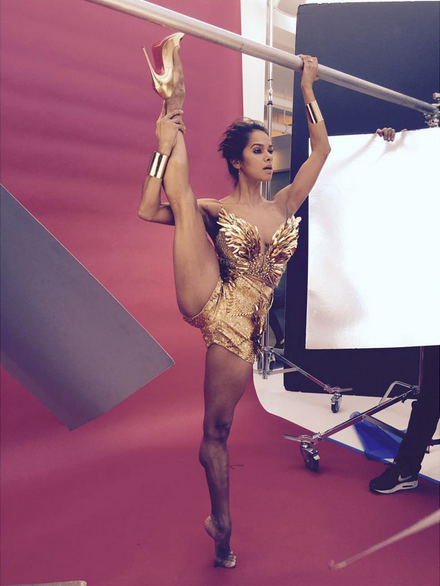 Prima ballerina Misty Copeland seems to always be on pointe no matter what she's doing. The American Ballet principal dancer shared an outtake from a Variety photoshoot and the shot displays her undeniable athleticism and beauty all rolled into one shot.
In the shot, Misty rocks a gold-feathered ensemble as she gracefully holds one of her legs up in the air in a ballerina pose wearing a gold high-heeled pump. Werk!
Speaking of hot shots…
Over the last few days, Misty has been sharing shots from a book by photographer Gregg Delman and she has come under fire for one of the photos being heavily photoshopped. Misty responded to the controversy yesterday, posting up a side-by-side picture of the cover and the original photo claiming the flick has not been altered. But her fans think otherwise.
Here are some of the comments:
la.viv.clicquot: Even the proportions and shape of Her face are different! There's more muscle on the left upper arm and possibly the most horrifying thing is that she looks more white! I'm stunned more by the lie than anything else.
realroyalladi: The image on the left looks photoshopped.
love6241: But you did! Why not take a stand and tell them NO photoshop. You have tons of kids looking up to you. Sad
j3ssmac_: Didn't need to be photoshopped at all. The one on the right is amazing
mz.mumu: The picture was CLEARLY retouched more than just your leotard. People aren't blind. Smh.
Thoughts?
Photos: Time Out magazine/Misty's IG