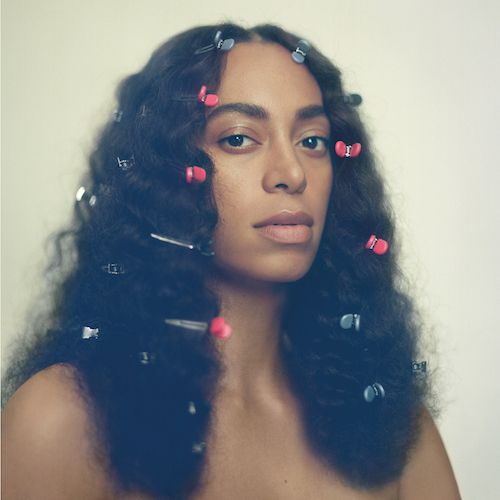 Solange Knowles is back with the vibes we love.  Deets inside on her brand new album, plus Gucci Mane is about to up his literary factor...
The youngest of the Knowles sisters, Solange, just announced she will be dropping her brand new album on September 30th. A Seat at the Table, an album she completely wrote herself, has the interesting cover art above.
The album, which Solange began writing and producing in 2013, will be available digitally everywhere. Solange describes A Seat At The Table as "a project on identity, empowerment, independence, grief and healing."
For 86 fans who signed up for her new website solangemusic.com, she mailed them a poetry book of lyrics and photos also entitled A Seat at The Table. She has a digital download of the booklet on her site.
The booklet has words and seemingly lyrics scattered in all different ways across over 100 pages.  Check out the tracklist below.  Songs with Lil Wayne and Tweet?  Oh, we're so here for this:

"Rise" 

"Weary" (Additional Vocals blessed by Tweet) 

"Interlude: The Glory Is In You"

"Cranes In The Sky" 

"Interlude: Dad Was Mad"

"Mad" Ft. Lil Wayne (Additional Vocals blessed by Moses Sumney and Tweet) 

"Don't You Wait" 

"Interlude: Tina Taught Me"

"Don't Touch My Hair" Ft. Sampha

"Interlude:  This Moment" (Additional vocals Devonte Hynes of Houston Texas and Lu of Carolina) 

"Where Do We Go" (Additional vocals blessed by Sean Nicholas Savage) 

"Interlude:  For Us By Us"

"F.U.B.U." Ft. The Dream & BJ The Chicago Kid (Additional Vocals blessed by Tweet) 

"Borderline (An Ode To Self Care)" Ft. Q-Tip

"Interlude:  I Got So Much Magic, You Can Have It" Ft. Kelly Rowland & Nia Andrews 

"Junie" 

"Interlude: No Limits"

"Don't Wish Me Well"

"Interlude:  Pedestals" 

"Scales" Ft. Kelela 

"Closing:  The Chosen Ones"
In other news, Gucci Mane just nabbed a book deal!
He will be reliving his memoirs in order to put them into a book that started being written years ago.
The book publisher confirmed they are working with the rapper saying:
"Simon & Schuster is thrilled to publish Gucci's story in his own words," the spokesperson for Simon & Schuster said. "Gucci Mane is one of the most influential and revered hip hop artists in the world. His impact on American music is profound. This will be a major memoir revealing the life and times of the artist and man, chronicling his youth, ascent to the top of the Atlanta trap scene, incarceration, struggles with addiction and personal rebirth."
They refused to reveal exactly how much his book deal is worth, though.
Photos: Instagram/Saint Records