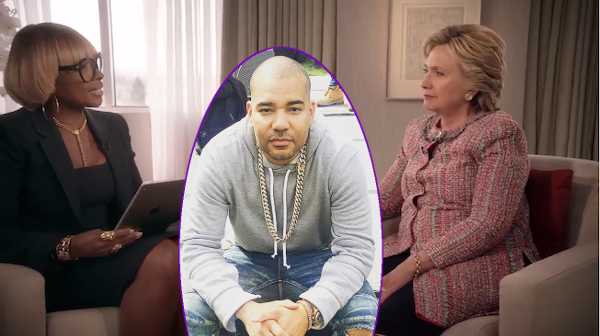 Last night was a doozy of a Presidential debate. But the fallout on social media amongst celebs and influencers is just as nuts.  And that includes DJ Envy's foolish remarks about Stop & Frisk.  Get it all inside...
Right after the first one-on-one debate between Hillary Clinton and Donald Trump last night, which was seen by a record breaking 81 million people, Apple Music released a promo for an upcoming intimate conversation Mary J. Blige and Hillary Clinton are having.  The full video airs Sept. 30th.  If they break out singing anything about "No More Drama," we're gonna lose it.
Meanwhile, DJ Envy had everybody like 'hold up skrrrt' while The Breakfast Club talked about the Stop & Frisk foolery that came out of Donald Trump's mouth last night. Envy says he's siding with Trump, he supports Stop & Frisk. Despite the fact both Charlamagne and Angela Yee tried to school Envy on the fact that scientific research and statistics prove the policy was ineffective (and unconstitutional), Envy kept saying that "it was effective."
More specifically, Envy said, "No, it showed it took a lot of guns off the street."   Charlamagne responded, "No, it doesn't though"—"Now you can say it was only .1 percent."  Envy's response: "What's 'not a lot of guns'? Nine-hundred guns off the street is 'not a lot of guns'?" No word on where that number came from.
Can't we do even better without having to racially profile (which leads to intensified race relations)?
Check it below:
Well, at least he's getting people registered to vote.
Despite Hillary being interrupted 22 times in 26 minutes, folks heard enough to have some major reactions:
his condescending interjections and interruptions and mansplaining are hitting the deepest part of my womanly frustration #Debates2016

— Rashida Jones (@iamrashidajones) September 27, 2016
Dear God, the words law & order shouldn't strike so much fear in my heart as a law abiding citizen but I am so damn scared of Donald Trump

— Lil Chano From 79th (@chancetherapper) September 27, 2016
Why does Trump keep interrupting? Lester where are you?!!!

— Eva Longoria Baston (@EvaLongoria) September 27, 2016
I wrote Law & Order. The only role Donald Trump could have in Law & Order is as a rich bastard suspected of killing his wife.

— David Slack (@slack2thefuture) September 27, 2016
Oh, look, Hillary invited her friends Sanity and Experience to the debate.

— Bette Midler (@BetteMidler) September 27, 2016
Of course Donald Trump blundered through his birther answer. Just such a disgrace that he wouldn't even prepare for this question.

— Malaak Compton-Rock (@ARProject) September 27, 2016
It reminds me of apartheid in South Africa. When police were allowed at any time to demand passbooks. #debatehttps://t.co/Bt9qgQZZJI

— Holly Robinson Peete (@hollyrpeete) September 27, 2016
Have you seen this man? His name is Lester Holt and he went missing several times during the #debate. If you have any info call 800-moderate pic.twitter.com/Y7hN12z9r7

— IG: Sil_Lai (Abrams) (@Sil_Lai) September 27, 2016
#Debate fact check: @Ford CEO insists not a single job will be lost in the U.S. https://t.co/GxjdfbqThSpic.twitter.com/wWApMS2xMs

— USA TODAY (@USATODAY) September 27, 2016
EXTRAS:
1.  The cops in the Freddie Gray case who were cleared of all charges were honored at the right-wing Media Research Center's annual black tie gala last Thursday. STORY