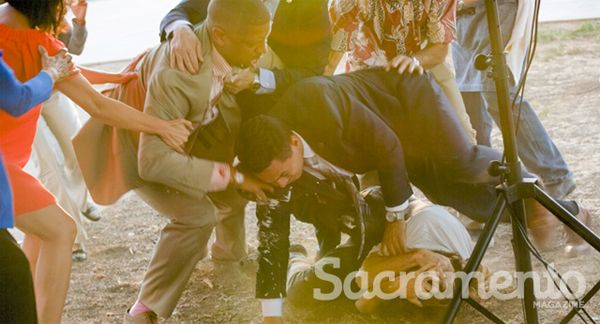 All hell broke loose when a man threw a pie in Sacramento mayor Kevin Johnson's face. Oh, but he wasn't let off the hook so easily. The mayor hit 'em with a two piece before security got involved. Deets inside….
When you hit someone in the face with a pie, you better expect to get dealt with. Mayor not, you can and will get these hands.
Sacramento Mayor Kevin Johnson, a former NBA star, was hit in the face with a pie by a man named Sean Thompson at the Edible Sac High Seeds of Hope Harvest Dinner held at Sacramento Charter High School on Wednesday (Sept. 21st). Yes, some guy TRIED it.  It was all caught on camera by Sacramento magazine photographer Philippe Ngabonziza.
According to CBS News:
Thompson said he's fed up with Johnson's lack of help for the homeless with all his attention on his "golden" project, an arena named the Golden 1 Center.

"If he had put the energy into those things that he put into the arena, we would have so few problems left in the city," said Thompson.
Right after he was hit in the face with the pie, he did what any person would do when they're attacked. The 32-year-old mayor punched the guy in the face several times after the assault! Security jumped in and restrained the man.
The pie-thrower was reportedly transported to a hospital then booked into the Sacramento County Jail on a felony charge of assaulting a public official and a misdemeanor charge of battery on school property.
In a jail house interview, the culprit said he's not sorry for what he did and would do it again:
"I feel bad that I sent the message to a lot of people of violence and that I sent a message that would scare people, 'cause that wasn't my intention. I still stand by what I did," said Thompson.

He said he felt pressured to do something to send a message and embarrass Johnson.  "So I decided to throw a pie in his face," Thompson said.
*rolls eyes*
But get this.  The pie thrower, who has cuts on his face from getting dealt with, is now complaining saying Johnson's reaction wasn't appropriate.  He said the mayor didn't use "reasonable force" and now his face has been injured. 
So you're telling this man how HE should react to YOU assaulting him?  Oh, ok. 
Mayor Johnson hopped on Twitter to address the situation tweeting:
Appreciate everyone. I'm doing fine. Thank you to Sac PD for being there. Be safe everyone.

— Kevin Johnson (@KJ_MayorJohnson) September 22, 2016
Guard ya necks out in these streets, y'all.
Photos: Philippe Ngabonziza via Sacramento Magazine