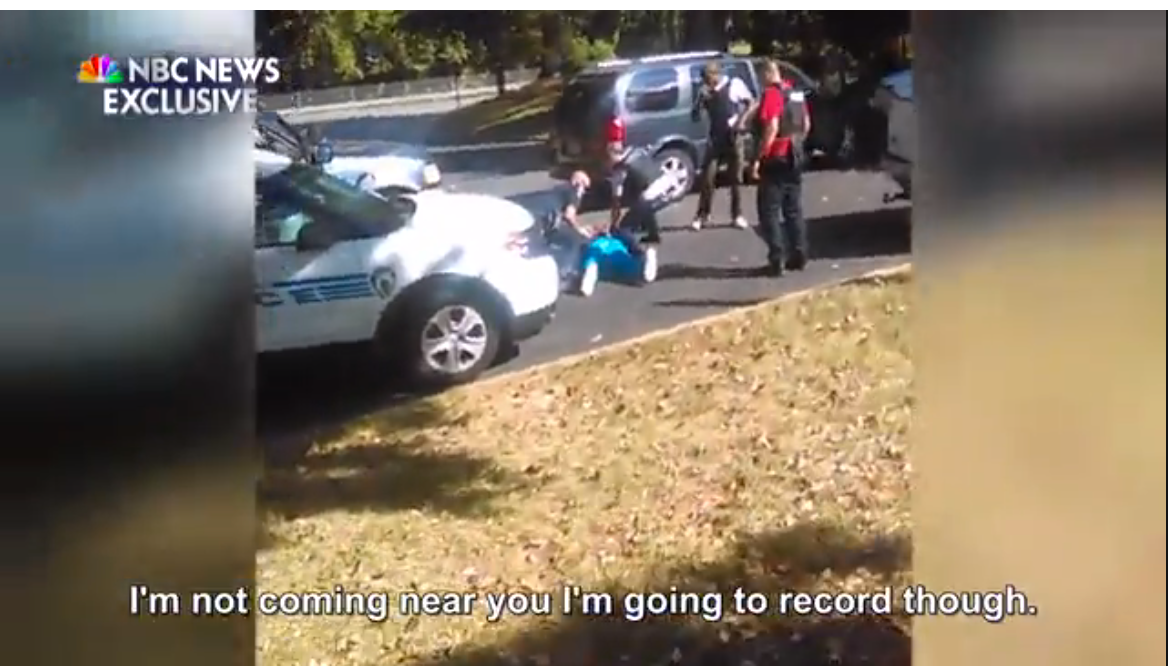 In just released disturbing video, we finally see most of what happened to the slain black Charlotte resident Keith Scott. We have the full video, and the theory of a planted weapon, inside....
For days, Charlotte has been burning.  And rightfuly so.  Residents, as well as people around the world, are outraged at the events surrounding the death of Keith Scott. 
Keith's wife Rakeiya Scott took video of the incident on Tuesday.  As she ran up to their car, police, who were in the area to serve papers to someone else, were yelling at her husband from outside of his car.  They eventually shot him while screaming "Put down the gun!"
The family, as well as Keith's wife, maintain he had no gun or weapon on him.
Activists and the Scott family have pressed city officials to release bodycam or dashcam footage.  The police chief and the city say they will not do so, until the video can be conveyed "in an understandable way."  During a press conference, officials said they want to avoid raising the frustration level any higher with video evidence that doesn't show clearly what happened.
Hmph.
So today, Rakeiya released her own phone video to NBC News.  And it's telling.
While cops swore Keith was armed, Rakeiya is heard saying otherwise on the video.
As she pleaded "Don't shoot him! He doesn't have a gun!" with the cops, she also screamed to the cops "He has a TBI (Traumatic Brain Injury) and just took his meds."  She said this to the cops before they fired shots.
ABC News reports his TBI stems from a motorcycle accident last year that causes him to stutter and often forget things that are said to him.
"He better not be f---ing dead, he better not be f---ing dead," Rakeyia Scott can be heard shouting at the officers after the gun shots rang out. "He better live, he better live!"
It is not clear what preceded the cops approaching the vehicle. The video, still, is unsettling.  You can view it in full below:
There is also discrepancy over the placement of a gun that appeared:
Many say it wasn't there when the shooting first happened, but magically appeared after one cop reached in his own back pocket and allegedly MAY have put it there.
Police, as of this evening, now claim the gun found near Keith has his fingerprints, blood and his DNA.
NBC News reports:
Charlotte Mayor Jennifer Roberts said Friday that she watched some of the police footage and does want it released, but the ongoing investigation must be taken into consideration.

"The question is on the timing," she said.
Police Chief Kerr Putney stated three officers on the cene were wearing body cameras, but coincidentally, the officer who fired the shot was not. Interesting.  he also stated:
Putney said Thursday that the videos he has seen don't show "absolute, definitive, visual evidence" that Scott pointed a gun at the officers.
Why did cops approach THIS vehicle while in the area for another person who had a warrant?  Why not give the benefit of the doubt when his wife clearly states he has a TBI and it may not have been perfectly clear if it was, in fact, a gun in play?
Questions that need answers.  And questions that continue to infuriate the masses who believe clear prejudice is at the center of these police shootings.
The city of Charlotte has been protesting for three nights straight.  It has been mostly peaceful with one shooting occuring.  While reports initially stated it was a protestor on protestor shooting, many people on the scene say it was indeed a cop who shot the protestor with a rubber bullet.