He tops Forbes' list of Hip Hop's wealthiest artists of 2016, so he's giving some of that cash to those who helped him get to where he is.  Diddy presented a million dollar check to Howard University last night in front of thousands of folks, and we've got the deets inside...
The Bad Boy Family Diddy Bopped their way to the Verizon Center in D.C. last night for their Puff Daddy & The Bad Boy Family reunion tour stop.  By the way, if you haven't caught it yet, this show is everything.
Diddy stopped the show to present President Wayne A.I. Frederick, M.D., MBA and his former school Howard University with a one million dollar check!  Two years ago, he gave HU's commencement address and was awarded an honorary doctorate.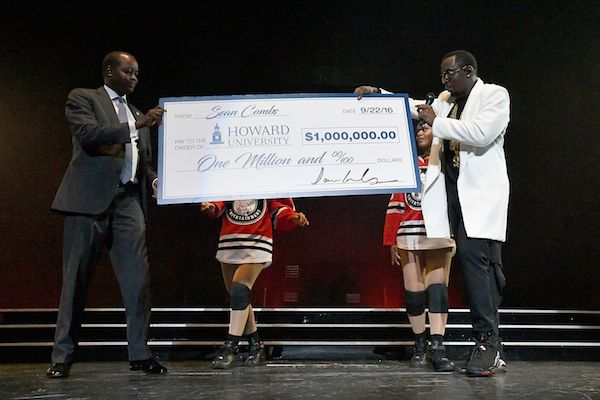 The gift will support the establishment and operation of The Sean Combs Scholarship Fund which will help to shape a new generation of entrepreneurially spirited Bison.
"I was blessed to received a great education from Howard University – one of the best schools in the world – and it helped to fuel my success in business and life. This scholarship will make it possible for the next generation of leaders to pursue their dreams and achieve greatness," said Sean "Diddy" Combs. "When I delivered the commencement address at Howard, I asked the students 'Do you know how powerful you are?' I know that Howard students are intelligent, talented, passionate, and their hard work will shape the future."
According to President Frederick,"The scholarship fund that Mr. Combs has established at Howard will help provide life-altering opportunities for our students, particularly at a time when many come to Howard struggling to meet ever-increasing financial needs. The University is grateful for Mr. Combs' ongoing efforts to open doors for talented, hard-working individuals and improve their chances of navigating the way to personal and professional fulfillment."
One time for the folks giving back to their alma maters and HBCUs!  Woot!
Here's video of Diddy presenting the check last night:
Before last night's show, Diddy was spotted with his mom Janice Combs and son Christian (who's also performing during the tour) at his pop up art show in South West Washington DC at The Rhino: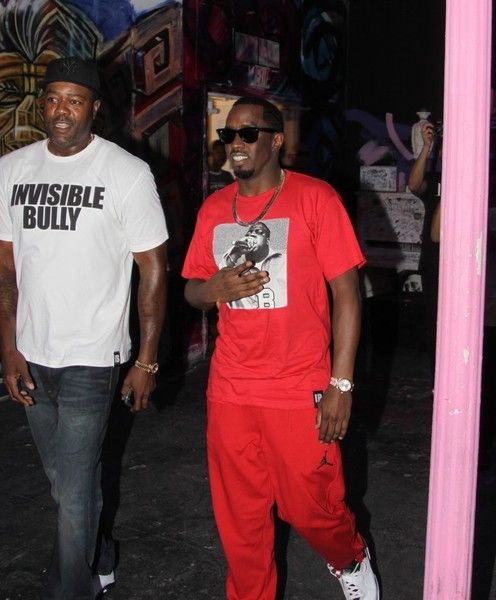 Fab times!
Photos: Getty/FameFlynet