Kevin Durant and Nas sat down with Bill Simmons on "Any Given Wednesday" to chop it up about a range of topics that include supporting Colin Kaepernick's silent protest, Kevin's relationship with former teammate Russell Westbrook, Hip Hop rivalries (i.e. Tupac and Biggie) and much more. Get it all inside…
NBA baller Kevin Durant and rapper Nas made an appearance on "Any Given Wednesday" with Bill Simmons last night to discuss a plethora of hot topics.
In the show's "Speed Round" segment, Nas and Kevin talked about the best rappers out right now, Kevin's Rick James tattoo, and who they feel are the best NBA rappers. Nas said rappers like J. Cole, Kendrick Lamar and Drake remind him of himself and that they inspire him. Kevin confirmed his Rick James tattoo had nothing to do with Dave Chappelle and that his earliest memories of the icon came from his grandma cleaning the house while listening to Rick James' music.
The duo talked about supporting Colin Kaepernick's silent protest, kneeling down during the national anthem as a means of raising awareness to the injustices in America.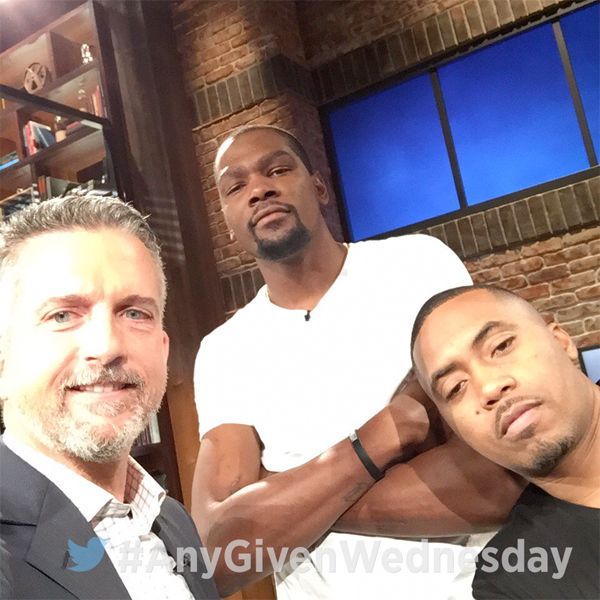 Nas :"When you see wrong, speak on it. It's great to see athletes, musicians, whoever, when you see wrongdoing, speak on it. Get the dialogue going. The people can change the world. We get up and unify, we can change the world."
He continued:"Every time somebody stands up for good, you take that risk. Your message, you have to keep repeating it over and over. I really admire him because he didn't care.
Kevin:"I see guys standing up and fighting for what they believe in. I think when in an era now where it's really cool to stand up for what you believe in and fight for our culture. However you do it, it will be guys who will show support for what he's doing. Since Colin started off, it's gotten so much speed since then. I'm sure there will be guys who will protest."
Kevin opened up about the backlash he has received since deciding to leave the Oklahoma City Thunder to join the Golden State Warriors. He said:
"When they call me weak, I think I'm the total opposite. There are plenty of times I could have quit in this whole lifestyle that I'm in. It's plenty of times where my neighborhood could have kept me down, but I just kept going. So, how am I weak when I'm at the top/elite level of my profession and I just chose to play for a different team? It's a lot of people that try to tear you down when you make a decision that makes them feel uncomfortable or makes them upset. I can't control everybody."
He added,"Nobody cares what I want as a person. Its all about what I could do on the basketball court."
The NBA baller opened up about how he felt when he had to tell his former teammate Russell Westbrook that he was leaving the team after playing with him over so many years.
"It was difficult to tell him that I was leaving because we had been together so long," he said. "At the same time, it was something I had to do. It was something that I made the decision on so I had to stand firm on it. No matter who agree with me or not, I have to live with it, no one else does."
Nas offered up a little advice, saying, "Do what you got to do."
Kevin went on to say he doesn't care about other players that much to want to hate them. "I'm not thinking about you at home while I'm sitting on my couch for me to hate you that much. That's just not who I am. But when we play, I'm not even thinking about you. I'm worried about how I'm going to dominate. I'm not going out to meet Russell by his car and wanting to talk to him. He's not going to want to fight me. I don't care about all that stuff. When I play, I'm going to compete the way I always competed. The work doesn't stop. I really just have a different jersey on."
So what does Kevin think about his new teammate Steph Curry's sneakers? "They were BAD!," he responded. Bloop!
Nas also talked about what he would have told Biggie and Tupac to squash their east coast/west coast beef if he could go back in time and much more.
Peep the clips below:
Photos: Any Given Wednesday's Twitter