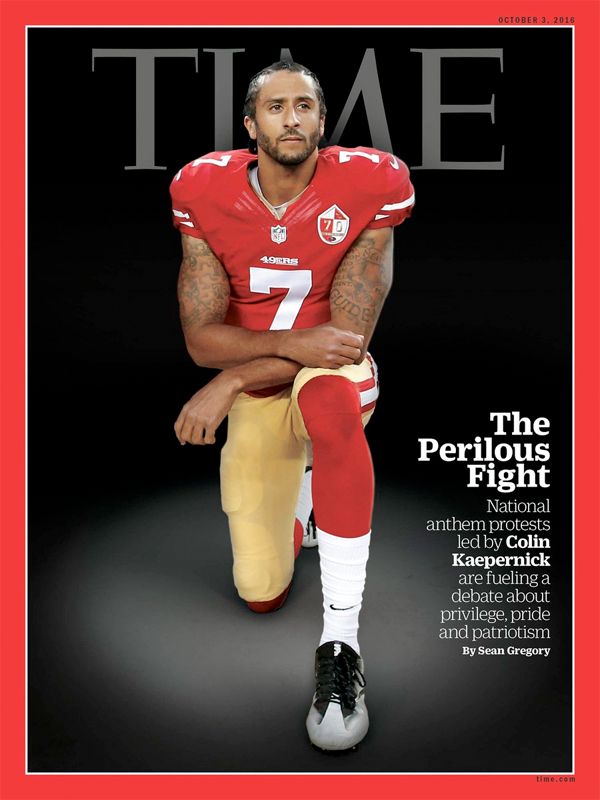 Colin Kaepernick sparked national debate when he decided to take a knee during the National Anthem to kick off the NFL season. And now, his powerful protest is gracing the cover of TIME magazine. More inside…
San Francisco 49ers quarterback Colin Kaepernick is the most talked about NFL player since the beginning of the NFL season. The 28-year-old athlete launched a silent protest by kneeling during the National Anthem during a pre-season game at the end of August. Colin said he decided to take a knee because he refused to show pride for a flag of a nation that continues to murder innocent people of color.
Colin has been met with negative backlash AND support from fans and several other NFL players.
Now, his powerful silent protest has landed on the cover of TIME magazine's October 3rd issue, proving his actions are helping to raise awareness to social and racial injustices.
In the cover story written by Time's Sean Gregory, the publication sat down with several NFL stars, including Philadelphia Eagles safety Malcolm Jenkins, New England Patriots defensive back Devin McCourty, and Cleveland Browns legend Jim Brown, as well as athletes in other sports, to share their thoughts and to explore the impact of Colin's protest.
"We're not doing this made-up thing to get attention," Jenkins said about joining Colin's protest by raising his fist during the National Anthem.
"Real lives are being lost. Real communities are being affected," he said. "The negativity comes from people's unwillingness to digest the hard truth."
In the weeks since he launched his protest, Colin revealed he has received death threats, but he's not concerned by them.
"If something like that were to happen, you've proved my point," Kaepernick said, according to the Bay Area News Group. "It'll be loud and clear for everyone why it happened, and that would move this movement forward at a greater speed than what it is even now.
"Granted, it's not how I want it to happen, but that's the realization of what could happen. I knew there were other things that came along with this when I first stood up and spoke about it. It's not something I haven't thought about."
Got to give it to Colin for taking the lead and using his platform to help raise awareness of the injustices we as black people face day-to-day. We salute you!
Photo: TIME magazine