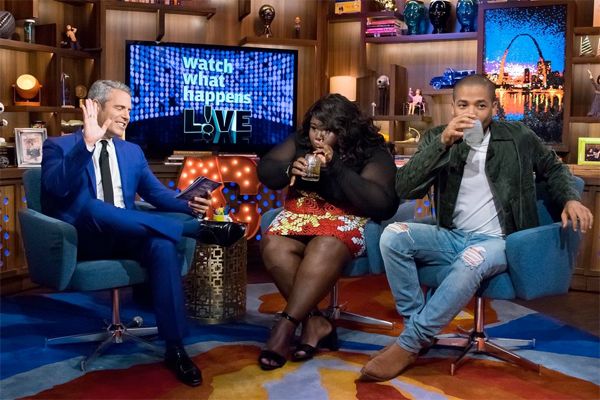 Jussie Smollett and & Gabourey Sidibe were tooooo LIT on "Watch What Happens Live" last night. Find out what we mean inside…
"Empire" stars Jussie Smollett and Gabourey Sidibe (who's looking GREAT by the way!) were chugging down drinks in the clubhouse while chatting with host Andy Cohen. And it made for great television.  Tipsey antics always do....
Jussie and Gabby cut up throughout their joint appearance they could hardly answer any of the questions being asked. Even Andy looked a bit annoyed by it all, but we found it funny.as.hell. At one point, Andy asked Jussie how many drinks did he have, in which Jussie responded, "Andy, I don't even know. I'm trying to be classy, so I need to stick with this because Lee [Daniels] is probably watching."
The "Empire" stars like to joke about being in a relationship together and even gave themselves a pet name, "Gabussy." HA!
Jussie chimed in with what sounded like, "Get that good p*ssy!" Lordt!
A caller asked if Jussie was single and he confirmed that he is. He then ran down his list of qualities he looks for in a partner. "Somebody nice, somebody loyal, somebody that's not a... I was about to curse, my bad. Somebody that's just not an a-hole. Got a a-hole, but not a a-hole." Chile....Then, he joked about loving Gabby's a-hole.
Y'all! They were turnt!
Andy went on to ask Jussie what he thought about 50 Cent's comment that said the FOX series' ratings were going down due to the "extra" gay stuff. Jussie served up some Mariah Carey (who will be starring on the upcoming season) shade, responding, "I don't know him."
He added, "Anything he says, that's on him."
Peep the hilarious clips here.
On a more serious note, a caller called in asking Gabby for advice to tell her 12-year-old daughter who was being bullied in school over her weight. Gabby, who has a book coming out in May 2017, gave the perfect response. Check it below:
And peep another clip where the stars play a fun game of "Truth or Tweet":
While in the clubhouse...
Jussie posed it up in his Rag & Bone jeans, white t-shirt, army green jacket  and Saint Laurent shoes.
Meanwhile, Gabby looked the absolute cutest in a black sheer top and printed high-waisted skirt. Get it Gabby! 
And because anything Gabby does cracks us up: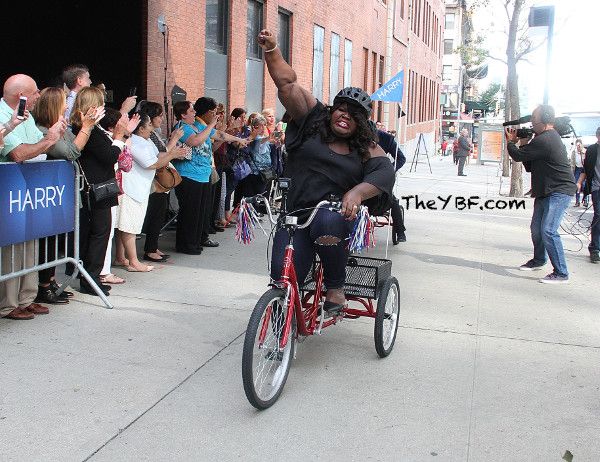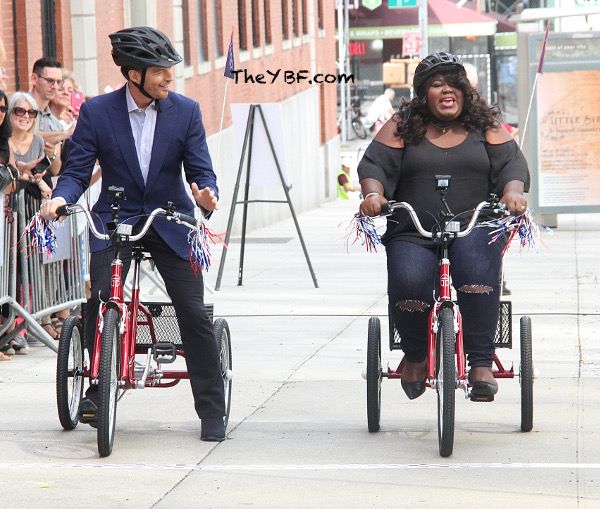 The actress and talkshow host Harry Connick, Jr. hopped on 3-wheel bicycles to take a stroll outside of his studio in NYC with the cameras rolling for his show.  This chick.
Photos: WWHL/Splash