After The Game & Meek Mill did their best Instagram sparring the other day over Game's snitching claims, fresh meat has stepped into the ring.  Get the latest on what just went down between Game & Sean Kingston, and why everybody is suddenly hating Game....
The Instagram drama ensues!   The Game has been fighting with enemy Meek Mill for days, now he's going at it with Sean Kingston. 
It all started when Game went in on Meek Mill after allegedly being the target of a shooting outside a Miami nightclub. The Compton rapper felt like Meek had something to do with it since Game had just talked ish about Meek on stage minutes before.
Game accused Meek of snitching on him and even dropped a diss track threatening Meek even more called "92 Bars."  He dropped lyrics that had us like....HUH.  Game made sure to reference that ghostwriting beef with Drake and Meek attempting to snitch on the 6god, Nicki Minaj, giving Nicki his "pool stick" and making Meek bleed. Check it:
 

"Blood'll be dripping like Niagara if I poke Meek, Nicki won't get no sleep."

"You better have Ross call me or you gon' be eye level where the roach be," and then ends saying, "N*gga you know I snap you like a toothpick, and snitching on n*ggas ain't never been no cool shit, and I've been wanting to give Nicki this pool stick."
Lordt.  So much for Game being all about love and peace now.  He outed Meek continuously on the Gram saying things like:
Rumors swirled that the snitching claims Game was making all stemmed from Sean Kingston's chain snatching incident. Then Game confirmed it all:
He gave a LENGTHY explanation accusing Sean of snitching and threatening him saying:
#FACTS @SeanKingston you fat scary lying ass nigga on here playing games wit this pussy @meekmill..... Frontin' for these people.... Niggas in yo own circle set you up, whooped yo ass in the club & took all yo shit off yo neck in front of your security & yo niggas & they watched it happened !!!!! You telling police I had sumn to do with you gettin robbed & I set you up cause Meesha punk ass told you that is some hoe shit !!!! But what's even worse, is yo buster ass on here fakin' when you know what the fuck you called my phone & said !!!!! Meek been tellin on niggas..... Anywhere he can snitch to get ahead his rat ass will do it !!!! One day you look up & my fist gone be in yo fuckin jaw.... & ain't nobody gone be there to hide behind or help you.... You gone take this ass whoopin like a man & the world is home see me beat the hoe out you !!!!!!! I'm 1,000% sure yo punk ass & ya chubby side piece had detectives at my house before I left on tour.... Questioning me telling me verbatim what y'all niggas told them.... Keep fakin for Instagram..... You gone have to see me, & then we will see if you can stand behind the words you typing on this app bitch !!!!!!!!!!! You know in yo heart you scared & this time it ain't going away..... This one won't rest until you catch this ass whoopin.... #ItsGoingToHappen #AndDontTryAndBackPeddleBitch #AndYeaBlackLivesMatter #ButRatsAreGrey  #PussyNigga #SqueakMill & yo sidebitch #TwinkieSmuggler You know I ain't rob yo fat ass, so stop lying saying that shit.... #TurningCommentsOffSoNiggasCantSmackYoComments #PussyShit #TurnThemCommentsOnBitch #ThisNiggaMamaStillMakeHisBedAndDressEm #BackToMasterSplinter #WeSeeYouDeletingShitTooMeesha #AintNoRewindBitch #YouGettinSmacked
As for what we gather from all this back and forth --  When Miami based Sean Kingston got his $300,000 chain snatched off his neck back in June inside a Miami nightclub, Sean and Meek allegedly collaborated in telling folks it was Game's goons.
So Game took the opportunity to go off about it...three months later...while in Miami this weekend.
After his back and forth with Meek, he called out Sean Kingston directly in the video above.  That's when ish went even further left.
Sean hit back calling Game every name in the book, accused his mama of being in a gang, and doubled down on his accusation about Game's Goon's snatching his chain. He said game needs to get his own jewelry and stop rocking fake stuff and stealing other people's ish. He.Goes.In.:
Of course, he deleted everything.
Then Beanie Sigel put in his two cents clearly professing his loyalty to his fellow Philly rapper. He threatened Game saying "Don't make me come out of retirement." We definitely don't want that.
Even 40 Glocc, Cali rapper who was formerly on G-Unit, hopped in the mess last night on to ALSO go off on Game saying: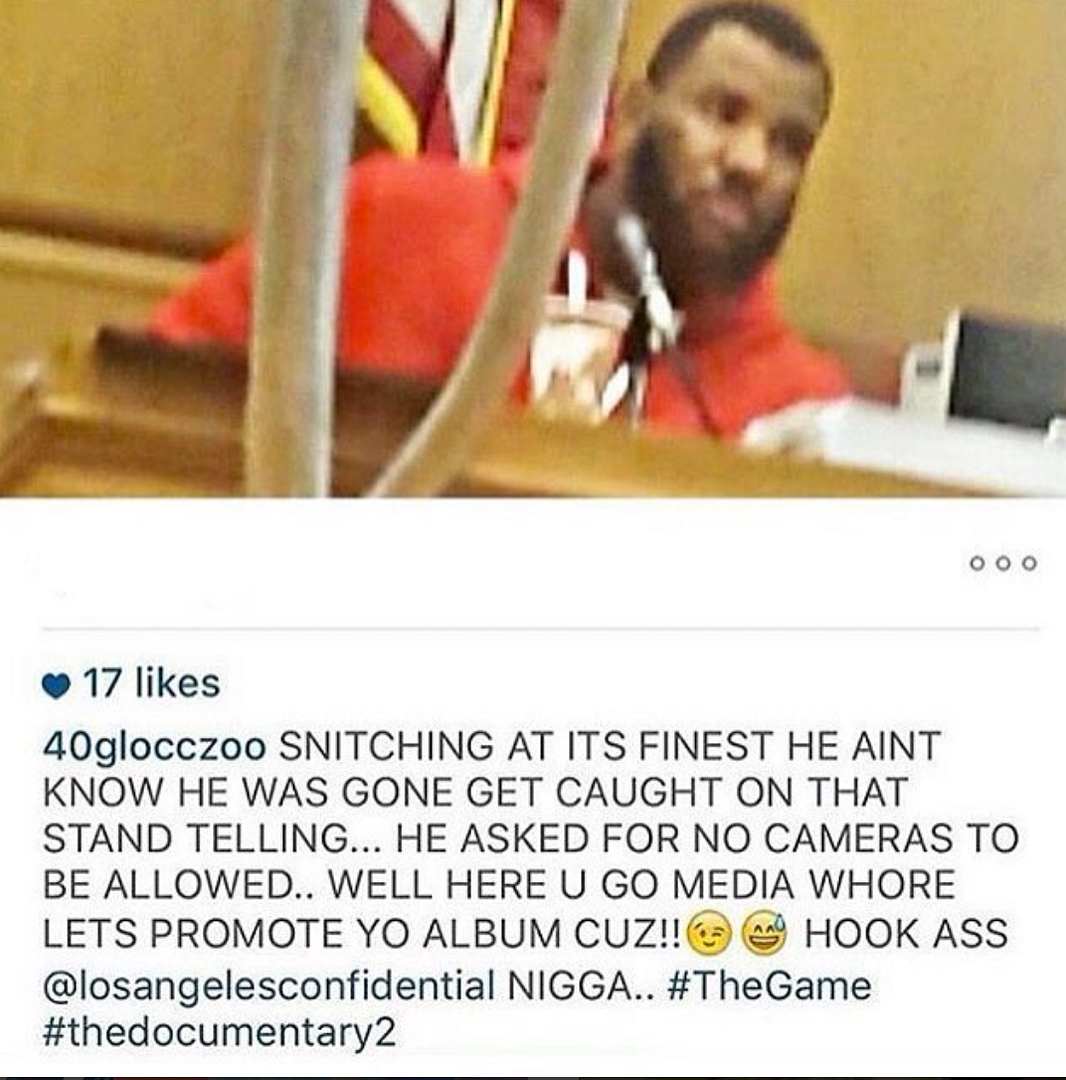 Yeah, Game has been promoting his upcoming album 1992 all throughout the foolery.  Go figure.
Photos: Instagram