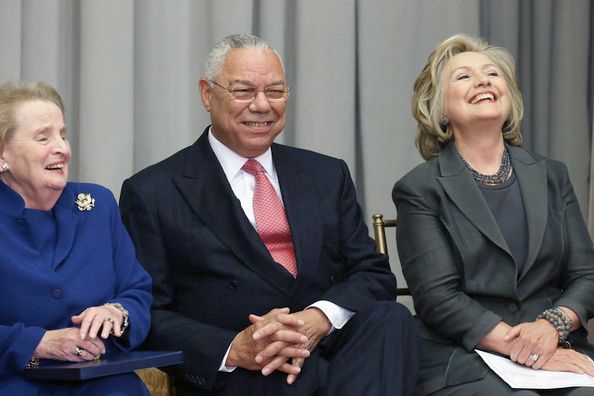 Secretary of State Colin Powell has been hacked and several of his personal emails have been leaked. In them, he blasts presidential hopeful (and friend) Hillary Clinton and her husband Bill Clinton. Find out all he said, plus Jay Z's new video "The War on Drugs Is An Epic Fail" inside….
This seems to be the year of hacked emails!
After Democratic presidential hopeful Hillary Clinton had her personal emails hacked and leaked, the hacking scandal continues as Secretary of State Colin Powell had his emails hacked and leaked recently. The emails provide an inside look into the former secretary's thoughts on the 2016 election.
In a series of personal emails over the last few years, Mr. Powell blasts his "friend" Hillary, calling her greedy and says he would rather NOT vote for her to be our next president. Not only that, he bashes Hillary's husband former President Bill Clinton making claims that he's still "d**king bimbos at home." Lordt.
Peep the exchange between Colin and Democratic donor Jeffrey Leeds in 2014 below:
"I would rather not have to vote for her, although she is a friend I respect. A 70-year person with a long track record, unbridled ambition, greedy, not [sic] transformational, with a husband still d**king bimbos at home (according to the NYP)."
In an email sent on August 23, 2016, Powell calls Clinton's excuse for using an email server a dumb excuse:
"Dumb. She should have done a "Full Monty" at the beginning. She was using email when she took over. They put the personal system in the basement a few months later. The dinner was June 16th. She didn't need any advice or ok from me; she was already doing it. I gave her written guidance on why and how I had been doing it. I warned her staff three ties over the past two years not to try to connect it to me. I am not sure HRC even knew or understood what was going on in the basement."
In an email sent on August 21, 2016, Powell says Republican presidential hopeful Donald Trump looks stupid for gunning after the Black and Latino vote and aired out his frustrations with Hillary.
"It could have been so easy for her just tell what she did, a 'Full Monte.' Last night several folks came up to me to say "She threw you under the bus." I replied 'don't be silly, she is under the bus.' The FBI guys loved me and so did the IG types. But conversation turned to: "Clintons always trying to use you." Most folks up here detest Trump and won't vote for him, but dislike her intensely at the same time. Ah, well the country will decide. The NYT piece yesterday on emails was fine and balanced. I worked with the reporter. I found out from her about the book coming out. No alert from State or HRC team. Same with WP reporter. He gave me info that had been leaked to them. Trump just looks stupid trying to appeal to blacks and Latinos."
CBS News breaks down more of his personal emails that can be seen here.
Hillary recently hopped back on the campaign trail after she was diagnosed with pneumonia. She issued a statement in response to Powell's emails where she said she's not going comment on the email hack and offered him sympathy.
In an interview on The Tom Joyner radio show, she said, "I'm not going to comment on anything that is said in a private email." She said she has "a great deal of respect for Colin Powell, and I have a lot of sympathy for anyone whose emails become public."
Thoughts?
In other political news...
The War on Drugs is an EPIC FAIL, according to Jay Z. And we're sure plenty of you would agree.
The Hip Hop mogul narrates a short film titled "The War On Drugs Is An Epic Fail" that debuted on The New York Times. The piece, produced by Dream Hampton ("Decoded") Jim Batt and Kim Boekbinder, features illustrations by Molly Crabapple as Hov serves up facts about how the War on Drugs crumbled the black community and how millions have been incarcerated for marijuana which is now legal in some states.
According to the NY Times:
The film takes us from the Nixon administration and the Rockefeller drug laws — the draconian 1973 statutes enacted in New York that exploded the state's prison population and ushered in a period of similar sentencing schemes for other states — through the extraordinary growth in our nation's prison population to the emerging aboveground marijuana market of today. We learn how African-Americans can make up around 13 percent of the United States population — yet 31 percent of those arrested for drug law violations, even though they use and sell drugs at the same rate as whites.
Soak up the knowledge Hov drops in the clip above.
Photos: Getty/CBS News