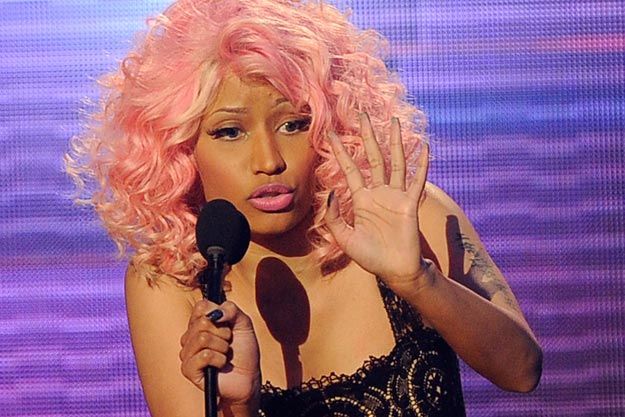 Nicki Minaj called into The Breakfast Club to discuss her Summer Jam 2012 cancellation, her fight night phone call with Funkmaster Flex, and she also threw some shade at Lil' Kim. Deets inside......
"I'm not pulling the female card, but I was the only female on the bill!"  Nicki Minaj called into The Breakfast Club earlier to discuss the disrepectful (according to Nicki) remarks made by HOT 97 personality Peter Rosenberg at Summer Jam 2012.
"You should think about that before you attack the only woman on the bill.  Something should kick in.  This girl....I may not like one or two songs but she's holding it down for every female in Hip Hop at this moment."
During the discussion, The Breakfast Club came to Nicki's defense commenting that the male DJs rarely "go at" male hip-hop stars and many viewed Peter as being sexist.
DJ Envy added, "Lil Wayne made the perfect decision; I would've pulled her a long time ago. They belittle women, and let's be serious they're the number 8 morning show in the market." WOMP.

Nicki said she doesn't expect an apology though. "Everybody makes mistakes, but you have to own your mistakes. And that's the problem. When you don't own it, people feel like you can do this in the future and get away with it."
Nicki added that she learned a valuable lesson about self-respect and her own worth over the weekend.  "What I don't do is perform in a place where they don't respect me."
Nicki also said that a performance with Foxy Brown at Summer Jam 2012 had been planned for months and that Foxy was very supportive of her decision to cancel her show.
She also threw shade at Lil' Kim (surprise, surprise) when DJ Envy said he heard a rumor that Nicki had planned to stage a "funeral scene" featuring a Lil' Kim look-a-like. Before he could even finish, Nicki cut him off saying, "That's not even in my character. Please stop spreading rumors giving people false hope that they are still relevant."
She continued, "I am not about to bring death on my stage. My stage is about life and love. Period."
She also reiterated that she will soon do a free show for the NY/NJ area to make it up to her fans.
Listen to the interview here:
BONUS:
105.1 radio personality Charlamagne Tha God gave Funkmaster Flex his "Donkey Of The Day" award for threatening to end the career of Nicki Minaj. He put Flex on blast for attacking females in the industry but NEVER dissing the men (well..I do recall a throwdown with DJ Clue, if that counts). He then called Flex a few choice words and made an interesting comparison to Suzie Ketcham from "BBW." Listen above...