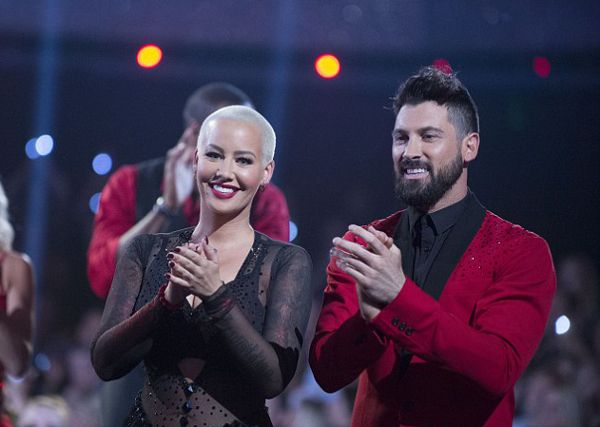 We've picked our fave to win "DWTS."  Check out the first dances of Amber Rose, Babyface and more inside, plus what those crazy protestors are saying after attacking Ryan Lochte on national live tv....
Amber Rose has had a busy week.  From making her "DWTS" debut to hosting her 'Loveline' podcast (alongside her fellow stripper turned model bestie Blac Chyna) about why stripping was the best tines of her life. 
Amber is seen in her DWTS package telling her partner Maks that she's a former professional dancer.  It's almost as that's the reason Maks covered her from neck to toe in her debut...to help shed the sex post image perhaps?
As for her ballroom dancing ability...well.  She looked stiff and nervous but will likely do well once she loosens up a bit.
Check out the debuts from Amber, Calvin Johnson, Babyface (who's competing in memory of his late mother) , and our fave to win that trophy, Laurie Hernandez:
During Monday night's live premiere, contestant Ryan Lochte got was shook when men dressed in anti-Lochte shirts stormed the stage while Ryan was receiving his scores.  On live tv.  Here's video from that angle:
The men, reportedly Brazilian, spoke out Tuesday and Wednesday of this week:
"Our purpose is to get the message out that Lochte is a coward, a liar and under Brazilian law, a criminal," Sam Satoodeh told ABC News after being released from jail on Tuesday, September 13.
The second man, Barzeen Soroudi, added: "[Lochte] embarrassed Americans on the world's stage, and this was our form of protesting against that."
Not only were those two men promptly tackled and escorted out, but there were two women in the audience wearing anti-Lochte shirts who were also escorted out.
Satoodeh and Soroudi were arrested on suspicion of misdemeanor trespassing, according to the Associated Press. Each was held on $1,000 bail.  But that's not stopping them from letting Ryan HAVE IT:
Ryan said to his fans on the Wednesday after the incident:
"When I was asked to do the show, the one thing that I kept hearing was that it was like joining a big family," Lochte wrote wrote on his Instagram account. "After Monday's incident, I now know what that means. I have gotten so much love from everyone on the show, including my partner Cheryl, my fellow competitors, the producers, the security team and its fans."
Some folks get all the chances...
Photos: ABC