Lil Wayne doesn't do many interviews, but when he does, there's plenty to digest afterwards. Get all of what he said on his "rap retirement," why he would never work with Birdman and again and Birdman's response when you go inside….
The Internet has been buzzing since Lil Wayne took to Twitter to seemingly announce his retirement. He tweeted, "I AM NOW DEFENSELESS AND mentally DEFEATED & I leave gracefully and thankful I luh my fanz but I'm dun."
Yesterday, he appeared on "Undisputed" (he also raps the 'theme song' for the show) to set the record straight with Skip Bayless and Shannon Sharpe about whether he's actually retiring from the rap game. By the way, Weezy created the show's theme song "No Mercy."
Wayne said the tweet (that was posted at 3 in the morning) stemmed from argument about his situation with Cash Money and he was just airing out his frustrations on social media.
"I'm a Libra. We're known to not have real emotions. We're the only Zodiac sign without a heart or a soul. Only sign that's just a symbol. Since it's a scale, we have to let something get all the way down there for it to tip over for us to boil out. I was at my tipping point."
Plenty of people think the on-going argument between Wayne and Birdman over the release of Tha Carter V is manufactured drama. But, Weezy said that's not the case.
"This is business. I have a family, I have kids, I have a mother. I have bills. Once the business is right, then everything is right. I did feel that way. I didn't take the tweet down because I still feel that way. And until something is done about it, then maybe that'll change."
Wayne said he doesn't think he has reached the height of his talent or career, so he's not finished creating music.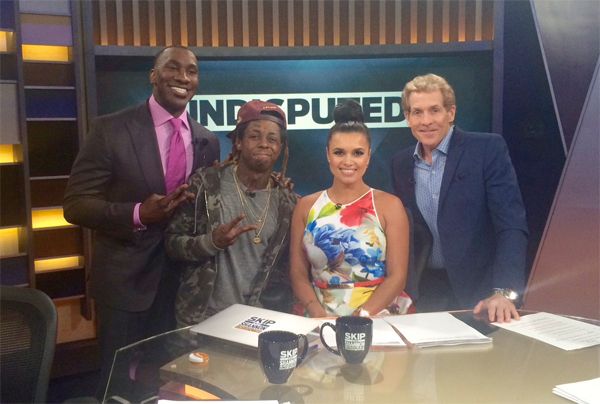 When asked if Birdman made the situation right and gave him his money (an $8 million advance and $2 million after the album was completed) would he ever work with him again? Wayne replied, "No Sir."
The Young Money honcho said he was surprised so many other rappers came to his defense when news broke that he had filed a multi-million lawsuit against Birdman.
He also explained why he has so many tattoos.
Peep the clip below:
After his interview, Weezy hopped back on Twitter to petition to have his album Tha Carter 5 (aka C5) released: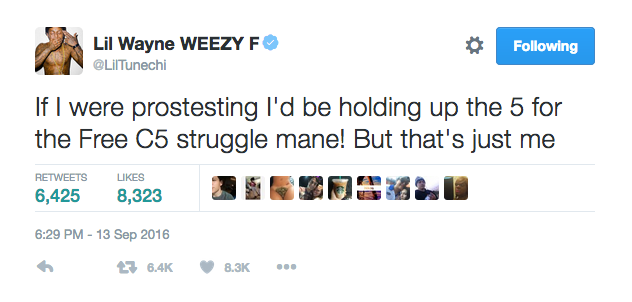 Now, Birdman is responding to Wayne's interview....
He's placing the blame on Wayne as to why Tha Carter V hasn't been released. Sources tell TMZ the reason the album hasn't been released is because Weezy hasn't turned in the master recordings. Since Weezy is still holding on to the recordings, Birdman claims there's no way to release the LP.
But Wayne says he's not turning in anything until he gets the money he was contracted to get for the album.
So, it doesn't sound like fans will ever hear Tha Carter V until Birdman coughs up Wayne's dough. Aye Birdman, show some "respeck" and cut the check.
Stay tuned for the rest of Wayne's interview where he addresses Colin Kaepernick's protest and why he feels racism no longer exists. *rolls eyes*
Photos: Screenshot/Birdman's IG