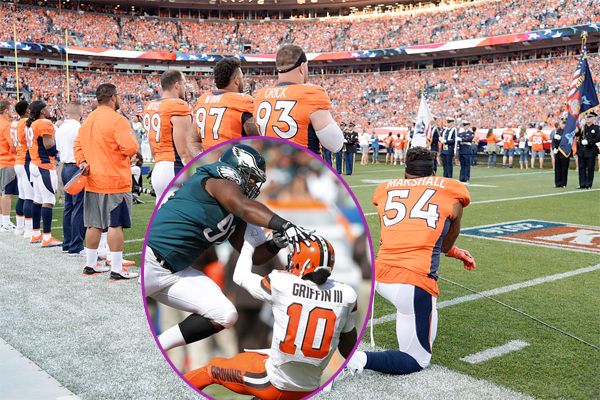 In NFL news, Brandon Marshall says he has no regrets participating in the peaceful protest even after losing another endorsement deal. Meanwhile, Robert Griffin III is OUT with another injury. Is his career on the line? Let's discuss inside…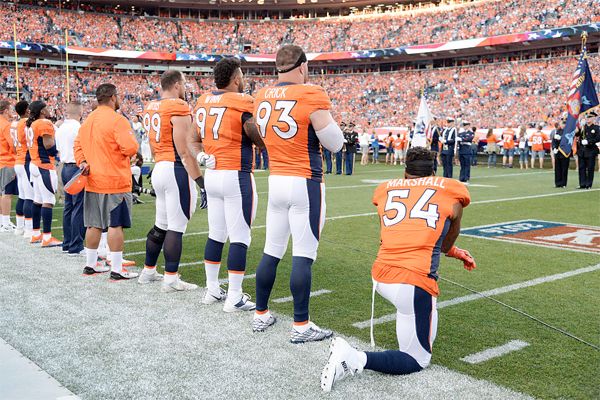 Denver Broncos linebacker Brandon Marshall is a man of his word. And he doesn't have any regrets for standing up for what he believes in.
Brandon decided he would join San Francisco 49er quarterback Colin Kaepernick, one of his former teammates at University of Nevada, in refusing to stand for the National Anthem in support of the #BlackLivesMatter movement. And he has received just as much negative backlash from it as Colin.
On Friday, it was announced that Brandon lost his endorsement with Air Academy Federal Credit Union. Now, another company has cut ties with him. CenturyLink issued a statement explaining why saying:
"We completely respect Brandon Marshall's personal decision and right to take an action to support something in which he strongly believes," CenturyLink said in a statement. "America is anchored in the right of individuals to express their beliefs. While we acknowledge Brandon's right, we also believe that whatever issues we face, we also occasionally must stand together to show our allegiance to our common bond as a nation. In our view, the national anthem is one of those moments. For this reason, while we wish Brandon the best this season, we are politely terminating our agreement with him."
Through it all, Brandon said he has no regrets and will continue fighting for justice. Peep his interview below:
Now, get this….
On Monday morning, a Broncos fan showed up at the Dove Valley facility where the team was practicing and set a orange t-shirt with Brandon's name on it on FIRE:
Protest outside of #Broncos headquarters with Brandon Marshall jersey. pic.twitter.com/R8Iw04C2ha

— Eric Goodman (@EricGoodman) September 12, 2016
People have WAY too much time on their hands.
Brandon spoke to reporters about the incident saying,"It's an evil world. It's a hateful world. I'm not here to spread hate. I'm not here to respond to the hate. I'm here to spread love and positivity." YAS! Kill them with kindness.
The NFL linebacker said he plans on kneeling again during the anthem when the Broncos play the Indianapolis Colts.
With folks backing out of endorsement deals with Brandon, Hip Hop mogul Russell Simmons has offered him a new deal:


In other sports news....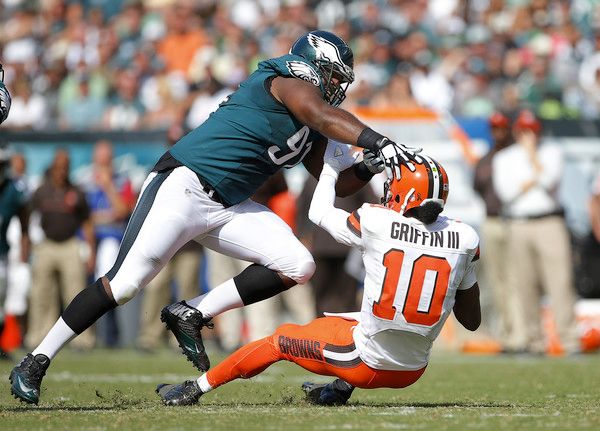 Cleveland Brown quarterback Robert Griffin III is OUT again after suffering an injury during the season opener game against the Philadelphia Eagles on Sunday. (FYI - The Eagles beat the Browns 29-10).
The injury prone QB has been placed on injured reserve with a shoulder injury and is expected to miss at LEAST 8 games. The Browns issued a statement on RGIII's condition saying:
Browns quarterback Robert Griffin III sustained a significant injury during the team's season opener at Philadelphia on Sunday and has been placed on injured reserve.

He is expected to miss an extended period of time during the 2016 season after medical tests on Sunday night and Monday morning revealed a fractured coracoid bone in his left shoulder. Although surgery is not required at this time, Griffin's left shoulder will be re-evaluated in 3-4 weeks.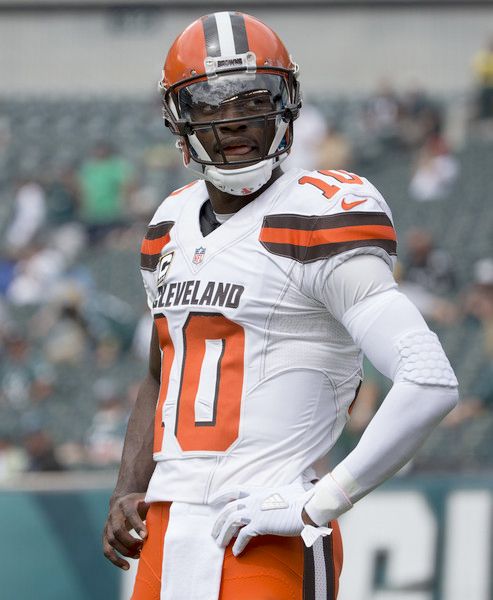 RGIII, a No. 2 draft pick in 2012, hasn't quite fulfilled the dream sports analyst said he would when he first entered the league. You'll recall, RGIII was a BIG deal when he was drafted to the Washington Redskins. He had an exceptional rookie year, but after he tore his ACL in his right leg in 2012, it has been downhill ever since.
Will his latest injury cause him his career? Folks are speculating that it will, but only time will tell. Get well soon!
EXTRAS:
1. LeToya Luckett has joined the "Rosewood" cast. STORY
Photos: Getty