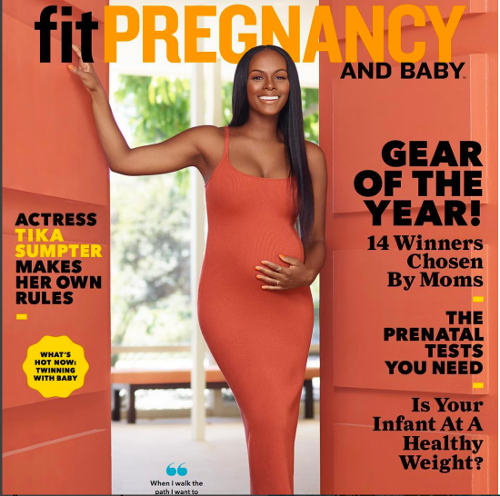 Tika Sumpter is setting a new bar for pregnancy fabness.  Chick was already a stunner, but is it possible to be even prettier while pregnant?!  Ugh!  Check out her gorgeous new pregnancy cover shoot for fit PREGNANCY magazine and the tips she's sharing about how to do pregnancy YOUR way.  She's indeed becoming an expert at that....
Southside With You star Tika Sumpter is showing off that baby bump in every fab way.  Chick is, dare we say, sexy AF in her new role as mom-to-be.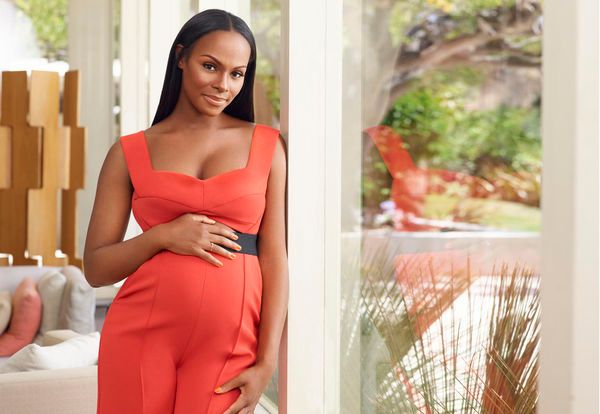 After we gave her a round of applause for this beautiful new photo spread, we caught up on how she's pulling off her pregnancy perfection effortlessly.  From endless movie promo days to keeping private what she wants to keep private, Tika of all people should know how to make your pregnancy your own.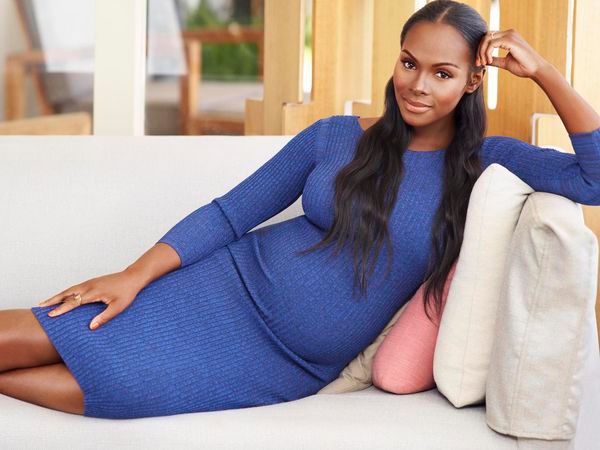 On how she learned she and her boyfriend were pregnant:
"My pregnancy wasn't planned. I found out around Valentine's Day, when my boyfriend took me on a surprise trip to San Diego. I never want McDonald's, but I was like, 'I need a Big Mac, fries, and a Coke now.' They were still only serving breakfast, so I insisted we wait there until they started serving lunch. Afterward, I immediately fell asleep. When I woke up, my boyfriend was like, 'Ha-ha! Are you pregnant?' I said, 'Maybe. Go get a test!' He brought back a generic-brand test, and right away it said positive. I could not comprehend it. So I said, 'Go get a name-brand test!' He did, and that one said yes too. I still have the stick. I had to show it to my mom, because she didn't even believe me when I told her."
On finally getting over all-day sickness and gorging on all her fave candy and food:
"During my first trimester, I was nauseated all day. I couldn't brush my teeth without gagging. I couldn't eat meat other than burgers. The toilet bowl was my friend. Now, I just eat whatever I want. My body knows what it needs. Sometimes that's a salad; sometimes it's a milkshake, Frosted Flakes, or Kit Kats. I haven't been working out either. After I walk my dog around the block, I'm so exhausted that I'm like, 'Okay, I'm going to lie down.' But I don't care. There is nothing I feel guilty about."
On whether marriage is a priority now that she's pregnant:
"One of the first questions my mother asked when she found out I was pregnant was 'Are you going to get married?' I'd love to, but maybe in a year or so. I've been with my boyfriend for more than a year and a half. Our relationship is not dependent on a ring. I love him to death, and he loves me to death, and that's all that matters to me."
On not revealing the father of her child, not even to friends at first:
"I didn't want to hear, 'Who's the dad? Are you with the dad?' Social media can be harsh, and I'm a mama bear, protective of my family. So that's why I waited to tell people, including some friends. My friends weren't mad at me. They said, 'You did it the way you wanted to do it. You're an inspiration.'"
On embracing her new curves:
"My belly feels heavy. My back and thighs ache. I've gained 15 pounds so far, and what's weird is, I feel sexier than ever. There's power in carrying a human life."
On being flexible on her dream birth plan -- drugs vs. no drugs:
"In my dream birth, I'd maybe have some contractions and then my baby would come out with Bach playing in the background, my boyfriend holding my hand, and my doula rubbing my back. In reality, I realize it may turn out differently. Giving birth naturally would be great, but my boyfriend knows that if I say I need drugs, then I need them. I have a high threshold for pain, but it's not like I win anything for putting myself through that. Plans are just plans. I know everything can change."
On dealing with a fibroid while pregnant:
"I had a fibroid, which was dormant until I got pregnant. When my baby started growing, the fibroid did too. At five months, the pain was so bad that it brought me to tears. It felt like I was being stabbed repeatedly with a knife, and I was scared for my baby. My mom wanted me to go to the hospital, but I called my doctor first. She calmed me down and reassured me that my baby was safe and prescribed medicine to relieve my pain. Little by little, I got better. My baby's not even here yet, but I like to think she's already kicking butt. She's like, 'Excuse me, fibroid. You need to die now.'"
Get more interview highlights over at fit PREGNANCY.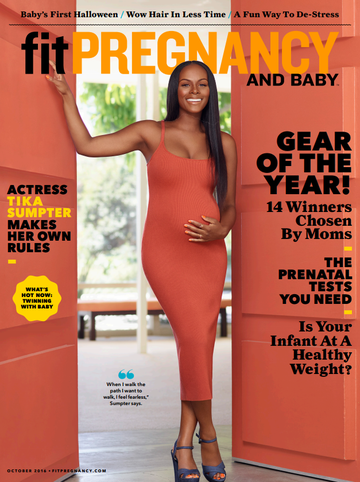 Check out the video below where "The Haves and Have Nots" star shares her 10 tips for doing pregnancy on your own terms:
She's due any week now. Congrats again Tika!
Photos: Nino Muñoz