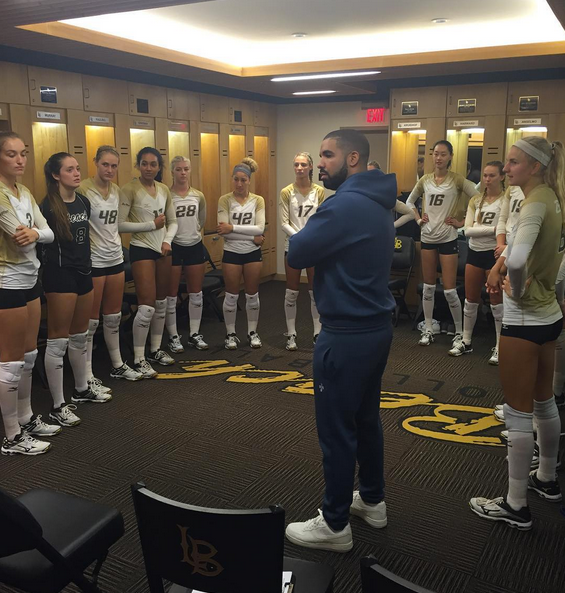 Surprise! Godfather Drake is here. See how a college volleyball team lost their minds when Drizzy popped up at their game and get the bizarre update on his tour bus robbery inside…
Leave it to Drizzy to leave the college girls in a frenzy!
During an off-day for his "Summer Sixteen" Tour, Drake was busy gunning for the Best Godfather Award!
Yesterday, the Young Money rapper surprised his goddaughter Ashley Murray and the Long Beach State college volleyball team when he showed up to watch them battle it out against LMU at Walter Pyramid arena.
Ashley snapped a pic of the Canadian rapper chatting it up with her teammates, captioning "There's nothing more powerful than when someone shares their blessings. When they show up for you, you show out for them. Thank you for coming to support me and my team. Love you always. Best Godfather ever. #sixGodfather #GoBeach #family"
And here's a clip of the madness that ensued in the locker room:
I'M FREAKING OUT @Drakepic.twitter.com/ZG1RDD5Bvu

— vanessa gutierrez (@vbabe7) September 9, 2016
Ashley and her teammates were victorious and Drizzy showed mad love: 
Reason #6348 CSULB is amazing: sometimes @Drake just shows up at the @PyrMgmt to support women's volleyball. pic.twitter.com/Ypovj42yoQ

— CSULB (@CSULB) September 9, 2016
Shout out to Drake in The Pyramid tonight watching Women's Volleyball! #GoBeachpic.twitter.com/pLEzO6hFL2

— LBSU Athletics (@LBSUAthletics) September 9, 2016
Aww! Day.Made.
In other Drizzy news...
In case you haven't heard, one of Drake and Future's tour buses was robbed for $3 million worth of jewelry while in Arizona this past Tuesday night. Luckily, police caught the culprit hours later and threw him in jail. But you'll never guess how he was caught.
According to reports, the suspected thief, whose name is Travion King (seen in the mugshot above), was arrested at Arizona State University on Wednesday after he broke into a student's dorm room. And he wasn't there to share the new jewels he just copped. He was looking to get it in.
TMZ reports:
The woman said she woke up to King trying to climb into her bed, telling her he'd never been with a white girl ... and offered to "eat her out."

The woman freaked and ran to another room, where she and a friend called campus cops and had Travion arrested. Cops say King told them he'd been smoking weed and PCP, and broke into the dorm because he wanted to "smoke and f***" and was thinking with the "wrong head."

King was booked for criminal trespassing. Police also found a briefcase full of jewelry ... which linked him to the tour bus heist outside Drake's Tuesday night concert.
Seriously? We've GOT to do better!
Photos: Ashley's IG/TMZ