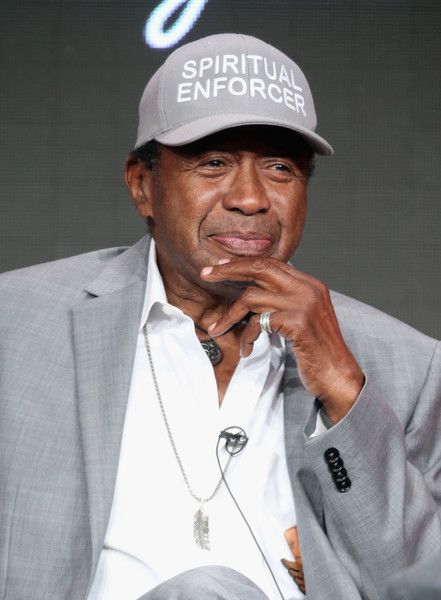 There's no age limit on being a rolling stone, apparently.  Just ask Ben Vereen, who was just accused o f being a bigamist.  The full bizarre story inside...
Hollywood veteran Ben Vereen, pictured above last month at 'The Rocky Horror Picture Show' panel discussion during the FOX portion of the 2016 Television Critics Association Summer Tour, was apparently married to two women at the same damn time....for 36 years.
The Tony Award winning actor found himself in court in Brooklyn Supreme Court Thursday morning facing off with his first wife, Andrea, after he oddly filed divorce papers recently.
The judge told the estranged twosome to settle their drama outside of court.  Oddly, that's exactly what Andrea's lawyer, Harold Mayerson, says she attempted to do to no avail.
According to Page Six, Ben and Andrea got married in a Cecil County, MD court in February 1965 when he was 19 and she was just 14...and pregnant.
Chile...
Ben's people told The Post that both filed divorce papers back in the 70's, Ben in 1972 and Andrea in 1974.  But thanks to their being no electronic records and no internet at that time, neither knew the marriage was never dissolved like they thought.
Of course, Andrea's people are saying something different.  Her story is that she never filed any papers and she never received any that Ben allegedly filed.  She says Ben walked out on her and the baby and that was the last she heard of him.     
Hmph.
Andrea claims she found out they were still married, despite Ben allegedly telling her otherwise, when she went to the Social Security office in January to file for social security since she's now 65.  She put down that she's divorced, but she had no proof.  When she called up Ben to get clarification, he immediately filed divorce papers.  And here we are.
"This story is so bizarre — you can't make this stuff up,'' said Harold Mayerson, the lawyer for Vereen's first, and still current, wife, Andrea. "Perhaps, Mr. Vereen will see another movie opportunity here."
By the way, Andrea found out another woman was collecting Social Security under his name -- his second wife Nancy Bruner whom he married in California in 1976 and divorced in 2012.  Bloop!
Mayerson told People.com:
"Mr. Vereen told her years ago they were divorced," Mayerson explains. "But when she applied for Social Security, she found out that not only are they not divorced, but that some other woman is collecting under his name."

...Mayerson hopes that the singer/dancer "will respect the fact that this woman raised his son and do the right thing." He adds, "He left this young girl – she was 14 and pregnant at the time – to raise a child by herself in New York City, which was not easy at the time for an African-American woman, and life was tough."

....
"We were negotiating with them, and they really didn't want to give much of anything," Mayerson explains. "And then they, inexplicably in my opinion, filed this lawsuit [for divorce]."
Oddly, in order for Ben to get married again he would have had to provide proof and date of his previous divorce if his first marriage was disclosed.  Andrea's lawyer called this "fishy."
It was revealed hat the 69-year-old actor has not yet collected social security, has a union pension and made $400,000 last year alone.
Andrea says she's lived a very modest life, was a pastor, and hopes Ben "comes to his senses."
Bigamist...or just another rolling stone?
Photo: Getty