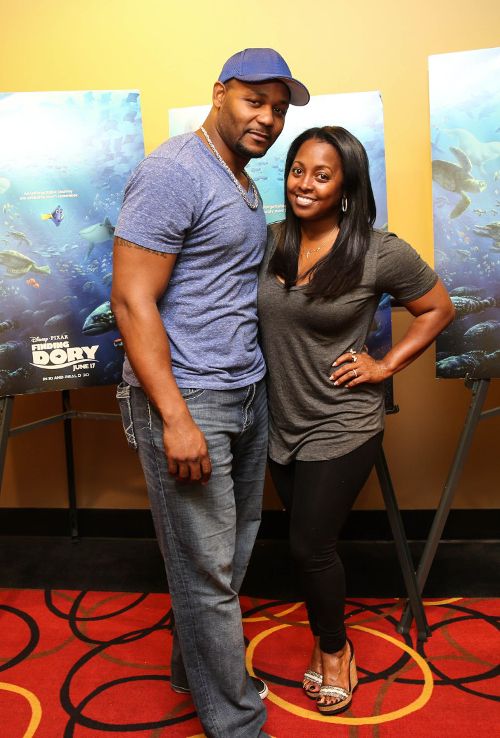 The foolery keeps on coming with these two.  Ed Hartwell just called the cops to the home he and soon-to-be ex wife Keshia Knight Pulliam shared.  Find out why inside...
Keshia Knight Pulliam packed up Ed's ish and threw it into the garage because she refused to let him inside the house, this according to an insider close to Ed Hartwell.
Apparently, the 8-months-pregnant actress isn't here for letting the man who blindsided her with a divorce into the house.  Even after they reportedly pre-arranged a time for Ed to come pick up his stuff.    Ed recently called the cops to escort him into his own house, despite Keshia's mother allegedly being told by her daughter not to let him inside.
Page Six reports:
Insiders say that former NFL player Hartwell, who blindsided his pregnant wife in July when he filed for divorce without telling her, arrived at the home they used to share in the Sandy Springs suburb of Atlanta at an arranged time.

Knight Pulliam, who played Rudy Huxtable on the once-beloved NBC show, wasn't home, but sources say her mother said that her daughter had left instructions that Hartwell wasn't to be allowed in the house.

We're told his belongings had been packed into boxes and left in a garage, but Hartwell — who had rented the home with his wife during their six-month marriage — claimed some of his things were missing. A friend of Hartwell's says he called the police to help him enter the house, where he collected the rest of his things with a police escort. "It hurt his feelings," said an insider, "It's just Keshia being petty."
Chile...
Recently, Ed revealed that he and Keshia had a "sit down" just one month into the marriage where he told her:
"I think we probably messed up. I think we moved too fast.  Our lives and wants are headed [in] two different directions."
The two got married in January after four months of dating.  TheYBF.com broke the story -- Ed filed for divorce from Keshia in July.
Ed didn't tell anyone hardly about the wedding, not even his rep.  We're told he's had an impulsive and secretive personality for years.
Oddly, Ed recently sold his own mansion at a loss of $1.2 million.  He seemingly was in a rush to get it off his hands.  As we stated previously, the couple did not sign a pre-nup.
Photo: Getty